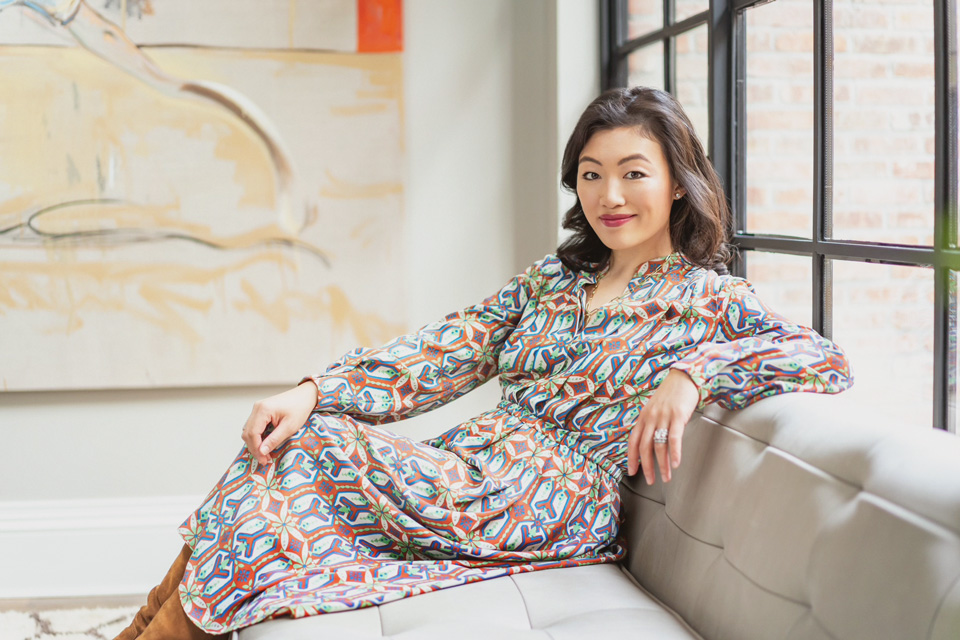 By 2100, an estimated 300 million people will have been born through in vitro fertilization — a remarkable number considering that the first IVF baby was born less than 50 years ago in 1978. "Many of my close friends and family members have struggled to become pregnant and I've witnessed first-hand how difficult that journey can be," says Melanie Goldey, chief financial and operating officer at fertility tech startup TMRW. "As more women than ever are freezing their eggs to preserve their fertility and become parents when they are ready, I want them to feel absolutely confident that their eggs or embryos will be cared for with the most effective technology available." TMRW is responsible for safeguarding millions of frozen eggs and embryos used in IVF; Goldey is responsible for overseeing TMRW's operations. In her role, the 38-year-old powerhouse moves mountains — product, technology, marketing, people operations, finance, legal, quality and regulatory affairs… Between meetings in Manhattan and family time in Brooklyn, Goldey answers Tory Daily's questions.
TMRW is…
A technology and life sciences company that offers a critical solution to a major problem: how to keep track of and safely store the precious frozen eggs and embryos at the heart of in vitro fertilization (IVF). Until TMRW, the management and storage of this genetic material has been entirely manual and analog, unchanged since the advent of IVF in the 1970s. This has unfortunately led to embryo mix-ups (e.g. wrong embryo implanted in the wrong mother) and, in some cases, catastrophic failures resulting in the loss of thousands of irreplaceable eggs and embryos. Our automated solution massively improves IVF by replacing the current outdated and error-prone storage — which are not equipped to handle what will soon be hundreds of millions of fertility specimens — with secure and reliable technology that dramatically reduces risk and tracks and monitors fertility cells 24/7. With TMRW's system, IVF patients can have peace of mind knowing that their eggs and embryos are safe and secure.
The most rewarding part of this business..
Is helping people achieve what is often their most important goal in life: building a family.
And the most challenging…
Leading a team during such a tumultuous year. We've had to navigate so many pandemic-driven challenges, while also nurturing a collective sense of resiliency and optimism within our team. Connecting as a group frequently, celebrating accomplishments, and rallying around our company's mission has driven a deep sense of purpose that helps us stay focused and motivated.
The thing I am most proud of..
My 4-year-old son, Max. His wide-eyed curiosity and ability to adapt and learn during a most challenging year amazes me every day.
The best advice I ever received…
Trust your gut. An executive coach once told me, "If you feel something funny going on in your solar plexus, don't ignore it — it's a signal to engage!" At the time, the advice was for a work situation, but I've found this to be applicable elsewhere in life. Your instincts may not always be right, but exploring why something feels off enables you to learn. And the more you learn, the more informed and confident you'll be that your intuition is guiding you to make better decisions.
The last few months have taught me…
The importance of having time to myself. A little bit of self-care goes a long way, even if it's a half hour a day listening to music, reading, taking a walk, or enjoying a hot bath. Also, everyone is going through something that they may not talk about — leading with empathy and a generous spirit is more essential now than ever before.
I embrace ambition by…
Always pushing myself to be better. Personal growth is a continuous journey, so I seek out opportunities to learn or challenge myself in new ways, particularly from people who have different backgrounds and experiences than me.
And the people who inspire me to embrace ambition…
My parents, who immigrated to the United States with very little, and built a life for my brother and me. They taught me grit, resilience, and to follow my passions. And my husband, Dan, who is my biggest champion. In the final days of my maternity leave, we still hadn't found someone we were comfortable with taking care of our son. I felt torn about what to do. After many years of his own professional success, Dan wanted me to be able to fully lean into my work ambitions so we discussed how we could support one another and our newborn. We decided together that Dan would leave his job and be a stay-at-home dad, allowing me to embrace opportunities in my career. I'm incredibly grateful for him and wouldn't have been able to accomplish what I have — and hope to — without his partnership and love.
We at Tory Daily are inspired by smart, passionate women who #EmbraceAmbition and find ways to make their communities stronger. For information on the Tory Burch Foundation, which empowers women entrepreneurs to #EmbraceAmbition, click here.
More to explore in
Culture