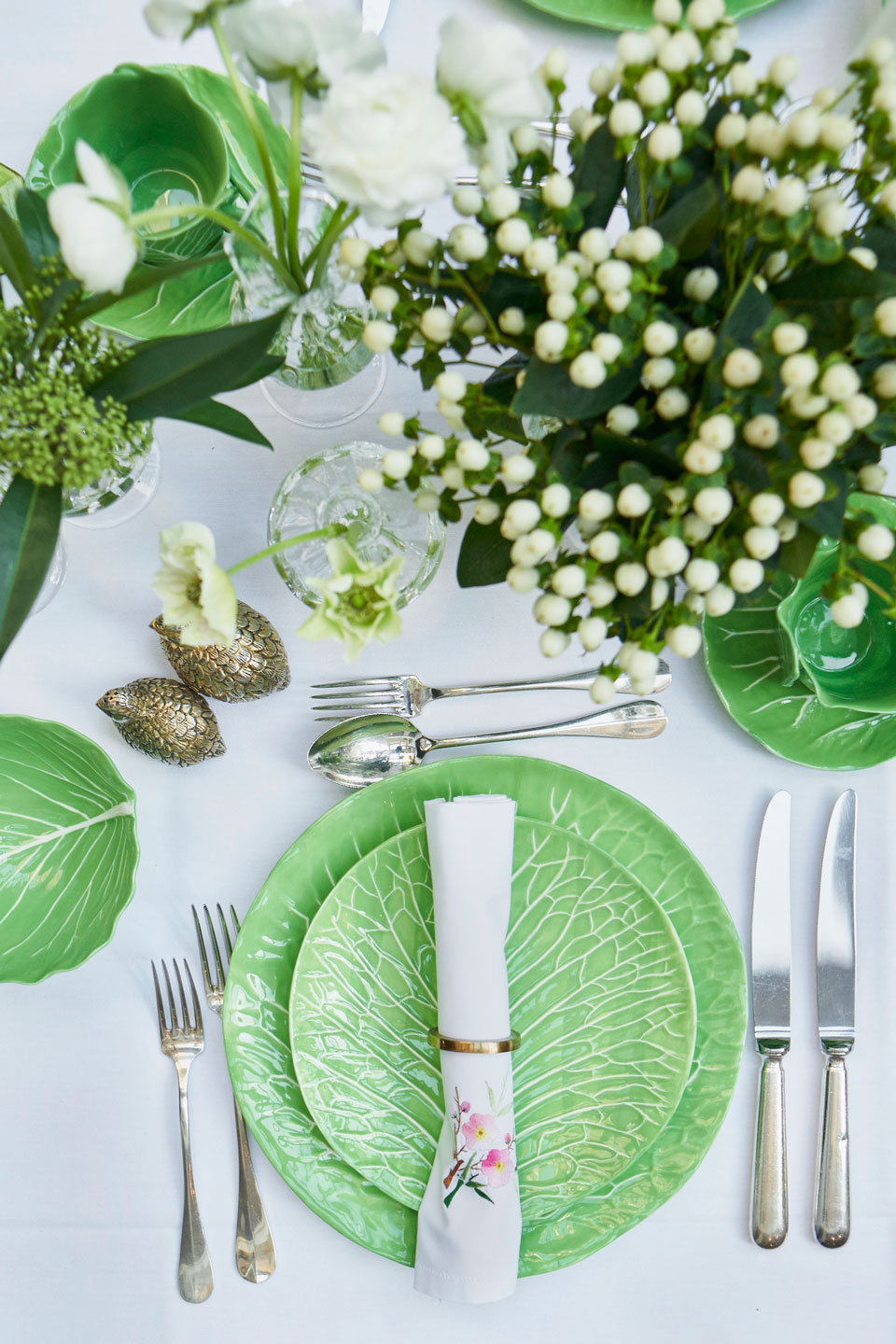 With the holidays — and likely one too many family members — on our doorstep, we find ourselves with shortened breath and an ever-growing to-do list. Not only do we need to stock the fridge and feed the hungry masses, but we need to wrap our heads around the all too daunting task of setting the table. Always open to help from our ultra-talented friends, we tapped the infinitely stylish FLOWERBX founder and CEO Whitney Bromberg Hawkings for some table-setting and flower arranging tips. Welcome to Entertaining 101…
Think about the event at hand and what story you would like your flowers to tell. In fact, keep this in mind when thinking about the entire evening, from the invite to the tablescape.
Keep the flower arrangements simple, but create drama with an abundance of these simple arrangements. Repetition works wonders when creating a memorable table. Choose vases wisely to further echo the mood you are trying to convey.
Something old and something new is a good rule of thumb for a dining table. Vintage elements (e.g. silverware, glasses, or a special salt and pepper shaker like the vintage Gucci swans pictured above) mixed with Tory's upbeat signature crockery make a table feel unique and special. Candlelight is also a MUST — everyone looks and feels more beautiful when lighted by candles and surrounded by flowers. I love tall tapered candles in colors that match the flowers.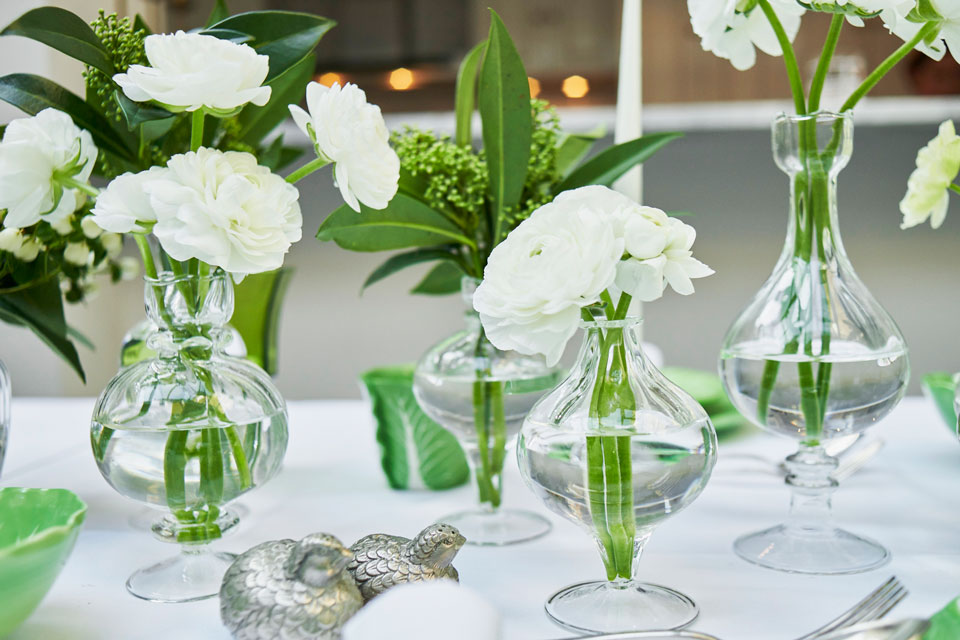 Repetition can have a gloriously energizing effect. Try punctuating the expanse of the table with similar bunches of flowers.
Flowers can instantly change a table's mood in the same way that accessories can completely transform an outfit. We chose whimsical winter whites to complement Tory's Lettuce Ware and create an unforgettable holiday table. Similarly, pink peonies would transform this same tablescape into summer-y soiree. Never underestimate the power of a flower.
Don't forget music's power to influence the atmosphere. I like a playlist that starts with beautiful ballads and slowly segues into more upbeat tunes. By the end of dinner, Beyonce's on and everyone is dancing.
Keep flowers tonal! Warm autumnal shades work beautifully together, as do almost every shade of pink, clusters of red, or a sea of purple and blue. Even if they clash with the other elements of the table, it is hard to go wrong when staying tonally true.

After the flowers, the most important tip for getting a party right is the right group of people and a very considered placement.  When everyone is made to feel important and special, they will all leave feeling like they have had a magical time!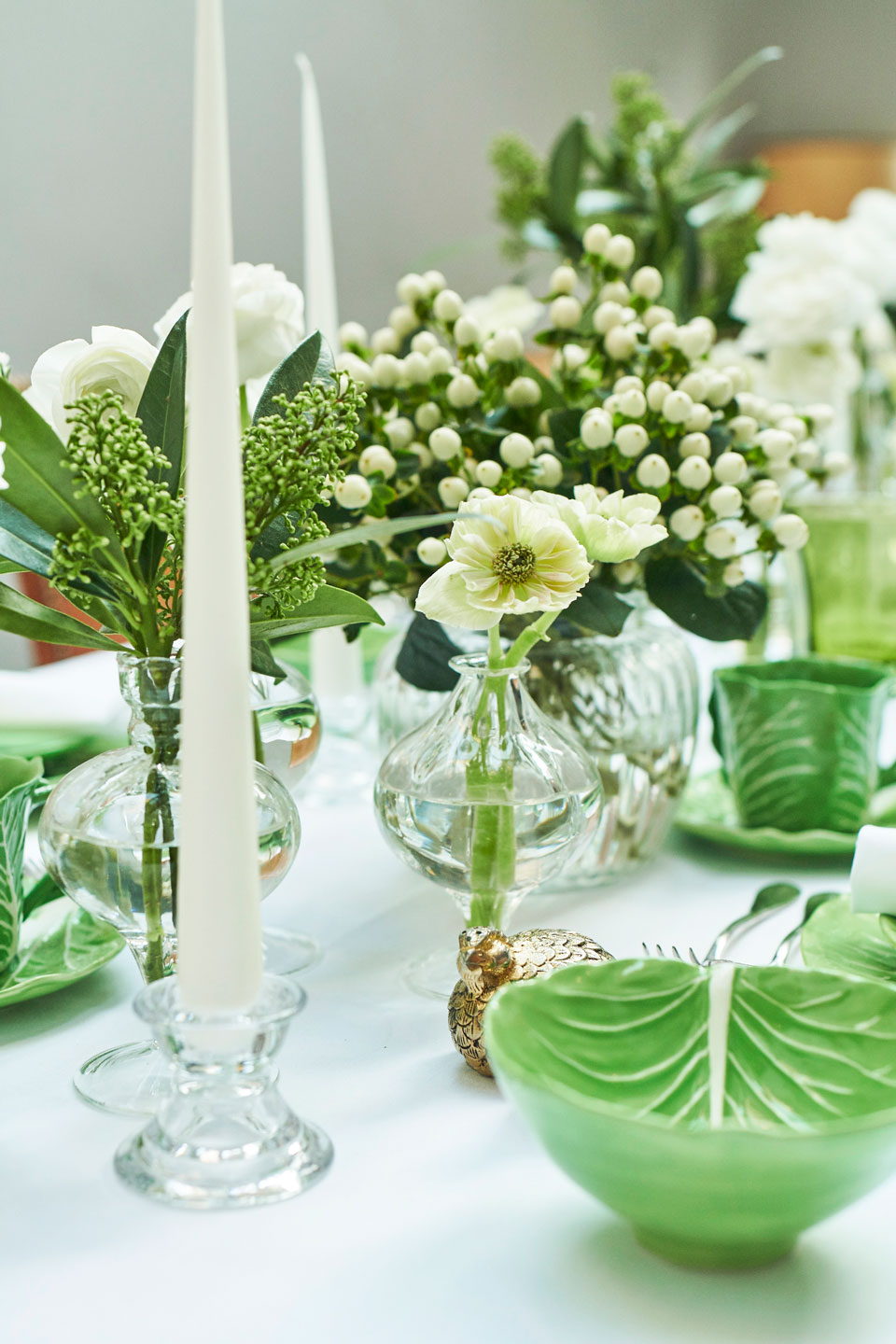 Candlelight is an absolute must. Try tall, tapered candles that echo the color of the flowers.
More to explore in
Entertaining