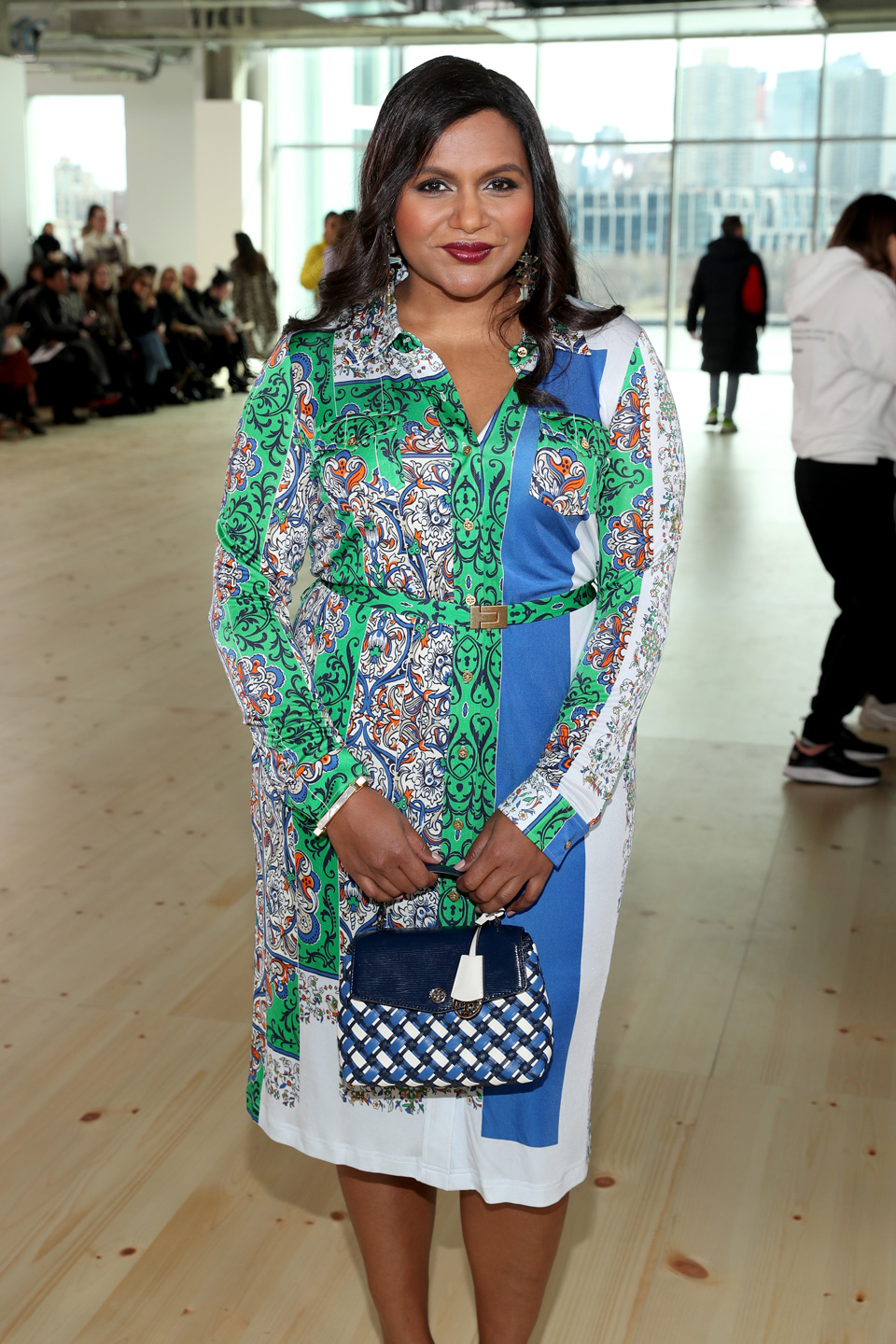 She's an accomplished comedian, actor, director, author and screenwriter. Her shows, The Office and The Mindy Project, have achieved bona fide cult status. Here at Tory Burch HQ, we are delighted to be able to call her a 'friend of the house,' a label that was earned when she Tweeted at Tory in 2011, "I love you Tory Burch, you closeted bling-loving Indian woman, you." That's how all great friendships start, right? Recently she taught us the phrase "ladylike but lit," which refers to the outfit she wore while sitting front row at Tory's Fall/Winter 2019 runway show (Mindy, we'll be borrowing that, if it's ok with you). What we admire most, though, is that Mindy has worked hard to create opportunities for herself and paved the way for her own successes. Here, we caught up with her to find out what career advice keeps her running the proverbial show, how she coaxed a legitimate Dame to star in her new movie Late Night and how she embraces ambition with ladylike charm, every damn day.
#EmbraceAmbition means…
Not thinking ambition and femininity are mutually exclusive.
The woman who inspires me to embrace ambition most…
Is my mother, Swati, who was an OBGYN in Boston. She moved from Africa and started her practice over again with no help. She could be pulled into work at any time of day or night, and did it while raising two kids. My work ethic comes from her.
I was inspired to write Late Night because…
I really wanted to talk about my experience coming into the comedy world with no connections in show business.
How did you convince a Dame to star in your film, having never met/spoken to her before? …
Emma and I clicked instantly. She is a writer and comes from the sketch comedy world, so she got the world of the show instantly. Talking to her for the first time felt like talking to an old friend.
My proudest moment while the making this film was….
Not losing my mind shooting 14 hour days with a three month old baby.
The greatest challenge women face now is…
Equal pay and protecting young women (particularly young women of color) from human trafficking.
And my advice on how to overcome the above…
I wish I had the answer!
The best career advice I've received is from…
My friend BJ, who once gave me the advice "never complain, never explain," which I think is extremely valuable when you're a leader…but also hard advice to follow!
What I learned writing my first movie…
Writing my first movie made me really want to direct.
Advice I would give my younger self…
I could never have given my younger self advice, I was too headstrong and a know-it-all. It turned out okay though!
More about #EmbraceAmbition & the Tory Burch Foundation:
In 2009, Tory launched the Tory Burch Foundation which provides access to capital, education and digital resources to empower women entrepreneurs. Learn more about the Foundation and #EmbraceAmbition here.
More to explore in
Culture