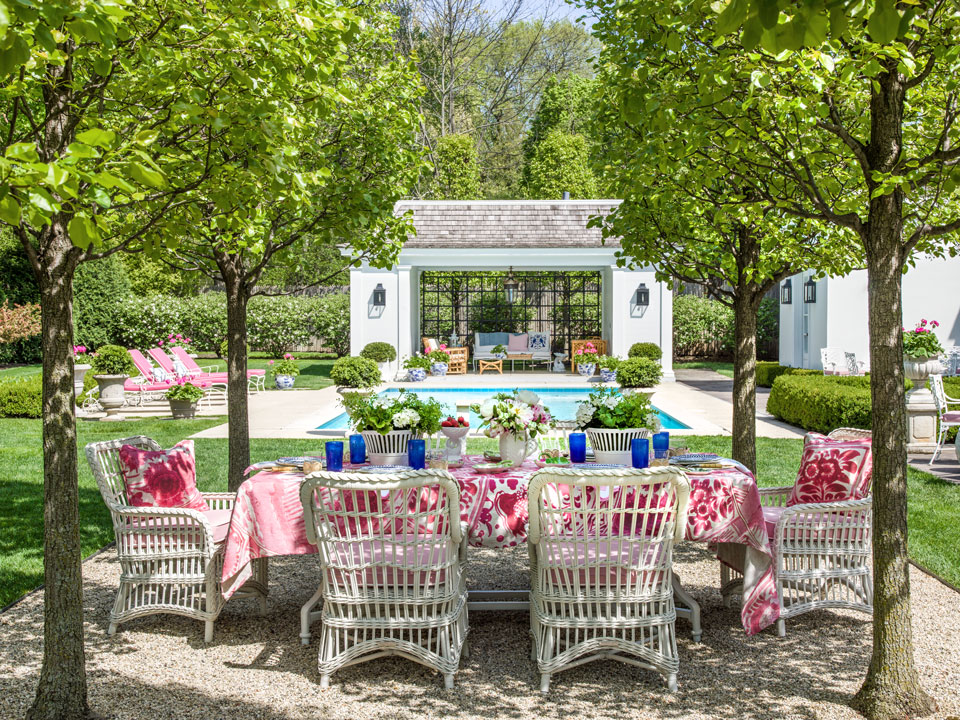 Interior designer Shelley Johnstone is as brilliant with outdoor decor as she is with indoor spaces. Just take a look at her backyard here, where she's chicly imported the spirit of Palm Beach to her Lake Forest, Chicago, environs. Her entertaining style is just as inspiring, too. We recently got an up-close glimpse when Johnstone invited Tory Daily into her home as she prepped for a poolside gathering. Bonus: She shared all her insider tips on everything from seating arrangements to setting the perfect table.
My entertaining style is…
Visually beautiful but with an comfortable ease. I love having people to my home.
I get guests comfortable by…
I try and create a beautiful setting with good music playing in the background, great conversations and fun memories being made. I just want people to have a nice time and feel that we are happy they are at our home.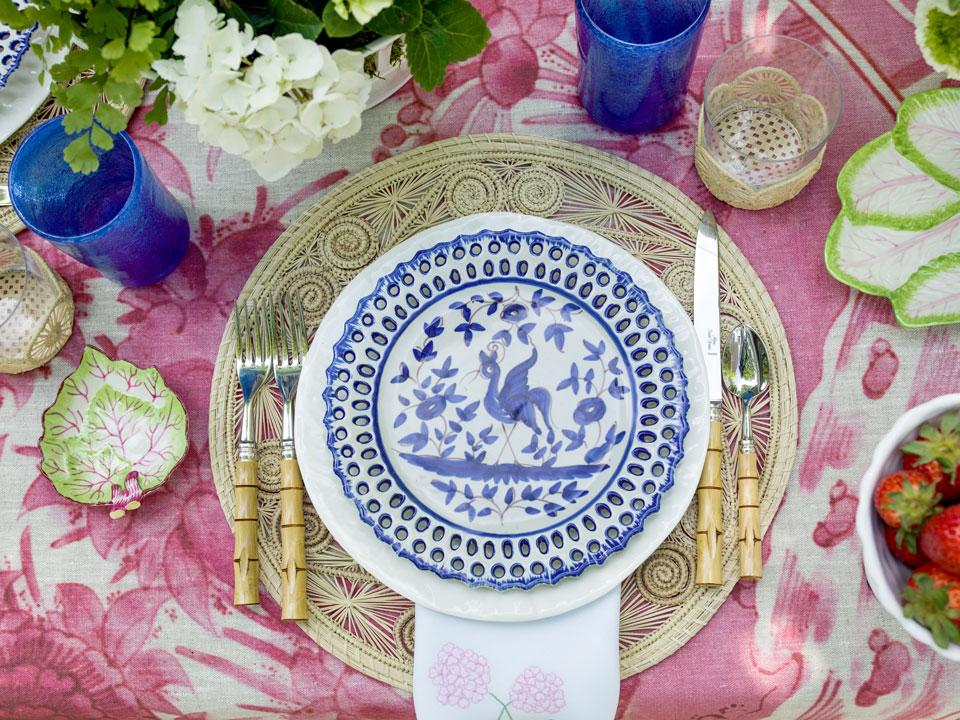 My insider tip when it comes to seating…
I know people like to really mix things up and seat people who have never met next to one another, but I love to have a mix of new introductions with the comfort of familiar faces. I will even keep couples seated close — with our busy lives it can be a treat to sit near your spouse.
When throwing an outdoor party, always remember…
Have a back-up plan if the weather doesn't cooperate. Your guests don't want to hear details about your weather concerns, so plan ahead and make it all work. Last year we had 60 guests to a seated dinner by the pool. The weather had been gorgeous in the weeks and days leading up to the dinner, but then it poured the night before and morning of. We ended up putting a tent up, just in case, so we didn't have to worry. In the end, the weather was beautiful and our last-minute tent strung with cascading little white lights made it so much prettier.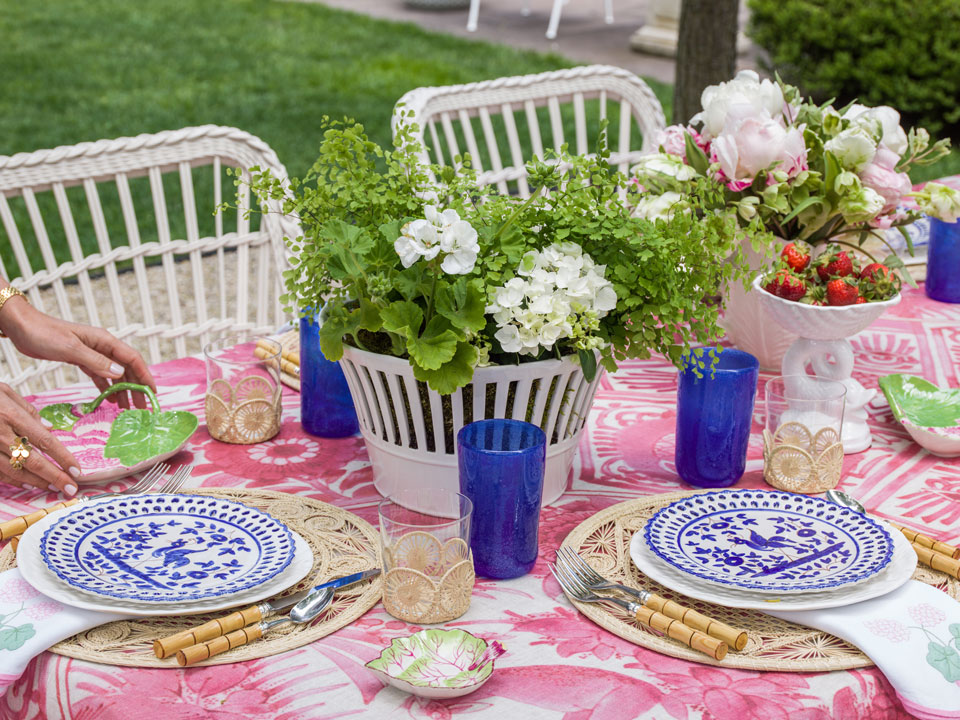 Shelley's Summer Table-Setting Tips
1. Start with a fun tablecloth. The tablecloth can set the tone for the entire gathering. Being an interior designer, I am surrounded by a ton of amazing fabrics that are my constant source for inspiration. I usually fall in love with a fabric knowing it will be perfect for making pillows and tablecloths for summer gatherings in my backyard by the pool. I use hues of blues and pinks and mix it up with every event.
2. Use a lot of pretty flowers. I like to mix garden-center perennials and green plants with fresh-cut flowers. For this table I planted green ferns with white geraniums and hydrangeas in white ceramic containers. For the center of the table I arranged fresh-cut parrot tulips, white and pink peony, ranunculus and greens in Tory's white leaf pitcher.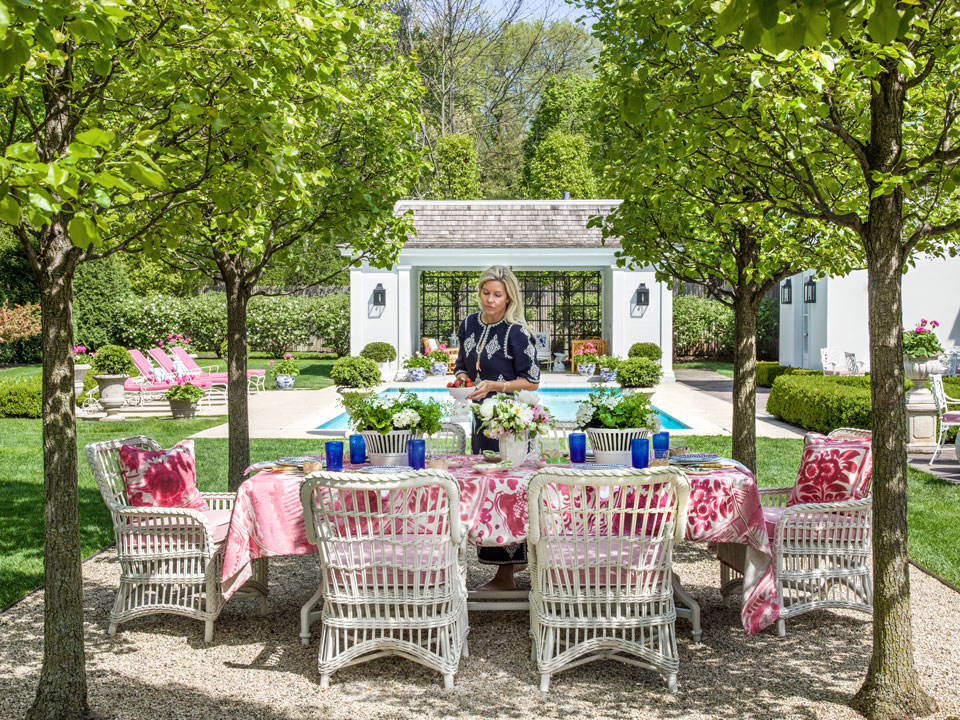 3.
Mix the china patterns. Here, I used Tory's blue and white Oiseau salad plates on top of her white lettuce ware dinner plates. I also scattered her small pink and green leaf pieces around the table for interest and color.
4. Mix in some natural straw and bamboo to add a sense of casual summer ease.
5. Add colored glasses for a pop of color and interest.
6. Fresh fruit in bowls instantly adds color, too, and makes the table really feel like summer. For this table, I used fresh strawberries and kept their green tops.
7. Lastly, have fun, mix and match, and set a table that is pretty and relaxed. It will set the tone for your gathering.
More to explore in
Entertaining