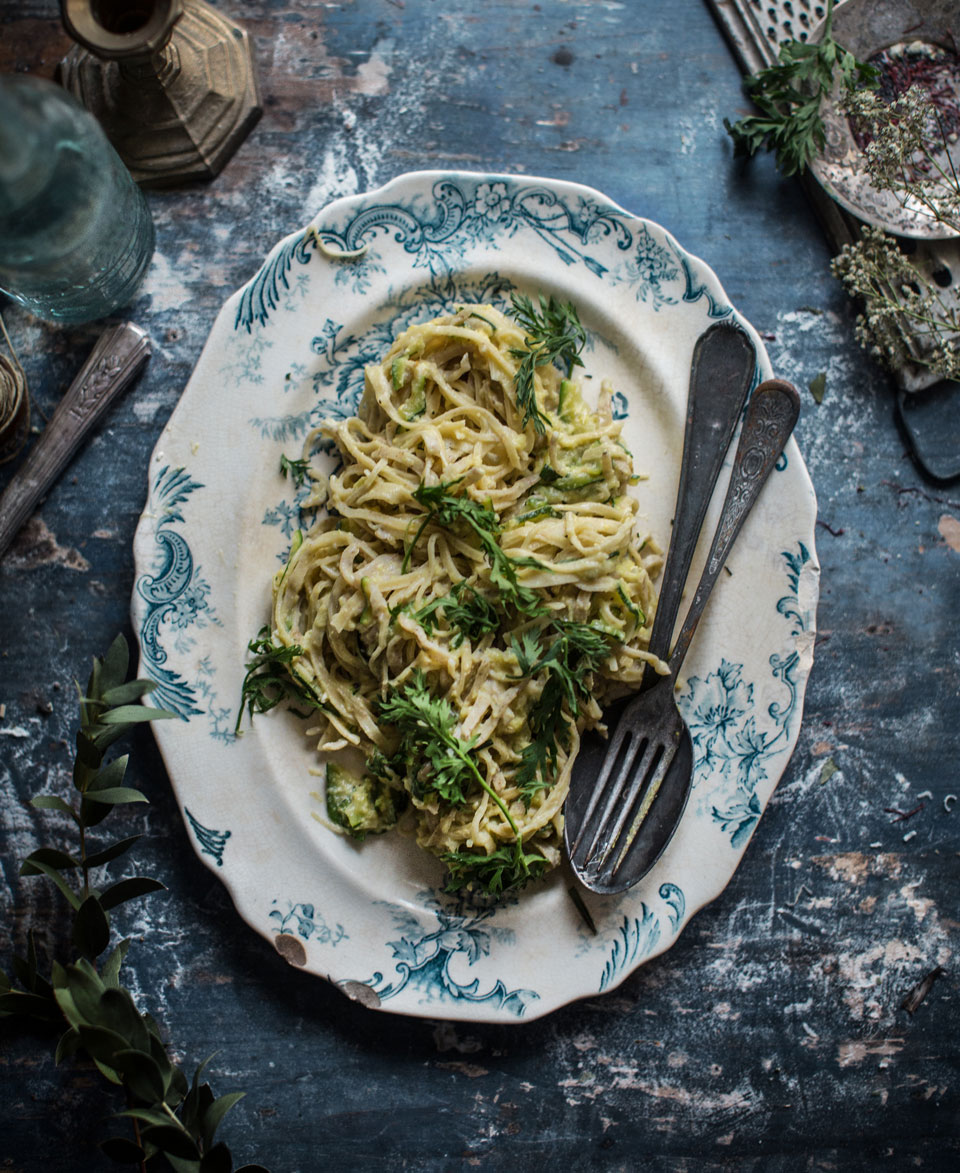 The holiday season is paradise for gastronomes — but what if you're a vegetarian? Those festive dinners and gatherings can be pretty limiting, a side dish here, a dessert there. With Valentina Solfrini's help, you can indulge merrily with the rest of them. The food blogger behind the award-winning Hortus Cuisine just released a new cookbook, Naturally Vegetarian, filled with 125 sweet and savory dishes that draw from her Italian heritage. Let everyone else have their roasts and stuffed game hens, you'll delight in delicious chickpea frittatas, "Boscaiola" pasta bakes, sunchoke soups, apple rolls… Here, two of Solfrini's recipes that even the carnivores around the table will love.
Vegetarian Carbonara
Serves 4
Ingredients
1/4 c (60 ml) olive oil
1 medium onion or leek (1 oz/200g), thinly sliced
2 small zucchini (1 oz/200g), halved and thinly sliced
16 asparagus spears (1 oz/200g), trimmed of the hard stalk and thinly sliced
1 1/2 tsp salt, plus 2 pinches for the pasta water
10 oz (270 g)whole-wheat or spelt spaghetti or paccheri
2 large eggs plus 2 large egg yolks
1/3 c (1.7 oz/50 g) grated pecorino or Grana cheese, plus more to finish
1 tsp pepper, plus more to finish
Directions
Place the olive oil and onion in a medium-large pan and sauté over medium heat, stirring often, for about 5 minutes, until the onion is translucent. Add the zucchini, asparagus, and 1 teaspoon salt and cook while stirring for 5 minutes more. Add 1/2 cup (50 ml)water, cover and cook for about 15 minutes, until almost all of the water is gone. All the vegetables should be soft at this point. If they are not, add another splash of water and cook until tender. When the vegetables are cooked, uncover, stir and let the remaining water evaporate completely.
Bring a large pot of water to a boil over high heat, then add coarse salt in the proportion of 1 scant teaspoon for every 4 cups (1 l)water. Boil the pasta according to the package instructions, but drain it 2 minutes before the end of the cooking time. Reserve about 1/2 cup (125 ml) of the pasta water.
Meanwhile, place the whole eggs and yolks in a medium bowl and whisk them with the cheese, the remaining 1/s teaspoon of salt, and the pepper.
Add the drained pasta to the pan and toss it well with the vegetable mixture over low heat for 1 minute. Remove from the heat, pour in the egg mixture, add 2 tablespoons of the reserved pasta water, and toss to coat with a fork and spoon: The egg mixture should form a cream with the starch in the pasta water, and it will cook with the residual heat of the pan and hot pasta. Use more pasta water if it seems too dry. Place the pan over medium-low heat and let the sauce thicken for 1 minute, stirring constantly. Do not let the egg curdle. Serve immediately with extra pepper and a sprinkling of extra grated cheese.
Note: When cool, this pasta might curdle up a bit. Do not reheat in a microwave, or the egg will curdle. Reheat gently in a pan, adding 2 tablespoons of water to make it creamy again.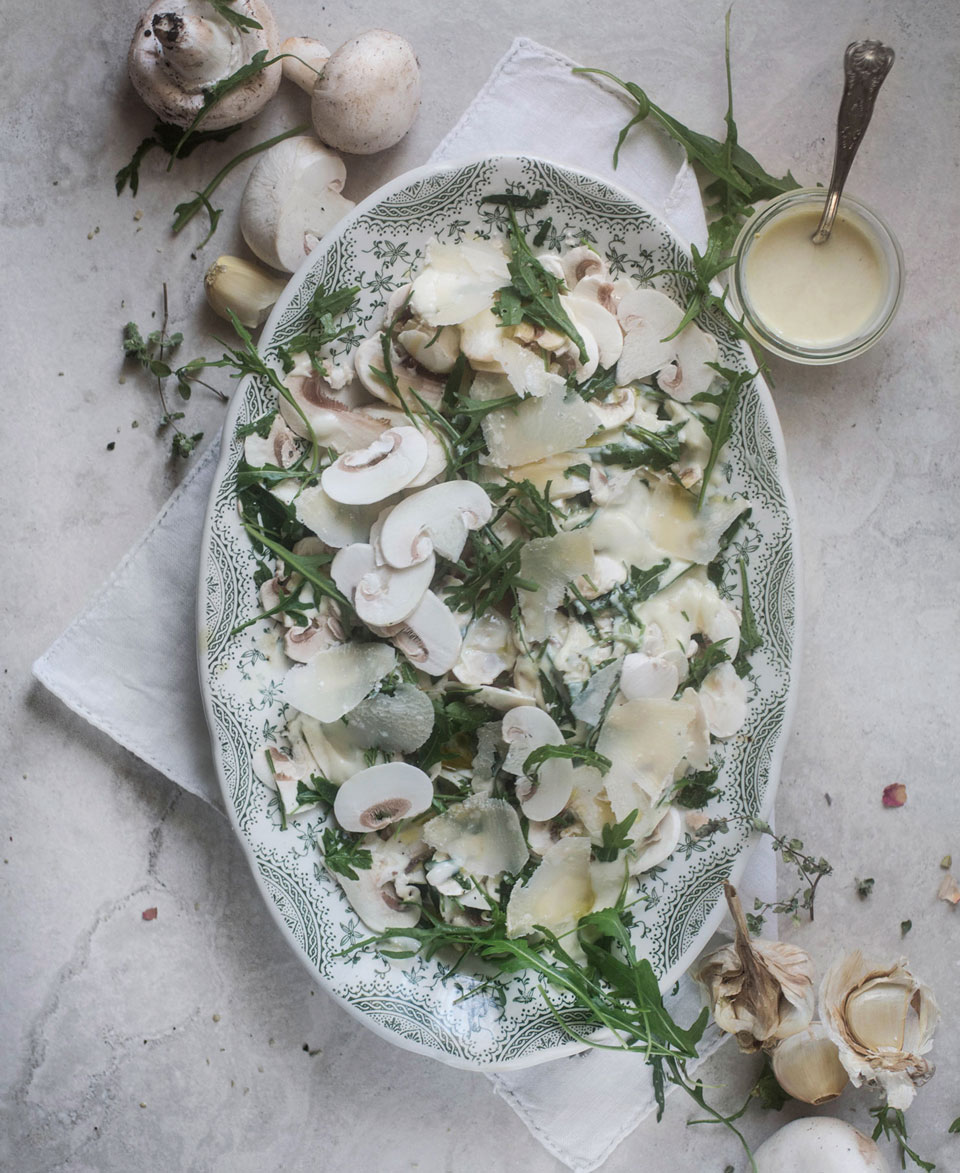 Mushroom & Arugula Salad
Serves 6 as a Side
Ingredients
For the dressing
1/4 c (50 ml) plain yogurt
1 heaping tsp Dijon mustard
5 tbsp (75 ml) extra-virgin olive oil
1 tsp salt
Juice of 1/2 lemon
2 sprigs of fresh thyme or marjoram
1 garlic clove, very finely mined (optional)
For the salad
1 lb (450 g) mushrooms, such as champignons or button mushrooms
3 c (about 3.5 oz/100 g) packed arugula
Shaved Grana cheese, to top
Directions
Make the dressing: In a small bowl, combine the yogurt, mustard, olive oil, salt, lemon juice, thyme and garlic (if using), and whisk well. It keeps, refrigerated, for a few days, should you want to make a bigger batch.
Make the salad: Scrub the mushrooms clean with a vegetable brush and a dam, soft tea towel. Peel the outer skin if the mushrooms are a bit tough and not too fresh. Otherwise, make sure you clean them thoroughly. Slice them quite thinly — it is easier to do this with a mandoline slicer.
Toss the mushrooms with the arugula, top with liberal amounts of Grana, and add dollops of dressing.
Serve with any fall or winter main dish, or toss with some cooked beans and farro or brown rice for a one-bowl meal. Pecorino cheese or crumbled blue or goat cheese are also great.
For a vegan variation: use unsweetened plant yogurt instead of regular yogurt, or cashew cream if you want a more luscious dressing. Omit the cheese and top with lightly toasted walnuts instead.
More to explore in
Entertaining