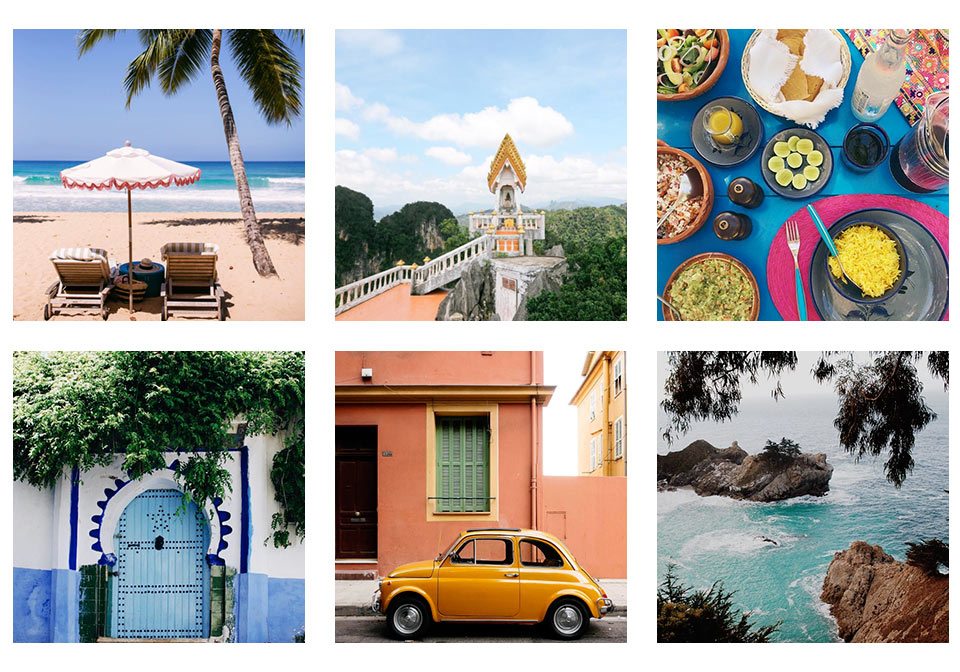 Thomas Berolzheimer — who co-founded travel site Will Journey with Julia Berolzheimer, Rich Combs, Sara Combs and Ben Yaco — shares the top destinations you need to visit in 2016, whether you're a fan of great eats or beautiful art, romance or adventure, or all of the above.
Will Journey is…
A collection of travel itineraries contributed by an exclusive group of the best travel content creators from around the world.
And the initial inspiration behind it…
Our generation is seeing the world in new ways than generations prior, and travel is no exception. While we don't use travel agents, we're willing to go to remote places in the world for the rush of an exciting and unique experience; the kind of experience that we get glimpses of through the people we admire on social media. While there's a deep desire to travel to far-off destinations, the planning of trips such as these has proved to be an incredible barrier. With Will Journey, we set out to help our fellow travelers make their dreamiest of journeys a reality. Our itineraries will be made up of incredible photography and stories, but most importantly the truth of our contributor's journey. A true journey is raw and real, and that's exactly what our itineraries will encompass.
Our recs for an up-and-coming vacation spot…
For those looking for adventure and beautiful landscapes, Iceland is quickly seeing a major increase in attention from tourists. In 2015, Iceland saw a 30 percent increase in visitors up from 24 percent the year prior. It's been on our list for a few years now and it's only a matter of time before we book a trip.
And for beach bums…
Playa Grande Beach Club is our most recent favorite beach destination. The remote location and limited bungalows make it feel extra intimate. Our favorite beaches ever are the ones we've explored on Oahu, Hawaii. You can't go wrong with a few days spent on the North Shore or at Lanikai Beach or even more remote beaches like Yokohama Bay.
And the art lover…
It's not a secret that Florence is famous for its art. You can spend days bouncing between galleries and museums both world famous and hidden.
And the gastronome…
Mexico City also receives votes for up-and-coming spot. Everyone we've talked to about Mexico City raves about the abundance of delicious food options. From street food to Michelin-star restaurants, you're bound to leave Mexico City with a full stomach.
And the adventurer…
Patagonia or Alaska (see our Alaska Itinerary from last May). Vast wilderness begging to be explored. We visited Alaska last year and received such great feedback from sharing our itinerary that we were inspired to create Will Journey.
And the romantic…
Amalfi Coast or Santorini. The most romantic places we've been all have beautiful views, warm sun or warm fires and private spaces to enjoy each other's company and a glass of wine.
And for those planning a kid-friendly vacation…
Banff National Park, Canada. With plenty to do outdoors activities, like canoeing and hiking, this beautiful and charming part of Canada has enough for everyone in the family. Banff thrives on tourism so everyone is very friendly. In fact, you can't just move to Banff, you have to meet eligibility requirements in order to reside there, so you get a sense that the locals you encounter love where they live and want to share what they have with those visiting.
My favorite place in the world…
We've traveled to too many amazing places to pick a single favorite. The attributes that make for an amazing trip for us would be warm weather, beautiful scenery, delicious food, great company and a clear purpose for the trip.
And my top travel tip…
Make sure to balance your itinerary between high intensity (travel and activities) and low intensity (relaxation and flexibility). Travel is exciting; often our first instinct is to book ourselves solid with too much travel time between locations and too many activities. From our experience, a go-go-go attitude while traveling can lead to you wanting to take another vacation as soon as you get home from your current one. So even if you're an adventure traveler, make sure you carve out time to relax. The good news is you can always fill the time if you feel the itch to explore.

Follow Will Journey on Instagram.
Explore more features from the Getaway Issue, past and present.
More to explore in
Travel