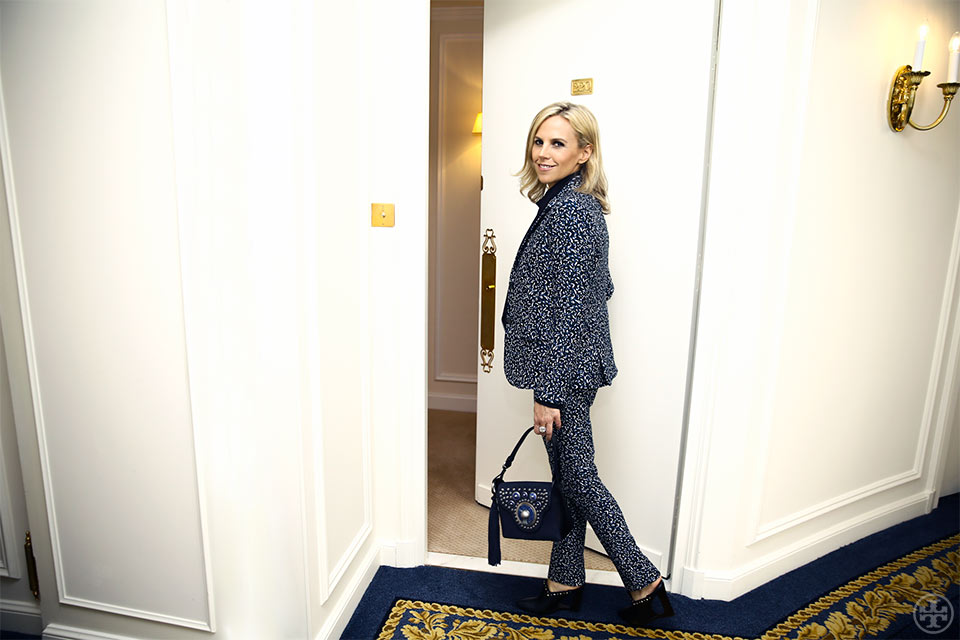 Tory found a vintage green floral tunic in a Paris flea market years ago. It caught her eye immediately — a classic silhouette that epitomized a stylish, effortless attitude of women in the Seventies, including her own mother Reva. She brought it back to New York and, over a decade later, it hangs in a Lucite frame in her office. It was the first silhouette in her collection.

But long before that, the City of Light fascinated Tory, as it does so many. This was where Madeleine Castaing reigned from her shop on the Left Bank, collecting and selling beautiful antiques and honing her signature bold interior designs. It's where the design greats — from Coco Chanel to Yves Saint Laurent to today's leaders of Parisian couture and ready-to-wear traditions — keep their ateliers. Reva collected and wore their designs in the Sixties and Seventies. Reva bought Tory her first dress, which she wore to her high school prom: a black and hot pink velvet Saint Laurent.

Eleven years after opening the very first store in New York, Tory is thrilled to celebrate our very first Tory Burch store in Paris, on rue Saint-Honoré. Here, Tory shared her day in Paris on Monday.



8:30 AM

The design team and I head to the 6th and 7th arrondissements. We take pictures everywhere we go. Maybe we'll see something — architecture, gardens, even the layout of the streets — that ends up translating into a watercolor or digital print. My two colleagues, Suki and Som, who have been with me since I started the company at my kitchen table, share my love of vintage jewelry and fashion, so we plan on stopping in at Didier Ludot and Dary's, too.

11:00 AM

We walk by Deyrolle, the beautiful taxidermist shop that has been around for nearly two centuries. I remember coming here on one of my very first trips to Paris. I can't wait to bring my boys here.

Noon

At our Paris boutique for lunch and an interview with members of the French press. I've dreamt of opening our first store in Paris since we first launched in 2004. Our team did an incredible job pulling together the details in the store — gold-leaf peony wallpaper playing off brown-and-white marble floors on the ground floor, Syrian tables with mother-of-pearl inlay on the second floor or two rugs by Madeleine Castaing, one of my favorite designers.

7:00 PM

I'm sitting on the outdoor terrace of Les Ombres, having cocktails with friends and family. It's a picture-perfect night — clear skies and the sun is still out. The Eiffel Tower is straight ahead of us. It is, perhaps, Paris' most obvious attraction, but it's still an incredible sight.

8:45 PM

We arrive at the Palais Galliera de la Mode for the second annual Vogue Paris Fashion Fund gala. The Jeanne Lanvin exhibit is incredible. My mother Reva had a few vintage Lanvin pieces (which I, of course, borrowed). And it's a thrill to be here with so many European designers I've admired for so long.

12:30 AM

A ritual when I'm traveling for work, I FaceTime with my boys before I go to bed (or, vice versa, depending on the time zones). They have given me a list of galleries, shops and restaurants to visit… tomorrow.
Il y a plusieurs années, Tory trouve, sur un marché aux puces parisien, une tunique verte à fleurs. Cette pièce à l'allure décontractée des 70's attire son attention, sa mère, Reva, en ayant beaucoup porté à l'époque. Tory en fait l'acquisition. Dix ans plus tard, cette tunique -première silhouette Tory Burch- est exposée dans le bureau de la créatrice, à New York.

La fascination de Tory pour Paris n'est pas récente. Paris, où la décoratrice Madeleine Castaing collectionnait et revendait de magnifiques antiquités, tout en peaufinant son propre style, dans sa boutique de la Rive Gauche. Paris, où évoluaient les plus grands, de Coco Chanel à Yves Saint Laurent, et où travaillent, aujourd'hui encore, de grands créateurs. Dans les années 1960 et 1970, Reva portait les créations des plus grands noms de la mode française. C'est elle qui a offert à Tory sa première robe de bal: une pièce spectaculaire d'Yves Saint Laurent en velours noir et rose.

Onze ans après avoir ouvert sa première boutique à New York, Tory est ravie d'implanter sa marque à Paris, rue Saint-Honoré. Ici, Tory partage sa journée dans la capitale.



8h30

Avec mon équipe de stylistes, nous nous dirigeons vers les VIème et VIIème arrondissements. Nous prenons des photos tous azimuts. Peut-être que quelque chose — architecture, jardins, perspective des rues — nous inspirera un imprimé numérique ou peint à la main. Mes deux collègues, Suki et Som, qui travaillent avec moi depuis nos débuts sur ma table de cuisine, partagent mon amour pour la mode et les bijoux vintage. Nous prévoyons donc de nous arrêter chez Didier Ludot et chez Dary's.

11h00

Nous faisons un détour par chez Deyrolle, ce magnifique taxidermiste qui existe depuis près de deux siècles. Je me souviens y être venue lors d'un de mes premiers voyages à Paris. J'ai hâte d'y emmener mes fils.

12h00

Retour à notre boutique parisienne pour déjeuner et pour une interview avec la presse française. Depuis le lancement de la marque, en 2004, je rêvais d'ouvrir une boutique à Paris. Notre équipe a fait un travail formidable en matière de décoration: papiers peints à pivoines dorées et sol en marbre au rez-de-chaussée, tables syriennes incrustées de nacre au premier étage et deux tapis signés Madeleine Castaing, ma décoratrice préférée.

19h00

Je sirote un cocktail sur la terrasse du restaurant Les Ombres avec mes amis et ma famille. Le cadre est parfait: le ciel est dégagé et le soleil toujours haut dans le ciel. La Tour Eiffel se dresse droit devant nous. C'est peut-être un cliché, mais la grande dame de fer est fascinante.

20h45

Nous arrivons au palais Galliera pour le deuxième gala de la Vogue Paris Foundation. L'exposition Lanvin est incroyable. Ma mère possédait quelques pièces Lanvin, que je m'empressais de lui emprunter, bien sûr. Et quelle émotion de se retrouver parmi tant de créateurs européens que j'admire depuis longtemps!

00h30

Quand je voyage pour le travail, je m'organise pour faire un FaceTime avec mes fils avant de me coucher, ou avant qu'ils se couchent, selon le décalage horaire. Ils m'ont donné une liste de galeries, magasins et restaurants que je visiterai… demain.
More to read…
More to explore in
Travel