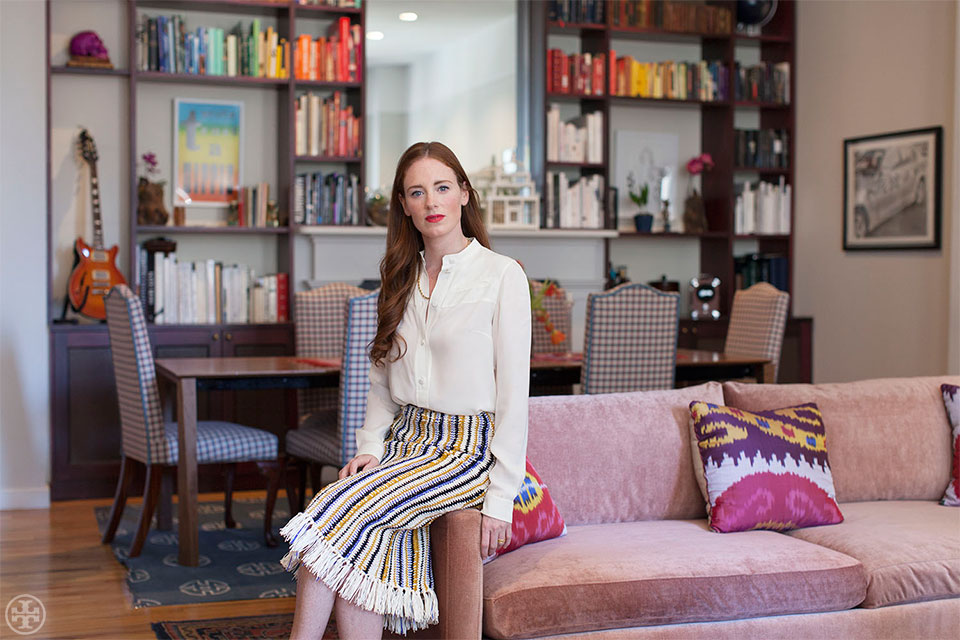 This week, starting today and going through till May 17th, the art world convenes on Randall's Island Park for the annual Frieze New York art festival. For intel on the event and what to see and do there, we chat with Bettina Prentice — Founder and Creative Director of Prentice Art Communications, here wearing Tory's crochet and fringe skirt — who's worked with clients as wide-ranging as Acquavella Galleries, Art Production Fund and The Estate of Ray Johnson.
Frieze New York is like no other art fair because…
It takes over an island of its own in the greatest city in the world. Walking through that sprawling tent is like spending the day outdoors, it is so bright and airy. There is simply nothing else like it. Frieze New York, I love you.
This year, I'm looking forward to seeing…
Samara Golden's hidden chamber underneath the fair and Korakrit Arunanondchai's massage chairs — which are both a part of Frieze Projects. My client Acquavella Galleries is also participating in the fair for the first time. They'll be including some amazing modern works in their presentation, which is exciting, as the rest of the fair is, by and large, very contemporary. Frieze also does so many amazing programs in tandem with the fair. I'm looking forward to seeing art critic Jerry Saltz at Frieze Talks for the Ask Jerry Q&A.
Tips to navigating Frieze, for the serious collector…
Do your research beforehand and reach out to galleries for previews of what they'll be bringing. Most are happy to oblige if your intentions are serious. Also, don't forget that all of the booths have closets, and some of the best works are inside there just waiting to be discovered. Lastly, my philosophy in life is "it never hurts to ask" so don't be shy about inquiring about a small discount.
And for the casual attendee…
First and foremost, you don't have to see everything. Take the ferry to get a great view of Manhattan, wear comfortable shoes and don't forget to sample the food, which is provided by some of the best restaurants in the world.
Other can't-miss art events also taking place in New York…
There are dozens of galleries with amazing exhibitions up in tandem with Frieze and all are free and open to the public five days a week. One not to miss is Jacob El Hanani at Acquavella Galleries — his first solo exhibition in New York in over a decade. His drawings are made up of the smallest movements that the human hand can make and a single work may take months or years to complete.
When in town for Frieze, art lovers should also visit…
The new Whitney Museum is absolutely magnificent! Kudos to my wonderful friends Adam D. Weinberg and Brooke Neidich for making it a reality. Also, if you haven't seen it, the Triennial at the New Museum is awe-inspiring and not to be missed.
Frieze NY vs. Frieze London…
Frieze NY. I'm a native after all — have to play favorites.
Emerging artists I'm keeping my eye on…
I have a beautiful Eamon Ore-Giron and would like another. I have my eye on a Max Snow for my new apartment and am always drawn to Bruce High Quality Foundation.
New York restaurant(s) beloved by the art crowd…
I always see colleagues at Charlie Bird or Little Park. One of my favorite spots is the Happiest Hour, which is inherently relaxed and fun.
My must-read art sites and publications…
New York Times' Inside Art section on Fridays, ArtNews and The Art Newspaper. I also love Art in America — Lindsay Pollock has done incredible things with the magazine. I also think that Vogue.com's art coverage is fantastic.
And the best apps for the art lover…
ArtBinder Viewer!
More to explore in
Culture