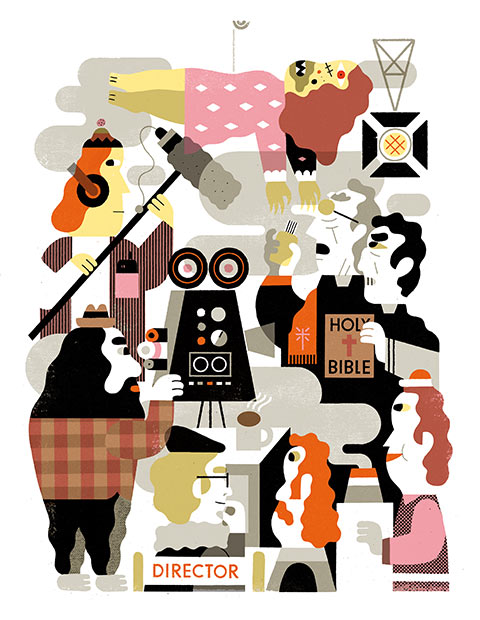 It's the morning after the Oscars and if you're still pulsing from the excitement, the energy, the fashion, the films, the blinding constellation of stars — Meryl Streep! Julianne Moore! Oprah! — we've got the perfect remedy for you:
What I Love About Movies
. And, no, that's not the title of host Neil Patrick Harris' opening number at the awards last night — though it very well could have been, with its big splashy ode, song-and-dance style, to all the reasons we love cinema. It's the name of a recent book by the folks at the British film magazine,
Little White Lies
, who asked 50 filmmakers, directors and actors to answer a singular question: What do
you
love about movies? The result, published by
Opus
, is an inspiring read — each answer worthy of a podium acceptance speech — from such A-Listers as Pedro Almodóvar, Francis Ford Coppola, Helen Mirren, Jake Gyllenhaal, the Coen brothers and Philip Seymour Hoffman (to whom the book is dedicated). Adding to the collector factor of
What I Love About Movies
is the accompanying artwork, done exclusively for this compendium by 50 leading illustrators and graphic designers. Here, excerpts from some of our favorite responses.
"I love the brilliance and the vast verisimilitude — is that the right word? — of minds that come together to tell a story…. To me, that's what I love about making movies. What I love about movies? Movies are the closest things we have to dreams." — Jake Gyllenhaal
"I love the privacy of the experience of watching a movie. When I watch a film it's just me and the screen, and I love that; the intimacy of that." — Helen Mirren
"It was sometime in junior school that I first saw First Blood and it kinda put me under a spell. I believed I was Rambo, and I filled my Fisher-Price Houdini Kit up with steak knives and took it into school…. I didn't hurt anybody, thank God, and I learned my lessons…. But films have such a powerful effect on me. I've tried to control that but I don't think I've ever really managed to." — Ryan Gosling
"I think fundamentally what I love about movies is the parallel reality of them…. They're a more selective, more attuned and more neatly edited version of life itself. It's improved life." — Richard Linklater
"When I think about it, it's creativity that inspires me. When somebody makes something that I can get lost in…. Making something that I can just fall into. You're just consumed by it." — Spike Jonze
"There's something that happens when you're in a dark room watching something that has a certain impact on you that reaches a very deep, subconscious part of you. It's indelible…. It's a very communal experience, but cinema is isolated, it's just for you and it affects you on a much deeper level in that sense." — Philip Seymour Hoffman
"As a filmmaker, you have to use what we call a one-tone pencil, which is a vast crew of people to whom you must communicate and express your ideas and the images in your mind and the way they move and combine. I see it and value it as an extraordinary art form and the best forum for ideas in the larger public realm." — William Friedkin (illustrated above by Hedof)
"I love shutting off and being somewhere else." — Carey Mulligan
"It's an immersion that I think is unique. In the summer of 1975, I was 12 and I saw Jaws. It freaked me out so completely it was almost like a civil claims court: 'I need to know more about who did this to me.'" — Steven Soderbergh
"Movies for me are therapeutic. I've always thought films, like fairy tales, explore concepts such as life and death in a safe way. They help you learn to cope and find your place in the world…. Similarly, making movies is basically an expensive form of therapy." — Tim Burton
More to explore in
Culture