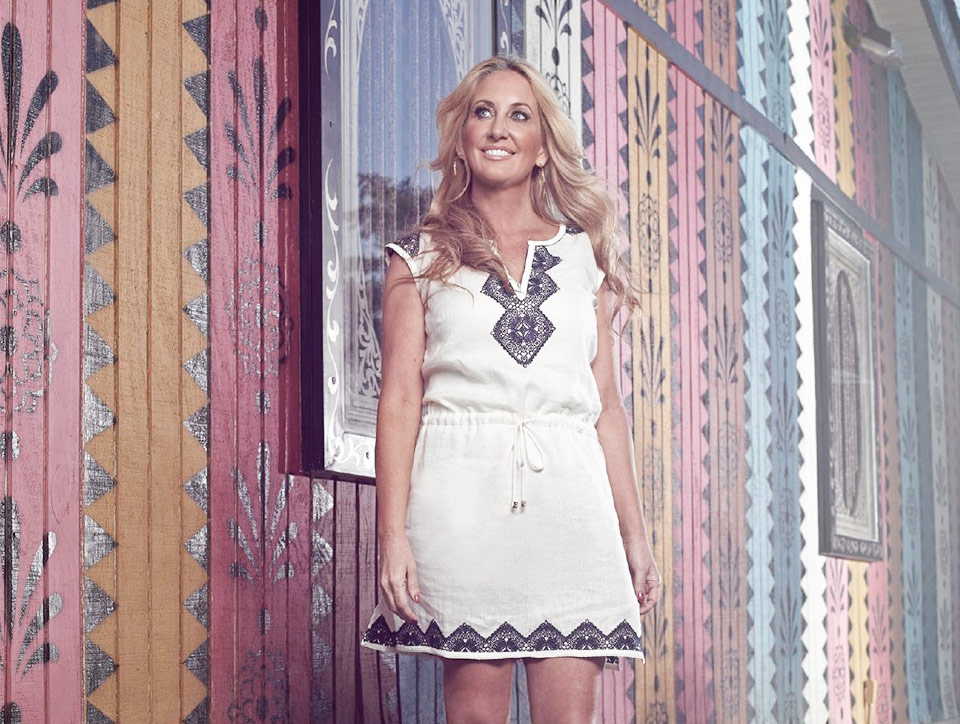 Almost seven years after her last album debut, country star Lee Ann Womack is finally back with The Way I'm Livin', out this September. And get ready; it features some of her most raw and intimate songs yet. "It just seems like music when it is most powerful hits you right between the eyes," says Lee Ann, here wearing Tory's Margherita dress. "Some of these songs are hard truths, tough moments, places you'd rather not be, but you know, life takes you to those places sometimes." Produced by her husband Frank Liddell, each tune comes from a different songwriter — 13 in all — adding to the album's emotional reach. Here, we chat with the Grammy winner about what we can expect with The Way I'm Livin' — plus her first music memories and thoughts on the singer-songwriter relationship.

This album is about…
How people fall apart, fall in love, fall away. It's not a simple deal if you're really living and, in that, not only is life interesting, but I think we figure out who we are and why we matter. Or so I hope. Somebody said it was all sin and redemption. I think that's a little too easy, but for sure it's how people get in trouble, how they find themselves and the deals they make to get by. It's all part of it. And I think these songs capture the real essence of the struggle, the glory and the tragedy.
I chose the song The Way I'm Livin' for the album title because…
I think people have such an idealized notion about life, or the way life should be in songs. That song really laid it out there, how raw and painful life can be, how when you're in the throes of tough stuff sometimes you don't wanna stop — and that's the tricky part. How do you know? To me, that's the larger question of life. Don't judge, watch, learn. And that's what all these songs are about in different ways.
This is different from my other records because…
Gosh, well, first of all it's the first time my husband Frank [Liddell] produced a whole record for me. He did three songs on [my 2000 album] I Hope You Dance, including Does My Ring Burn Your Finger, which is a staple in my live shows. Frank knew I wanted to push songs, to see how much pain, how much glory we could put in a single song. He knows me better than anyone and sees things about me I don't. So in some ways, this was him showing me things about myself.
To put this record together…
Frank assembled a band unlike any other working in Nashville. Matt Chamberlin is one of the most in-demand rock drummers there is, and a very curious musical soul. He even played a garbage can on a song. Duke Levine is Peter Wolf's go-to guitarist. Glenn Worf, who co-produced with Frank and Grammy-winning engineer Chuck Ainlay, is as good on upright bass as electric — and Mark Knopfler doesn't leave home without him! And Mac McAnally, who is a fine artist in his own right, is a Coral Reefer — and a wonderful songwriter.
A behind-the-scenes glimpse…
The way Frank framed up the sessions was very different. Besides having me start almost making pencil sketches with Randy Scruggs on an acoustic guitar to find the emotional center of each song, just me and Randy, he wanted the players to create their parts based on how I sing each song. A lot of times, the tracks get made, then the singer figures out how to sing the song based on that. In this case, I was on the floor with the players, making eye contact and responding to them as they responded to me. It felt like they wanted their playing to support my vocals, and that is incredibly inspiring — like what or how you're singing is what's creating the parts they feel are the best to play. No one makes records like that, and it fired me up in the studio.
Most memorable moment from recording this album…
There were so many — things the different musicians played, talking about music from a whole other place… I think the shift in how the record was made changed the way every one of us looked at the process, the songs and how we were filling them out. It's interesting when you get musicians together, then you push them beyond what we know. What you learn can be a revelation. For me, the idea of the players working around the vocal? It's a whole other sensation, and it really made singing something new for me. As a vocalist, I loved it. You can get a whole other kind of nuance in; there's room for that sort of subtlety.
And the biggest challenge…
Figuring out which songs we weren't cutting, because there were several other really great songs! I'm very blessed: great songs tend to find me. Frank and I listen to so much music, too; there's a never-ending stream of unusual songs begging to be sung. But in the end, these are the ones that seemed to pull together and, taken as a whole, it's not a story, but it sure is a picture of the rough spots people can get into, and also the reality of how we transcend the tough stuff. All His Saints is as fiery as anything on there. Technically, it's the exact opposite of The Way I'm Livin', but to me, it's really about the same thing: being consumed by life, by passion, by the way you're making your way through the world. And Saints is the answer or resolution to Livin', only it's about making the turn and finding salvation.
First music memory…
Going to the radio station with my dad, who played classic country songs. He'd let me look at all the records, just take my time studying the covers and taking in everything about them. I think it's where I learned my love of real country music — and that has stayed with me throughout my career.
The singer-songwriter relationship…
Well, you don't really work with the songwriter. Once you pick the song, it's up to you to bring it to life. You hope the writer is happy with how you sing their song, because it is their song. But you also know what you hear in a song may have nothing to do with what they intended. I think people cut songs because they make them feel something. I know I do. Not necessarily my life, but certainly something I've seen or someone I've met. I want to give witness to their lives, especially the ones who are really struggling — and people think they can just "snap out of it." To me, that's the greatest thing a song can do. And when you're doing a song that was written by an artist who's a singer/songwriter, you know they wrote it to perform. It's a truth they're invested in, and I think there's a little extra pressure to honor that idea: this song means more than just getting a cut to the artist. When you know that, even if you don't know what the song is about, you want to honor the song and the person who wrote it.