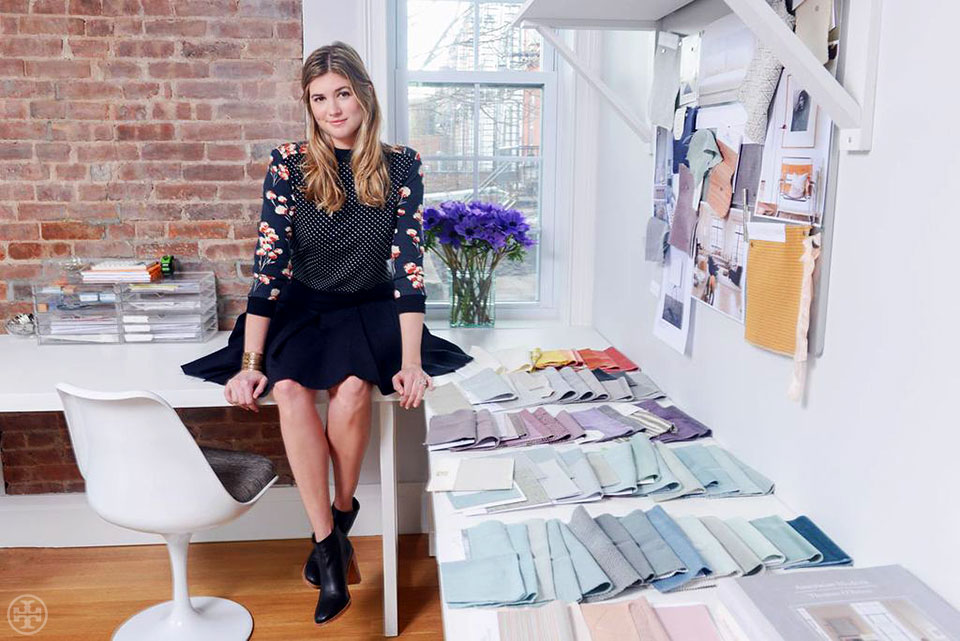 Here in Tory's Ronnie pullover, Interior Designer and Founder of A.A. Baker Design opens up about her career and shares some quick and easy decor tips.
My design mantra…
Inspiration is what fuels my creativity and it is an essential part of everything I do.
I got into interior design because…
I needed to be in an industry that would allow me to be creative — and with my love of architecture, furniture and textiles I knew this was the work for me. I have always been attracted to space and layout. I've been drawing floor plans since I was a child and would create stories of how a person would live in each room. Even now, when I work with my clients, I create a storyline of how they will use each room and how the atmosphere of each room will achieve that with the right design elements.
Favorite home…
An abandoned Addison Mizner house I discovered one day on a bike ride when I was 16. Someone had purchased the property and their plan was to tear the house down. The door was slightly open and my mom and I snuck inside to take a peek. The house was quite small compared to Mizner's other achievements but for its size, the layout and design was absolute perfection. I like to credit that house with my first understanding of the importance of scale and proportion.
Favorite item in my apartment…
A French limestone table with an unlacquered brass base that we use as a bar — the first piece of furniture I purchased when I moved to New York. It has a refined industrial feeling to it and I love the mix of the old weathered limestone with the patina of the brass. It is easily the heaviest piece of furniture we own.
My insider tips on home decor…
Have an open mind and enjoy the process. A home is an evolving place that should be a reflection of you and the way you live. If you are working with a designer, have an open mind — you've hired them to introduce you to ideas you might not necessarily have on your own.
To easily update your home for summer…
Fresh flowers and open windows to let the breeze in. Throw pillows are also an easy way to freshen up a space. I love the made-to-order pillows from Peter Dunham's line of textiles at Hollywood At Home. There is also a great collection of vintage pillows.
And to make a summer rental chic…
Turkish towels are a great buy. They are inexpensive and you can use them as tablecloths or layer them on top of unsightly rental furniture to create a laidback bohemian look. I also love Scandinavian-style wicker furniture like the Karlskrona chair from Ikea. It's light and easy for indoor or out and something you won't worry about leaving behind when the summer ends.
Tips on collecting art for the home…
Collect what you love and what makes you happy. Don't be afraid to mix modern and traditional pieces. I love my new painting from Eliza Geddes' Bird Series that hangs over my mantle, and on a recent trip up to Brimfield I found a Salvador Dalí etching for $50. Flea markets can be a treasure trove for inexpensive art.
Icons I admire…
Elsie de Wolfe for inspiration — a total character with an inherent sense of style and design. Françoise Hardy for her beauty and style. Sofia Coppola for her imagination and creativity. And Charlotte Rampling for her mystique and beauty.
Favorite design blogs and sites…
A Note On Design, The Gifts of Life, Pinterest
Modern Hepburn and Remodelista.
For home decor inspiration…
If you are observant enough, you'll find inspiration all around. I live in Carroll Gardens in Brooklyn and there are so many exciting and interesting things happening right in my neighborhood. I read a lot, walk a lot and explore. It helps my creativity.
More to explore in
Entertaining