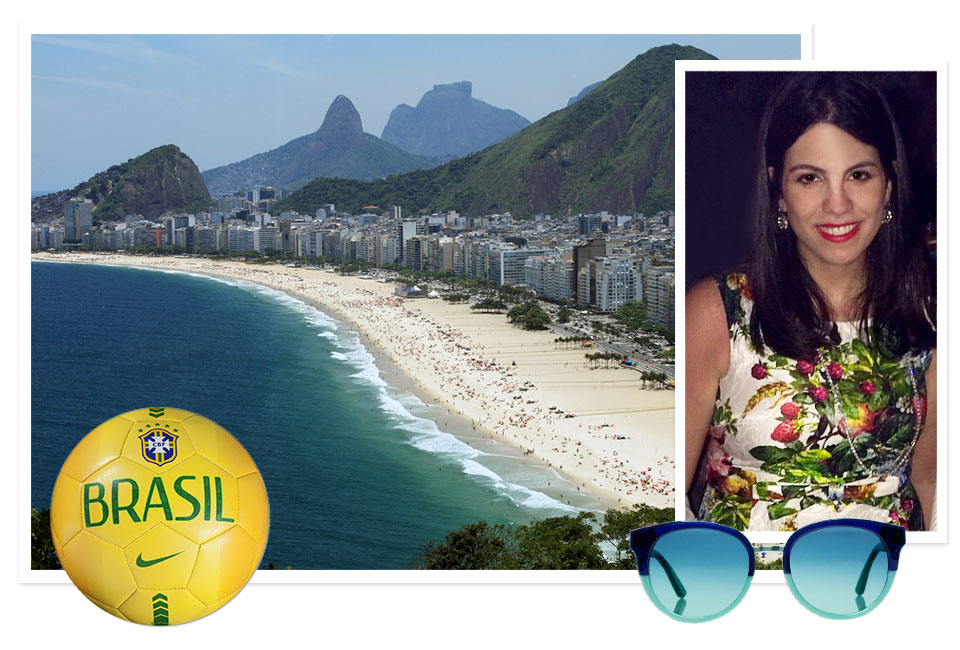 This week the World Cup reaches a fever pitch as we countdown to the finals on Sunday. And whether you're in Brazil taking in the games first-hand or watching from the comfort of your couch, here's some insider intel on everything you need to know about the host country — from the best places to celebrate a win to packing essentials for the would-be visitor — all courtesy of Vogue Brasil contributor Fernanda Abdalla.
During the World Cup, Brazil is…
One big crowd moved by joy and pride. It's all about soccer, nothing else matters!
Best place to catch the games outside the stadium…
With a group of friend at someone's home. It always turns into a big party.
Best place to celebrate a win…
In the streets with the people. No place has better energy.
Key phrases to know…
Gato (for guys) and gata (for girls) if you want to flirt — it means "cat" and is a sweet way of calling someone beautiful. Saudade doesn't translate to any other language and it's a feeling of longing, melancholy or nostalgia that's characteristic of the Brazilian temperament. It's my favorite word in Portuguese and will hit you once you are gone.
Packing essentials for a trip to Brazil…
Less is more. It's very casual and hot all year round in most of the country. I tend to wear dresses that can easily go from day to night.
Brazil style is…
Laid-back and sexy.
Can't-miss cities and what to do there…
My hometown São Paulo is a cosmopolitan city with a variety of local and international restaurants, high-end shops and art galleries. In Rio de Janeiro, you must visit the statue of Christ the Redeemer — the view is breathtaking — and watch the sunset from Pedra do Arpoador and, as the locals do, clap your hands when the sun goes down. At night, go to the bohemian neighborhood Lapa for live samba and bossa nova. My favorite spots are Rio Scenarium and Carioca da Gema.
And for a beachside escape…
Have coconut water under its own tree by the beach on Trancoso, on the northeast coast, and explore the Quadrado, the epicentre of the village, framed by colorful houses, a picturesque church, funky boutiques and charming restaurants and pousadas.
My favorite restaurants in Rio…
Satyricon for the best seafood. If the weather is good, take a day trip to Guaratiba and lunch at the mesmerizing Bira. It's worth the 40-minute drive.
And in São Paulo…
Go to Rodeio for the famous local meat. Even if you are not a big meat eater like me, the pão de queijo (cheese bread), the heart of palm and the side orders of arroz biro-biro, fried yuca, pastel and farofa are to die for. São Paulo also has the biggest Japanese community out of Japan so expect to have very good sushi — Jun Sakamoto is my favorite.
But, really, you can't go wrong with…
Any of the restaurants in Brazil by hotel owner and restaurateur Rogerio Fasano. For date night in São Paulo, go to Fasano and dine under the starry night. If the weather allows, the roof in the main room will be open.
Cocktail to drink if you want to be mistaken for a local…
The typical caipirinha. You can have it made with endless options of tropical fruits. My favorites are pineapple and local caju (cashew fruit).
Secret only a local would know…
Have your caipirinhas with vodka (they call it caipiroska) instead of the local and famous cachaça — you won't get hangovers (at least not as bad).
More to explore in
Travel