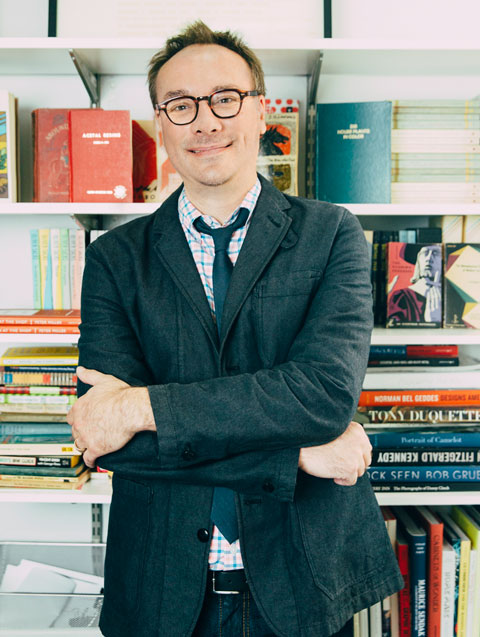 Next up in our Book Issue: an inside glimpse at the fast-paced world of publishing, courtesy of John Gall, Creative Director of Abrams. He takes us through a packed day in his life, from morning coffee to late-night assignments and all the creative happenings in between.

7:30 AM

Wake up. Try to catch a glimpse of my younger son before he heads off to school. Coffee.

8:15 AM

Walk to the train with my wife and our cavapoo named Gromit. Discuss presentation that my artist/educator wife will be giving at the Design-Ed Conference this summer.

8:30 AM

Use the commute to read The New York Times, catch up on Game of Thrones recaps and the previous night's Mets game, monitor my Instagram and two Tumblr accounts. Check the overnight email. Try not to spill coffee on self.

9:30 AM

Arrive at the ABRAMS office. Try to spend the first hour or two away from email and in "creative mode" but that quickly derails. Review the morning's sample pages, cover designs and first-pass book designs. Discuss with editors. Eat a banana.

11 AM

Departmental meeting in my office which also means Doughnut Plant doughnuts. Realize how lucky I am that all these book projects are in such capable and talented hands.

1 PM

Lunch. Visual stimulation time. Printed Matter, Van Alen, Bonnie Slotnick Cookbooks and the third floor at Strand are great nearby resources for the book minded. Take out from my favorite "fast food" place: Go Go Curry.
2 PM

Review color corrections and slipcase samples for the Commune design book.

3 PM

Cover design meeting. This is where I present covers to our CEO, our Publisher, and heads of Sales and Marketing. This meeting can make or break my week.

4 PM

Discuss new book ideas with Eric Himmel, our Editor in Chief. My favorite meeting!

4:30 PM

Finally some design time. Tweak cover finishes for Mid-Century Modern Complete. Work up concepts for the I Hate Kale Cookbook with illustrator Joel Holland. Review progress on ABRAMS website redesign and ABRAMS brand refresh.

6 PM

Head to the book design class I teach one night a week at the School of Visual Arts.

9 PM

Long day reward: beef ribs and a rye Manhattan at the bar at Blue Smoke. Hopefully the Mets game is on.

10 PM

Try not to fall asleep on the train ride home. Check in via text with older son at college. We talk sneaker design and Kanye West.

11 PM

Finish up collage art for Bill Orcutt's Turkey in the Straw, a 7-inch single for the Lucky Peach Record Club.
More to explore in
Culture