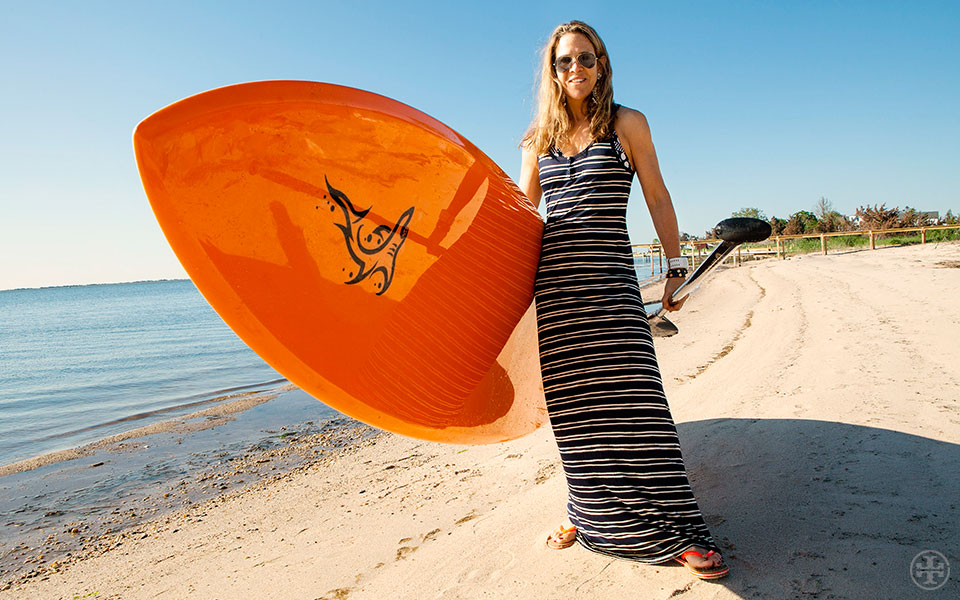 I love paddleboarding because…
You are standing on the water. It's an amazing sensation that is very calming and meditative. You also have this amazing vista of the horizon that makes you feel like an adventurer!
It's a great workout because…
It's all core! You have to stabilize yourself with your mid-section and are essentially pulling the paddle against your own resistance. It's great for the arms and shoulders, too.
Best local spot to paddleboard…
I have a tiny cottage on the water just a few yards away from Great South Bay in Bellport, Long Island. It's a place I have rented for the last six years and is one of the most tranquil spots on the planet. I love to roll out of bed and go out first thing in the morning when the sun is coming up and the water is flat. The light is beautiful and there is no one else out there.
Favorite paddleboarding place in the world…
While I do paddle mostly locally, Sayulita in Mexico is a great spot. The beach is a cove, so it's perfect for beginners and seasoned pros, too!
Best beach in the world…
Bellport is still my fave. It's right across from the very end of Fire Island where there are no houses, just a wildlife preserve locals call Ho-Hum Beach. I often paddle over first thing in the morning, run across the quarter-mile boardwalk to the ocean, jump in, run back and paddle home.
My paddleboarding look…
It varies depending on the weather. When it's hot, just being out there in a bikini feels so good! Otherwise some combo of swimsuit (my Tory Burch Paloma halter top is heavy in the rotation right now), boardshorts and rash guard.
The one paddleboarding story I never get tired of telling…
When I first got my board, not knowing any better I decided to go out on a windy day. I was having so much fun surfing the swell, the waves and wind pushing me along. Then it was time to turn around and come home, and I was literally paddling in place! I eventually had to flag down a boat to pick me up and bring me back. When I arrived, a friend of mine started laughing and said, "No wonder that guy in the boat was so quick to pick you up…your suit is totally see-through!"
Right now, I'm stoked about…
The launch of Style of Sport and sharing my lifelong passion for the sporty lifestyle with everyone! And the line of limited-edition, custom Style of Sport stand-up paddleboards we are producing with Natures Shapes surf shop in Sayville, Long Island. They're hand-shaped, made from recycled materials and equally maneuverable on flat water or in the surf. The colors are customized to the paddlers' preference. Mine is orange with a painted wood top.
Best paddleboarding advice I've ever received…
I have been friends with Gabby Reece and her husband Laird Hamilton for a long time, from my days as an editor at Women's Sports & Fitness magazine. He actually introduced me to the sport back in 2003. A great piece of advice he gave me, and a helpful visual tool as well, is to keep your arms straight and think about pulling your body and the board to the paddle during the stroke. It helps keep the core stable and strong. Once the paddle is at your feet, it's time for the next stroke.
More to explore in
Experts