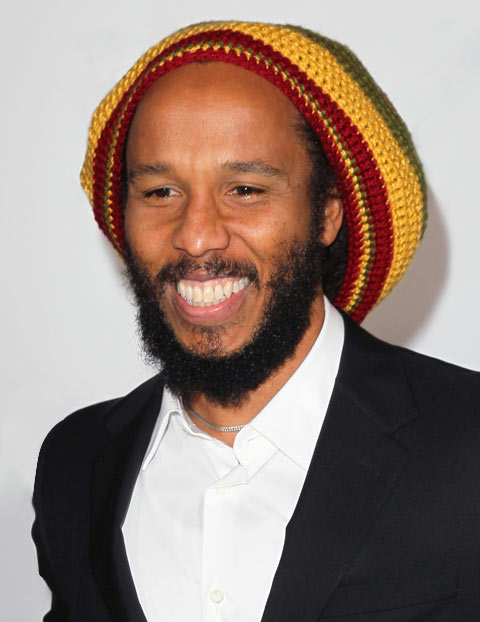 Not only did Ziggy Marley just release a new album and is hard at work on another (as well as the next episode of his Marijuanaman superhero series), but this weekend he's heading to the South Beach Food & Wine Festival. The culinary connection here? Ziggy's got a new line of organic eats to promote, too.
I heard you're working on a new album. When can we expect it?
I don't know. The process is so long and tedious for me.
Tedious, really?
Jah, mon. Some songs, they give me a hard time. Sometimes they come easy and sometimes they don't, but when it's challenging, you have to learn how to persevere. You know, all music is not manufactured in a factory; it's a kind of art. It's organic, like food. You have to plant the seed and it grows. It takes patience.
People would be surprised to know that…
I play video games. My favorite is FIFA, the soccer one.
How do you prepare for a concert? Any pre-show rituals?
The day of the show, I eat a good breakfast — something healthy, like oatmeal. Then maybe a salad for lunch. The one ritual I have is quiet. I need to focus my mind, like an athlete ready to go on the field. I'm getting ready to play a game and I'm ready to win the game. Get your body ready, get your mind ready and then you go.
Favorite song of your dad's?
I don't have a favorite. I like all of my father's music.
The soundtrack to your life…
Love Is My Religion. And not because it's mine. That's really who I am. That's me, right there.
The Marley documentary was up for a Grammy and
a BAFTA this month — what was your reaction to it?
We were all part of the creative process, but the first time the director showed us the cut, it was very emotional. Some things I wasn't there for or was privy to, like when [my dad] was in Germany and things like that. It was emotional to hear stories of when he was sick. But there was also a lot of laughter because we heard stories about him in his younger days.
Such as?
One story that made me laugh was, when The Wailers were coming up, their mentor Joe Higgs would have them practice in a cemetery. If you can practice in a cemetery and not be afraid of the ghosts, then you won't be afraid of going on stage in front of people. See, I'm still laughing as I tell you.
What's behind Ziggy Marley Organics?
I've always wanted to do something in the food world, a couple of years actually. But it couldn't be, like, Ziggy Marley Bacon Bits. I couldn't just slap my face on something and sell it; it had to have a philosophy or idea behind it. And the idea is organic and non-GMO and good food for everybody. All of that is a part of me.
Why coconut oil and hemp seeds?
I grew up with coconut in Jamaica. We drink the coconut water, we eat the meat and, when we used to go to the market with my mother, we would buy homemade coconut oil. And I grew up with cannabis, you know. I grew up with marijuana and found out how useful hemp could be, nutritionally and economically. People are not too aware of this and I think we need to make them aware of the goodness of the coconut and the nutrition of the hemp seed.
How do you use the coconut oil?
I make pancakes for my kids with it. Or tofu. You have to get creative. The first time I gave it to my friend, you know what he did? His baby had eczema and he put it on his skin! He came back and said the coconut oil really worked! The thing about coconut oil — it's versatile. You can use it for your skin, for your hair, to cook with. You can either buy a million different [products] or you can have one thing that is multipurpose.
Growing up, what was dinner like at the Marley house?
Rice and peas — made with coconut milk, of course. Maybe some chicken and some fish. On Saturdays, there was soup, which we didn't like. They didn't cook anything but soup. It was a struggle to make us eat it, you know, because we were kids. We didn't want soup!
What do you think of the commercialization of the Marley estate?
It's something we have to be very careful about. The same principles I put to myself, I put to that. The difference is, with me, I am the only decision maker, but in a family business, it's a group. So sometimes things might not go the way I like, but I have to accept that because it's a more democratic type of thing. But I am still a staunch overseer of what and how far we go with it — just sometimes the discussions are not all…peaceful, you know?
Advice for someone launching their own company?
You want to grow organically within the marketplace. You don't want to force anything on anybody; you want people to come around to it. And you want to find good people who can help you. This is not a thing you can do by youself; you have to find a good team.
Culinary guilty pleasure?
Sweets, sweets, sweets. Every now and then, I go on a binge of sweets, like cupcakes or donuts.
And music guilty pleasure?
I'm not guilty about music. I listen to everything. And I'm going to listen to anything I feel like.