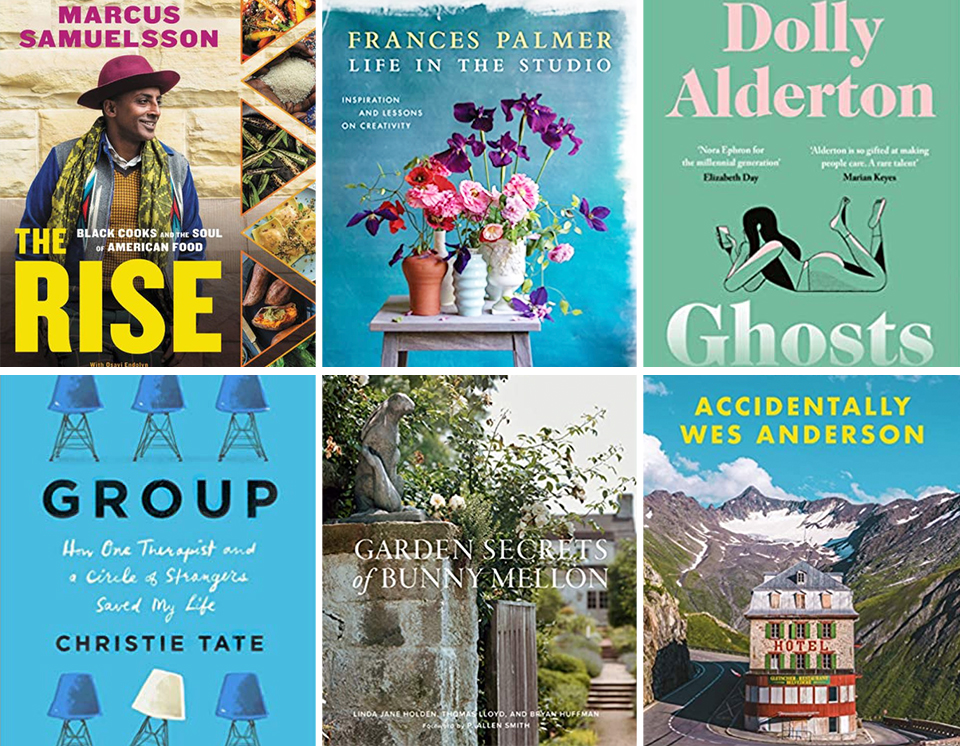 The Tory Daily editors share the new releases that have leap-frogged to the top of their reading lists…
The Gardens of Bunny Mellon by Linda Jane Holden  
Bunny Mellon is a household name around Tory Burch HQ, where we often marvel at the legendary garden designer's work — the Kennedy's White House or Hubert de Givenchy's Chateau du Jonchet… In Linda Jane Holden's new book, readers are invited to explore the incredible landscapes that Mellon worked on throughout her life through archival photography as well as the designer's garden plans and watercolor paintings.
The End of Food Allergy by Kari Nadeau MD PhD and Sloan Barnett 
According to Stanford University's Dr. Kari Nadeau and New York Times bestselling author Sloan Barnett, it's time for us to rethink food allergies. The End of Food Allergy: The First Program to Prevent and Reverse a 21st Century Epidemic provides groundbreaking information on the prevention and treatment of food allergies. Barnett — whose two children have food allergies — learned of Dr. Nadeau's extensive research and set out to make it accessible to readers everywhere.
Accidentally Wes Anderson by Wally Koval 
If you're a fan of Wes Anderson, you probably already follow @accidentallywesanderson, the Instagram account inspired by the director's artful aesthetic. Later this month, Wally Koval, the creator of @accidentallywesanderson, is releasing a book of more than 200 photographs, submitted to him by contributors around the world. The visually striking and quirky compilation of images also includes a forward by the filmmaker himself. Sounds like perfect escapist mood board material.
Ghosts by Dolly Alderton 
Dolly Alderton — who journalist Elizabeth Day dubbed the "Nora Ephron for the millennial generation" — releases her first novel this month, following the massive success of her 2019 memoir Everything I Know About Love. Ghosts tells the story of protagonist Nina Dean as she navigates her early 30s  — family, friends and lovers… It is readable and all too relatable for anyone 30-and-above.
Life in the Studio by Frances Palmer 
Look no further for inspiration than Frances Palmer's new book, Life in the Studio. More than 250 pages filled with delicious recipes and beautiful pieces of pottery, handmade by the artist at home in Connecticut. Palmer gives advice to aspiring potters and opens her world up for readers to explore.
The Rise: Black Cooks and the Soul of American Food by Marcus Samuelsson 
Marcus Samuelsson — head chef of Red Rooster in Harlem, New York — has a new cookbook coming out at the end of October which celebrates Black cooking, culture and creativity. The Rise features 150 recipes inspired by the best Black chefs, writers and activists from around the world, including Mashama Bailey, Edouardo Jordan and Toni Tipton-Martin.
Group: How One Therapist and a Circle of Strangers Saved my Life by Christie Tate
In Christie Tate's debut memoir, the young lawyer chronicles her struggles with mental health and her unexpected albeit lifechanging introduction to psychotherapy. Group hilariously and honestly highlights the importance of human connection and vulnerability, even when it is hardest to come by.
More to explore in
Culture