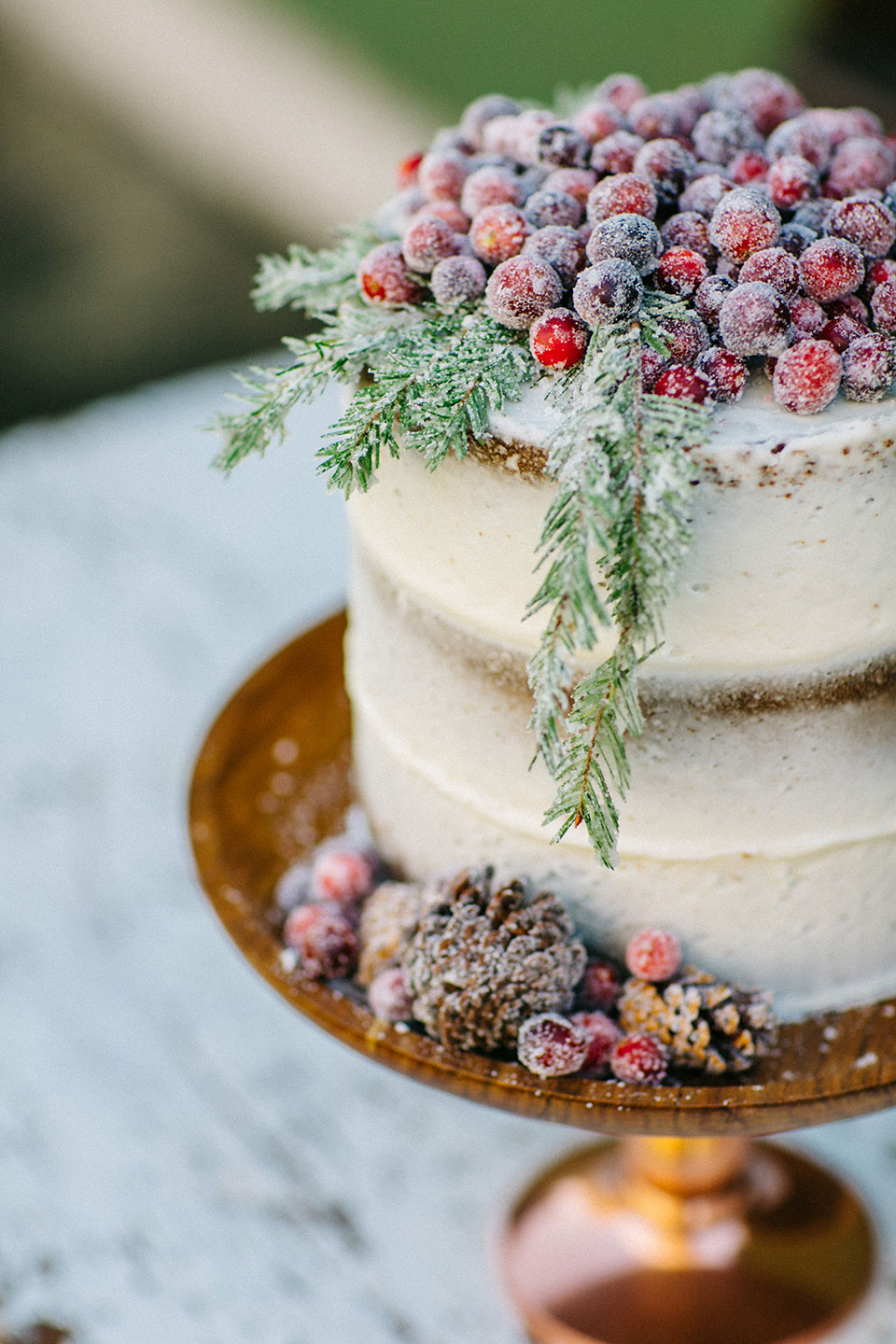 Excuse the pun, but this is a berry beautiful cake…and we couldn't keep it to ourselves! Keep reading for Jenny Keller's — founder of Jenny Cookies Bake Shop in Seattle — festive Gingerbread Cake recipe.
Gingerbread Cake
You will need:
(3) 8″ cake pans
pan spray
For cake:
(3) boxes Duncan Hines Vanilla cake mix
1 1/2 cup buttermilk
1 1/2 cup molasses
1 cup vegetable oil
12 eggs
4 1/2 tsp ginger
1 1/2 tsp cinnamon
3/4 tsp ground nutmeg
For sugared cranberry topping:
1-2 cups cranberries
1/2 cup Karo™ corn syrup
1 cup sugar
Directions:
1. Preheat oven to 350 degrees. Coat three 8-inch round cake pans with cooking spray, or grease and flour the pans tapping out the excess flour. Set the prepared pans aside.
2. In a large bowl and using an electric mixer fitted with a paddle attachment, beat the cake mix, buttermilk, molasses, oil and eggs on medium speed for 2-3 minutes or until well blended. Scrape the sides of the well and mix again until all the ingredients are incorporated.
3. Pour the batter into the prepared cake pans, filling each one approximately 3/4 full. You may have a little remaining batter (you could make a few cupcakes).
4. Place the pans in the preheated oven on middle rack. Bake the cakes for 50-55 minutes or until a toothpick inserted into the center comes out clean.
5. Remove the pans from the oven and place on wire cooling racks for 25-30 minutes.
6. Run a knife around the edges of the cakes, flip the pans over and gently extract the cakes.
7. Return the cakes to the wire racks and finish cooling completely before frosting and decorating.
8. Meanwhile, make one batch of cream cheese icing. Recipe below.
Cream Cheese Frosting
You will need:
1 cup (2 sticks) of butter
2 lbs of confectioners' powdered sugar
2 (8oz) boxes of cream cheese
1tsp vanilla
A dash of milk
Directions:
Combine the butter and cream cheese in the bowl of an electric mixer; using a paddle attachment, beat on medium speed until smooth, about 2 minutes.
Add half of the confectioners' sugar and continue beating on low speed for an additional 2 minutes, or until the mixture is creamy, scraping the sides of the bowl with a rubber spatula as needed. Add the remaining confectioners' sugar, vanilla and milk, and beat until the frosting is creamy and fluffy, about 2 minutes more.
Use immediately or store in an airtight container refrigerated for up to 10 days.
To assemble and decorate the cake:
1. Before decorating, trim the crowns from the cake tops with a cake cutter or long serrated knife so they are flat and even.
2. Place one of the 8-inch cakes on a cake board. Using an angle cake spatula spread about 1/2 cup frosting evenly across the top of the cake layer. Place the second 8-inch cake on top of the first, with the cut side on the bottom.
3. Repeat step 2 with remaining 8″ cake.
4. Using the angled cake spatula, lightly cover the sides of the cake completely with a very thin layer of icing. After the cake is coated in icing, scrape sides again with an angled spatula to pull any excess icing off.
5. In a small bowl, mix cranberries and Karo™ syrup until berries are coated.
6. Pull berries out using a fork or spoon. Pour 1 cup sugar in separate bowl. Place corn syrup coated berries in a bowl of sugar. Using fork or hands, coat berries in sugar.
7. Pull berries out of bowl and place onto cake as a decorative topping!
More to explore in
Entertaining