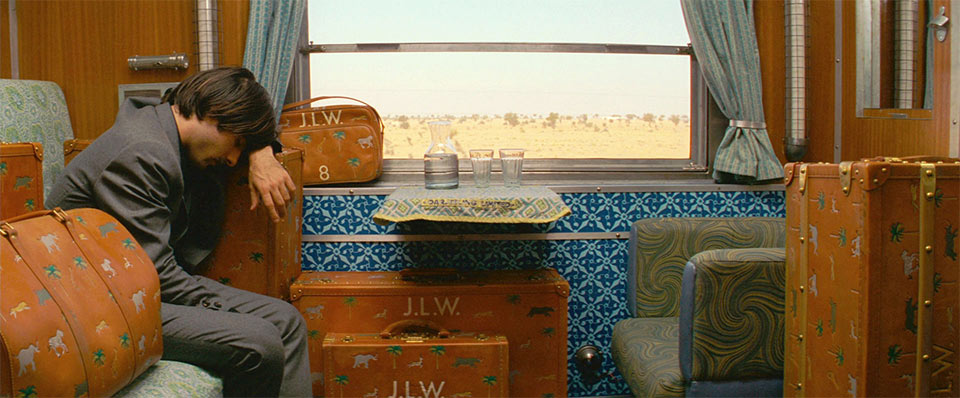 With decorator David Hicks on our minds, we began thinking about our favorite interiors… on the silver screen. We all have our favorites — for some, it's the elegant Italian villa in Luca Guadagnino's I Am Love; for others, it's Patrick Bateman's minimalist, midcentury-modern home in Mary Harron's American Psycho. Here, the Tory Daily editors share their top picks…
1. The Darjeeling Limited, 2007
Train carriages are interiors, too, and we're in love with the mash-ups of vibrant colors and prints in The Darjeeling Limited. The hand-painted geometric patterns seen throughout — in cool blues and fiery oranges — would do Hicks proud. Would you expect anything less from director Wes Anderson? We could do this whole countdown just with his films — The Royal Tenenbaums, Moonrise Kingdom, The Grand Budapest Hotel… They all feature interiors with as much personality as his characters.
2. I Am Love, 2009
Luca Guadagnino's breathtaking movie takes place mostly at Villa Necchi Campiglio, an impressive Milanese estate built in the 1930s. Eagle-eyed readers of Tory Daily may recognize the name — it's come up no less than six times on these virtual pages. Not only is the villa part of Tory's City Guide to Milan, but the estate is an oft-quoted favorite by a number of Tory Daily tastemakers: Martina Mondadori Sartogo, J.J. Martin and Candela Novembre, among them. If you've seen the movie — and the house's stucco ceilings, walnut parquetry and that beautifully grand and graphic staircase — you'll know why.
3. The Great Gatsby, 1974 & 2013
Dive into the dazzling and lavish world of the Roaring Twenties, both in the original 1974 film by Jack Clayton and Baz Luhrmann's remake in 2013. Every detail is, as the flappers say, the Cat's Meow — from the soaring chandeliers down to the Art Deco rugs. And who among us hasn't pined for our own monogram-inlaid marquetry flooring?
4. The Graduate, 1967 & A Single Man, 2009
OK, yes, this is a top five list and we're squeezing in two entries here. But can you blame us? Both offer a seductive take on interior design in the Sixties, Southern California style: effortlessly glamorous and modern — with enviable glass walls that open up to lush, tropical greenery. Plus, the movies — by Mike Nichols and Tom Ford, respectively — are fabulously captivating to boot.
5. American Psycho, 2000
Mary Harron's film, based on the novel by Bret Easton Ellis, is a delight for midcentury modern enthusiasts. Patrick Bateman's apartment is as slick and glossy as the man himself, heavy on the aesthetic surface appeal. In between the not-so-PG content, you'll spot furnishings by minimalists masters Mies van der Rohe and Charles Rennie Mackintosh as well as paintings by Robert Longo.
HONORABLE MENTIONS
A Clockwork Orange, 1972
Pink walls? Patterned furniture? We approve.
Indiscreet, 1958
We love the way Ingrid Bergman's character carefully curated the frames on her wall, each with a bold border in different colors.
Basically anything by Nancy Meyers, who curates her interior design inspiration much like the rest of us: with magazine tears and Pinterest boards.
More to explore in
Entertaining