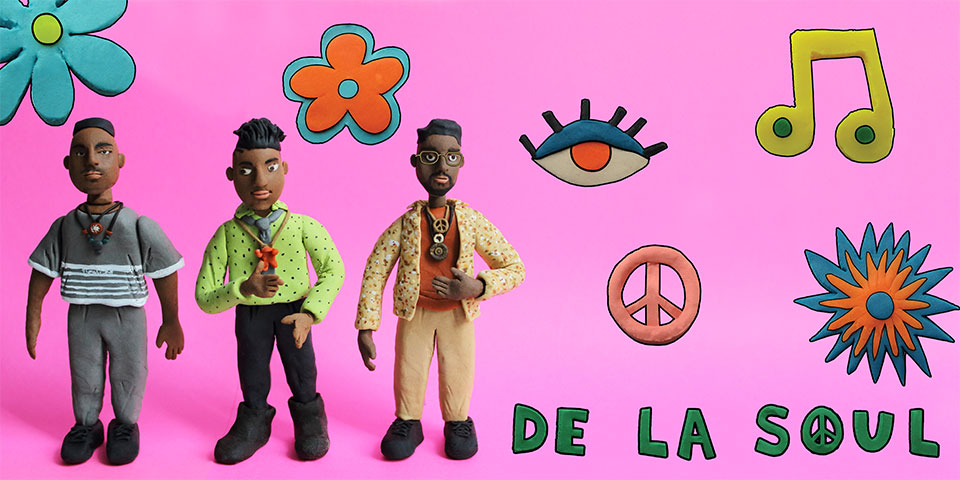 First came What Is Punk?, a kid-friendly music primer on punk pioneers such as Joey Ramone, Sid Vicious and Lou Reed. Now Eric Morse is back with a follow-up that shines a similar PG spotlight on the hip-hop arena and its players, from Run-DMC and Queen Latifah to Salt-N-Pepa and Tupac. Artist Anny Yi returns, too, with delightful clay figurines to accompany Morse's beat-astic rhyming verse. Here, we talk to Yi about What Is Hip-Hop? (Akashic Books) and creating clay rap icons.
We began by…
AY: Eric and I would discuss ideas. Sometimes, he would have something specific in mind; if not, I would brainstorm what scene would be good for the specific pages. Then, I would sketch the illustration. For this book, I did a lot of digital sketching, which was faster for me and allowed me to present a few options or make revisions in a timely manner. I would send the full-colored concept sketch to Eric and we would decide if it's good to go and start making it in 3-D.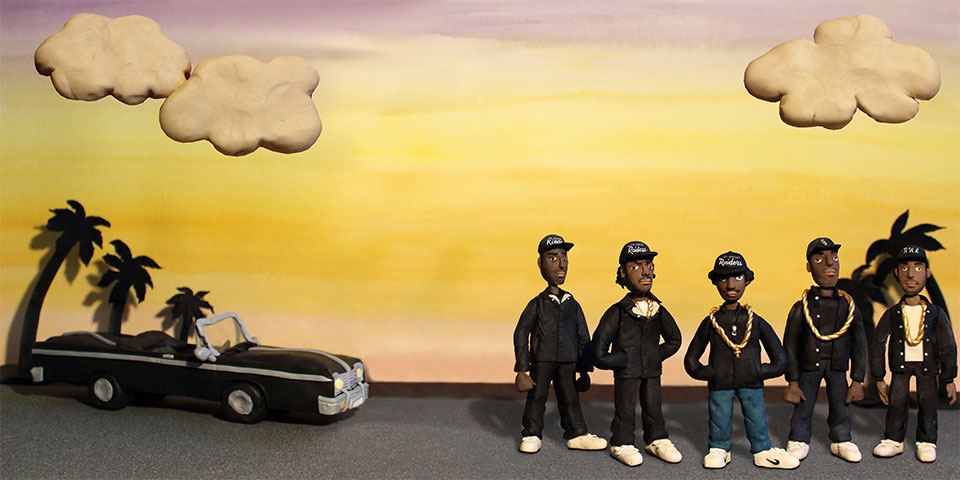 How we decided which artists to include…
AY:
I will let Eric answer this question as this was more about the writing part. Eric wrote the book and worked with Nelson George and [publisher]
Akashic
to figure out whom to include. These books are so hard because someone will ask why didn't this person make it into the book. Well, I also was a little bummed because I was really into Nineties hip hop and I would have loved to have made Cypress Hill or Bone Thugs-N-Harmony, but I understand we were focusing on the beginnings of hip-hop.
EM:
The artist selection process was tough. I've been a huge fan of hip-hop since I was young, and some of my all-time favorites ended up getting cut at the last minute: Slick Rick, Whodini, Mos Def, Gang Starr, The Roots… Tackling 40 years of hip-hop culture in 40 pages was an ambitious undertaking! Fortunately, our "producer," hip-hop laureate Nelson George, was able to give us some good guidance.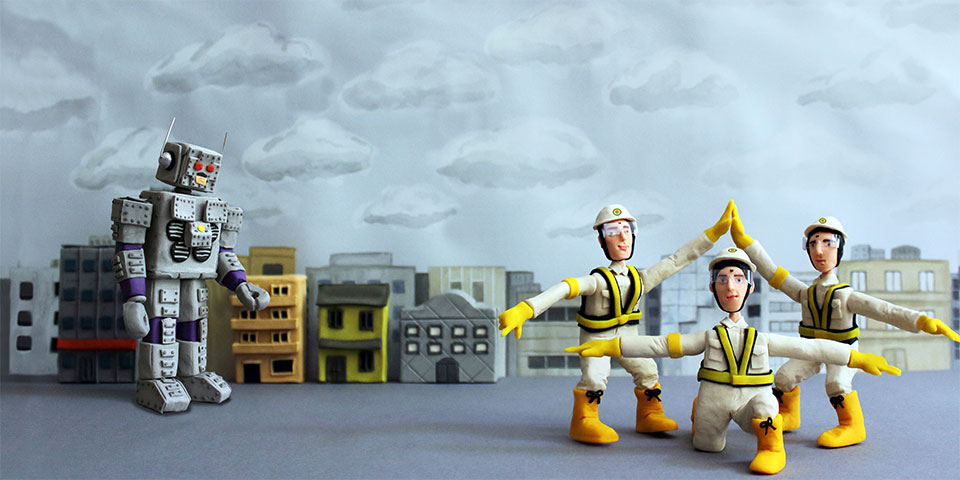 The amount of time each scene usually takes…
AY:
I generally estimate two weeks per illustration. But it all depends on how much detail is in the illustration. Some definitely took longer than others. And that's working on it full time, so about 14 days or more.
My favorite scene in the book…
AY: That's hard to choose. If I had to choose one, I'll say Run-DMC. It's pretty simple, but it took a long time to do and several attempts because of some minor detail changes. I guess I like it because Run-DMC themselves are so iconic in hip-hop — the track suits and Adidas — so the illustration didn't need much else to distract the reader. The members themselves shine.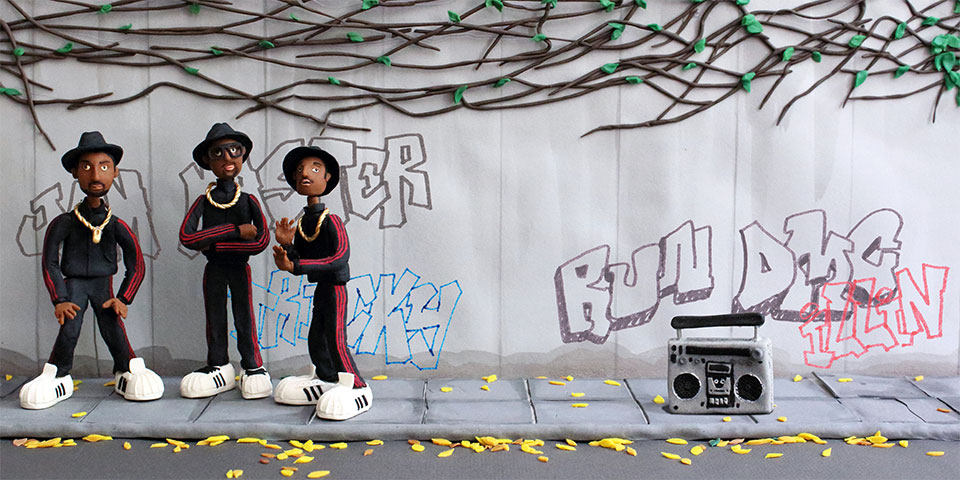 And the most challenging one to produce…
AY:
Definitely the New York subway/breakdancing scene. It had so many different elements. I wasn't sure how to make the subway work. Also, it didn't help that I got really ill right in the middle of working on that illustration. As soon as I started to get better, I had to really power through it and just make it work. There was a lot of sculpting, photographing and editing required.
My claymation tools of the trade…
AY: I have a story here. When I was a kid, my sister had a school project and she made a pyramid out of clay. So my parents bought her the clay and sculpting tools. We kept it and that is what I use. It was one of those clay-sculpting tool-starter packs with a scraper, a wire-end modeling tool, and other shaping tools. Besides that, I use my trusty X-ACTO knife a lot, polymer clay roller and aluminum wire.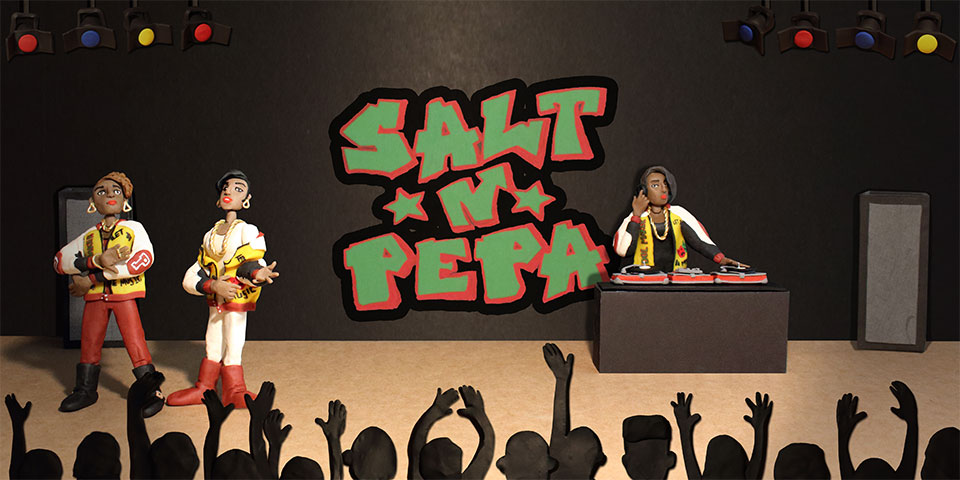 I first became interested in clay art when…
AY:
When I was a kid, I loved the look of claymation, such as Gumby, The California Raisins, Pee Wee Herman's Penny skits, and Wallace and Gromit. But I was also fascinated with stop motion, such as Paddington and The Mouse and the Motorcycle. I enjoyed making things with Play-Doh. After college, I was working full time, but I needed a creative outlet. I fell in love with the creative world of Michel Gondry and decided to buy a pack of Play-Doh and see what I could make.
My favorite hip-hop song…
AY: That's also a hard question. I'm not very good at picking one favorite, because I think my favorites changed so much, from when I was a kid to a teenager and now as an adult. If I had to pick one, I'd say "You Be Illin'" by Run-DMC because it's fun, catchy and it has the sound of iconic old school hip-hop.