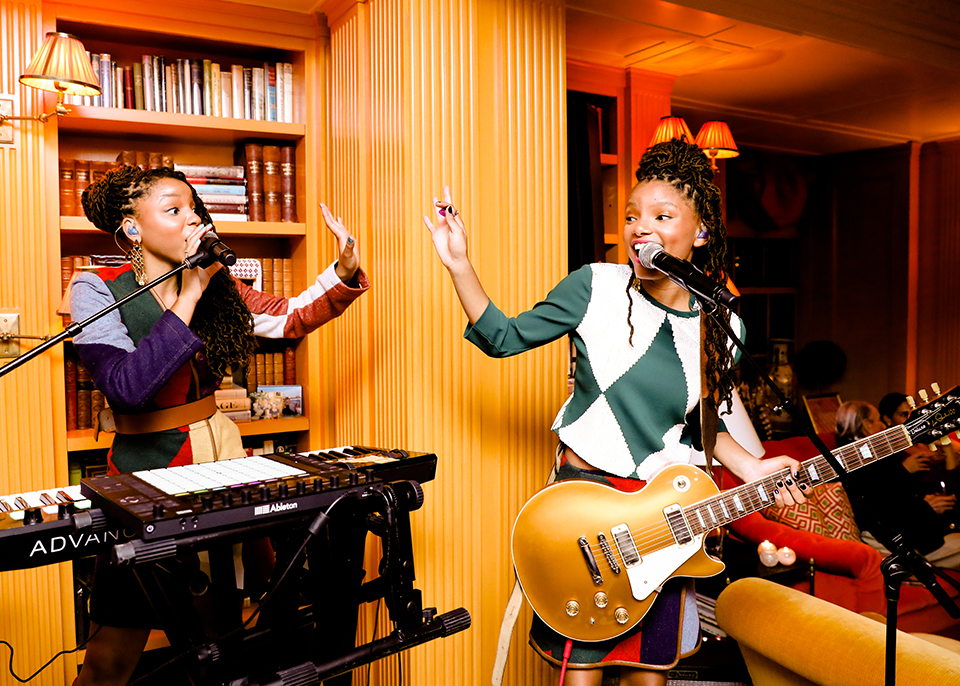 Tory Daily brings you an exclusive interview with the musical talents behind Chloe x Halle: Chloe and Halle Bailey, who performed at Tory's Gemini Link dinner party this week. Get to know the Atlanta sisters — managed by none other than Beyoncé's Parkwood Entertainment — as they talk to us here about their influences, jamming with the family and why a certain Swiss cough drop rocks.

Growing up, we listened to…
Beyoncé, Destiny's Child, Billie Holiday, Jill Scott, B2K, Corinne Bailey Rae, Whitney Houston and many more.
The first concert we attended…
CB: The Ladies' First Tour that included Beyoncé, Missy Elliot and Alicia Keys. My sister was three and I was five. I remember before the concert, we ate at our favorite restaurant at the time, Benihana's. We had to rush back because we didn't want to miss any of the acts. Our seats were way up and the performers looked like ants from where we were. The venue was selling mini binoculars so that people in the back could see better. Just imagine us little girls standing in our seats with these binoculars covering our tiny eyes. It was the cutest thing. Watching those women perform on that stage was the moment we realized that that's what we wanted to do. What a magical night that was.
Our earliest music memories…
Was when our family of five would drive around in our big black truck, blasting music. The playlists included Jill Scott, Robin Thicke, John Legend, etc. Our parents would play these albums non-stop and we fell in love with the art. Whenever we hear these old albums, it brings us right back to that moment — all of us singing at the top of our lungs with the windows rolled down.
Our pre-concert rituals…
CB: My sister and I always have to warm up and drink tea. I love to suck on Ricolas. It helps coat my throat before a big night of singing. And always without fail, we pray. It helps calm down our nerves and reminds us that we should just have fun!
Our style on stage…
Fun and free. When we're under the lights, we like our clothes to stand out. When we feel stylish and cute, our confidence helps us perform better. We also like to be comfortable so that we don't feel restricted when we move.
And off stage…
CB: It's a bit different. Halle has a chic, bohemian style. She loves bell bottoms. For me, comfort is key, but I like a little edge. I love ripped jeans, maxi dresses and chokers.
Working with my sister is…
Like working with my best friend. We're not afraid to tell the other what we like and don't like. And we're very in sync. When one messes up, the other knows and we fix it immediately. We're not twins, but I think inside we are. :)
Our different personalities…
CB: Halle is more chill than I am and knows exactly what she wants. She's headstrong and I love that about my sister.
HB: Chloe is more energetic and sensitive. Whenever she puts her mind to something, she can do anything in the world.
CB: We definitely balance each other out. It's like yin and yang.
And how we're the same…
We're both perfectionists when it comes to our craft. And we're both very intuitive and move off of feeling. We love to spread joy and positive energy, always.
Our zodiac sign…
CB: I'm a Cancer.
HB: I'm an Aries.