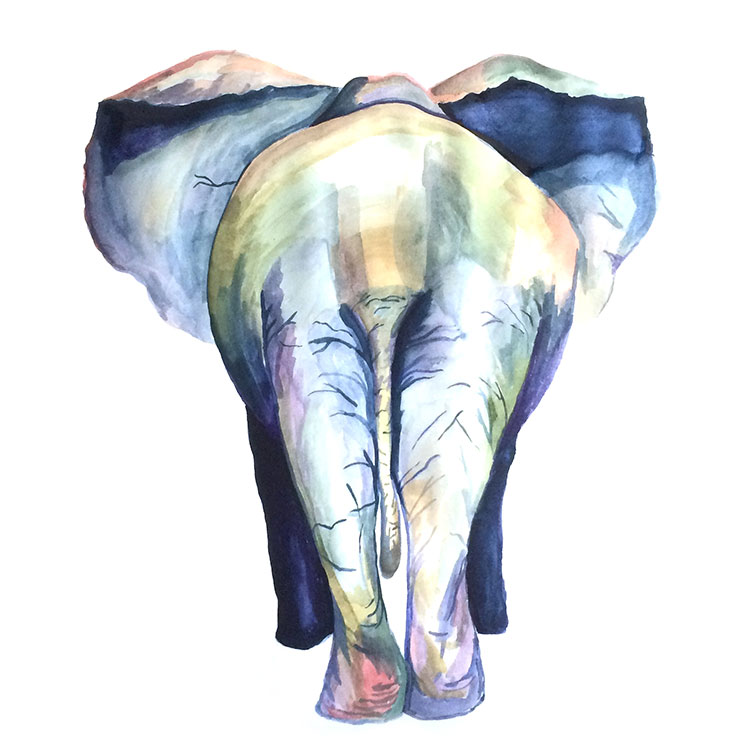 Ninety-six is no small number. Now imagine 96 elephants. That's the number killed per day in Africa, needlessly hunted for the ivory. With World Elephant Day still in the rearview mirror, we talk to John F. Calvelli, Executive Vice President, Public Affairs, at the Wildlife Conservation Society, who tells us about the 96 Elephants campaign that's fighting to save the elephants and the #ElephantYogaChallenge to raise awareness for the cause. Next time you strike a pose — a yoga pose, that is — make a difference.
The #ElephantYogaChallenge is…
We think that there is synergy with the yoga and wellness community and conservation. And so, we devised the #ElephantYogaChallenge (EYC) to begin a dialogue with this active community which cares about wellness and wildlife. The EYC encourages people to strike their best elephant yoga pose, challenge their friends via social media, and donate to the 96 elephants campaign. It's easy and fun and everyone can participate. The campaign launched this spring with a splash from famous yogis such as Seane Corn, Kathryn Budig, and Adriene Mischler. It has since spread around the world with participants from Brazil to Ghana. We've had some creative participants including people with their dogs and The Property Brothers who visited the Bronx Zoo and went back to their offices and engaged their staff. You see their video and at
www.ElephantYogaChallenge.org
And 96 Elephants is…
A campaign to stop the killing, stop the trafficking, and stop the demand for ivory. And this cause is a critical one because elephants are disappearing at a rate of 96 per day, which means they could be extinct in less than a decade if we don't take a stand to protect them. We can't be the generation that let's elephants go extinct.
This cause is critical because…
Between 2010 and 2012, 100,000 elephants were illegally killed for their ivory across the African continent — an average of 96 elephants per day or one every 15 minutes. And, between 2002 and 2013, central Africa's forest elephant population declined by two-thirds, with heavy poaching continuing to this day. At this rate, forest elephants could be extinct in the wild within a decade.
The biggest challenges we face are…
Demand for ivory in countries like China, Vietnam and others continue to create a market for ivory and the legal markets obscure the black markets keeping the poaching rampant and lucrative. Ivory is a major black market currency used to fund illegal activities including human and drug trafficking and terrorism.
A few things about elephant trafficking you'd be surprised to know…
People are shocked to learn that 96 elephants are killed every day for their ivory tusks. The funds used from poached ivory fund terrorism and many other illegal activities driven by global crime syndicates.
Since launching in 2013, 96 Elephants has…
WCS has continually brought attention to the plight of African elephants, through the awareness-raising
96 Elephants
campaign.
96 Elephants
has been a force in sparking change and driving major initiatives including state bans in NY, NJ, California, Hawaii and Washington in addition to the passage of a federal ivory ban. In June 2016, the Obama Administration followed through on a promise to do what we can in the United States to confront this threat to African elephants by banning ivory. The US ivory ban is a key component of the US National Strategy for Combating Wildlife Trafficking and stopping the criminal syndicates who traffic in ivory. The American people have spoken loudly on this issue, based on the hundreds of thousands of letters sent to the US Congress through the
96 Elephants
campaign as well as the 1.3 million comments submitted on this proposed rule.
96 Elephants
has grown to a strong and diversified coalition of 225 partners and has sent more than 1.25 million messages to lawmakers in the last 3 years.
96 Elephants
has attracted many celebrity supporters from Arnold Schwarzenegger who made a campaign video garnering over a million views to Billy Joel who narrated last year's advertising campaign and Audra McDonald who taped a PSA in Times Square. We've taken on ivory sales on Craigslist and Antiques Roadshow and worked with partners on last year's ivory crush in Times Square when 1,500 people came out to witness the crushing of one ton of seized illegal ivory on Friday, June 19th. And we've made World Elephant Day
and taking "elphies" a trending topic on social media, raising awareness of the plight of elephants.
In addition to #ElephantYogaChallenge, other ways to get involved…
We have an amazing partner and supporter network. If you are part of an organization or business, you can join as a partner and you'll receive information on ways to participate. Just fill out the form at www.96elephants.org/partners
Individuals can sign up and become part of our powerful coalition working together to save elephants. Fill out the form on our home page at www.96elephants.org
Parents can educate their children by…
We have activities for families and children to do together. We have downloadable activity sheets you can do with your children and everyone can take an "elphie" and share on social media. Visit http://www.96elephants.org/family
On World Elephant Day, we will be…
Attempting to break the Guinness World Record title for the largest display of origami elephants. The current record is 33,000 so we need to collect 35,000 by September 10th — an ambitious undertaking but our mighty coalition has done big things before. And you can be part of the team that does it! Go to www.96elephants.org/origami get the tools you need to participate.
And we hope you…
Will join the 96 Elephants campaign and be part of our movement saving elephants from extinction, and saving wildlife and wild places. Go to 96 Elephants and pledge to help combat the global ivory trade. We cannot be the generation that allows elephants to disappear.
More to explore in
Culture