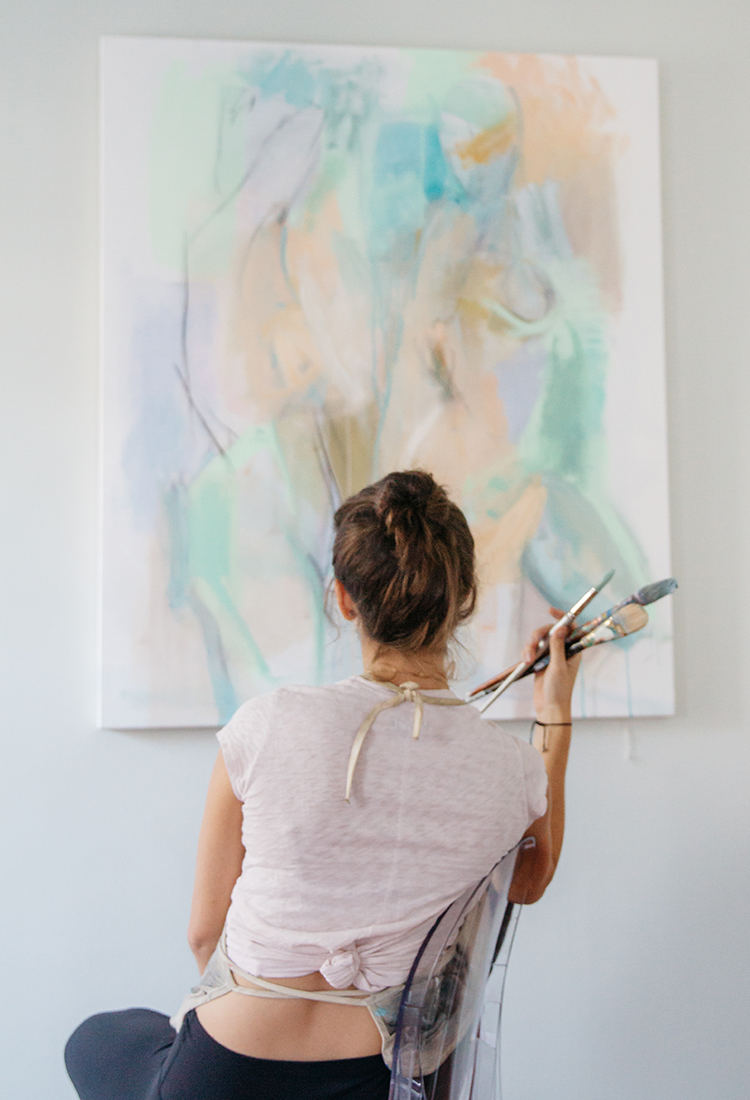 Meet an abstract expressionist from Charleston, for whom classic composers offer as much inspiration as the art-history greats. Here, Kate Long Stevenson tells us about those seminal influences and clues us in on the vibrant art scene in South Carolina.
My interest in art began when…
I was a toddler, really. I can't remember it not being a part of my life, but it became a true passion when I was sixteen.
My art influences…
So many… Willem de Kooning, Joan Mitchell, John Singer Sargent, Mark Rothko, Edgar Degas… I'm heavily influenced by music, as I depend on it to begin every painting, so Beethoven, Philip Glass and John Barry are a few of my favorite composers who continue to inspire. And a few Dr. Dre tunes are shuffled in there, as well.
And very first art obsession…
I absolutely adored Baryshnikov's The Nutcracker when I was five, and drew Gelsey Kirkland's Clara over and over. I still have one version framed in my home.
Artist who changed the way I see the world…
WHAT a wonderful question! In general, I think Monet was a powerful introduction at an early age. The paintings always made such sense, even up close, and spoke to the future abstract expressionist in me. Impressionism was captivating. More specifically, I went to the Tate exhibition of Sargent's work when I was 17, and have never been the same. Books do not do those masterpieces a bit of justice. The intimacy of the portraits, the brushstrokes, color and light… his paintings just glow.
The art scene in Charleston is…
Understated, ever-evolving and nurturing of its talent! I've lived in Charleston for nearly 13 years, and what I considered to be a more conservative market in 2003 has turned into a much more progressive arena for emerging and established artists, alike. Plus, we have the Spoleto Festival, with its array of internationally acclaimed performances and endless inspiration.
The must-visit galleries/museums/public art spots…
Both the Halsey Institute of Contemporary Art and The Gibbes Museum of Art (which reopens this summer after a huge renovation) are fabulous; Ann Long Fine Art has a beautiful commingling of both contemporary realist paintings and modern pieces by Otto Neumann and William Halsey; the non-profit Redux Contemporary Art Center is my studio home and the host of numerous cutting-edge shows, while also offering great classes.
Must-read art sites/publications…
Art.net is amazing and addictive! I loved Steve Martin's An Object of Beauty, as well as Strapless by Deborah Davis and de Kooning: An American Master by Mark Stevens.
Favorite creative accounts to follow on Instagram…
Kelly Wearstler (@kellywearstler), Charleston photographer and friend Ashley Warnock (@awarnockphoto), fellow artists Selena Beaudry (@selenabeaudry) and Mallory Page (@mallory.page).
When I get the artist equivalent of writer's block…
Tried and true remedies: New music played loud, new tubes of gouache in a color that inspires me that day, the more-than-usual Pinterest perusal of color combinations I've saved for just this type of dilemma… If all else fails, I go eat something delicious and come back with a better perspective.
A good work of art should always…
Be made with passion. Period. If an artist is not passionate about her work, it absolutely shows, and what's the point of creating without it, anyway?
Follow Kate Long Stevenson on Instagram.

More to explore in
Culture