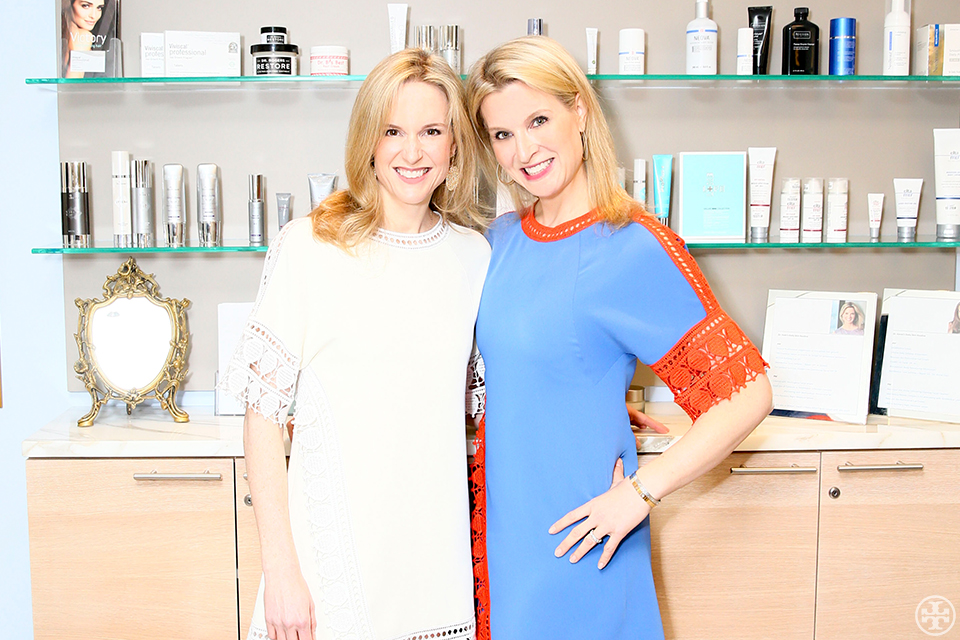 Wearing the Marissa dress, Drs. Elizabeth K. Hale, right, and Julie K. Karen — the sister dermatologists behind New York's CompleteSkinMD — give their insider tips to great skin. From the best foods with antioxidants to their own beauty routines, the duo share all.
What inspired me to go into dermatology…
EH: The thing I like most about dermatology is that the patients are very motivated to participate in their care. Because the skin is so visible, the patient sees and often feels when something is wrong; whether it's a changing mole, an acne breakout,or a new wrinkle, the patient can help identify the problem and take part in their treatment plan.
JK: It certainly helped having my big sister a few years ahead paving the way. She encouraged me to explore dermatology and I quickly fell in love with the field, too. Dermatology represents a wonderful blend of medicine (many systemic diseases manifest first on the skin) and aesthetic (we have the unique opportunity to impact patients in small and large ways). Patients are motivated to get better and so they tend to be compliant and truly partners in their health. I get to perform a lot of procedures and even save lives. It is a very diverse field and extremely fulfilling.
My morning beauty routine…
EH: After I shower, while my skin is still moist, the first thing I do every morning is apply an antioxidant serum, these days I am using SkinMedica TNS serum with antioxidants and growth factors. Then I always apply a broad spectrum sunscreen regardless of the weather outside.
JK: Antioxidant serum, eye cream and sunscreen. I wear very light makeup, but I've been using Latisse and always like to use a drop of mascara.
And evening beauty routine…
EH: I cleanse my face with a gentle cleansing cloth. I then apply a tiny dot of tretinoin and then a moisturizer with special benefits. I alternate between Lifeline Night Recovery Serum and Neova DNA Total Repair. If my skin is feeling dry, I skip the retinol and instead apply SkinCeuticals Resveratrol antioxidant serum under my moisturizer.
JK: Gently exfoliating cleanser, brightening serum, retinol (four to five times a week) and a nighttime moisture serum that contains growth factors and peptides. if I'm extra dry, I'll also use a moisturizer rich in hyaluronic acid.
In my bag you'll always find…
EH: Travel sunscreen and lip balm with SPF. I really like StriVectin Lip Tint with SPF20. And, of course, sunglasses. I have about six pairs and wear them even when it's raining!
JK: Nars lip gloss, water, cinnamon Altoids, phone (of course), wipes (with three kids, you never know when they'll be needed), a pen and notebook — sometimes ideas pop into my head and I like to write them down — and reading material for any unanticipated downtime (either my Kindle Paperwhite or a current medical journal).
When it comes to skin care, women often forget…
EH:
That they need sunscreen every single day as a means to prevent skin cancer and premature skin aging. Also, my personal aesthetic is "less is more." A little Botox or filler can be a good thing, but more is definitely not always better.
JK:
To protect the décolletage of the chest and backs of their hands. These areas are exposed to the damaging effects of the sun almost as much as the face and yet remain relatively unprotected leading these areas to age at an accelerated rate
And we always tell our clients to avoid…
EK: Overdoing it. We are so obsessed with anti-aging that sometimes we irritate our skin by combining retinols, sonic brushes and Alpha-hydroxy acids all together!
JK: A tan. It sounds obvious, but so often patients think wearing sunscreen means it is OK to get suntanned — they will put on 50 and then lie out all day). Tanning is the body's response to injury; it's a way of thickening and darkening so to protect itself from further damage. And smoking, too, of course!
Best foods for healthy and happy skin…
EH: Foods that are colorful and loaded with antioxidants. Some of the best are blueberries, pomegranate, kale and green tea. And, of course, lots of water!!
JK: Colorful fruits and vegetables (high in nourishing vitamins and protective antioxidants, especially blueberries), lots of water, dark chocolate/red wine (also contain antioxidants) in moderation.
For an afternoon skin/beauty pick-me-up, we recommend…
EH: A mineral powder with SPF to make reapplication easier.
JK: Get moving! Exercise, even light exercise increases circulation to the skin, makes you look awake and alive and can give you a glow when you are otherwise feeling lackluster.
Best beauty advice received from mom…
EH: Don't lie out in the sun! It's like smoking for your skin.
JK: Our mom is very practical — the best advice I ever got was regarding the importance of UV protective sunglasses (she's an ophthalmologist) to protect your eyes from the damaging effects of UV radiation (cataracts and macular degeneration), to protect the skin of the eyelid from skin cancer such as basal cell carcinoma, and, of course, to protect the skin around the eyes from premature aging!
And our advice for women interested in going into this field…
EH: Dermatology has gotten so popular — work hard and enjoy all that the field has to offer!
JK: Enjoy it! I feel truly blessed to do something that I love every single day. To get to practice dermatology with my sister as my partner is a dream come true. Not an option for everyone, but what it boils down to is that one should follow his/her heart. If you pursue something you love, you will be motivated to be the best you can be and you will be fulfilled in the short and long term!
More to explore in
Beauty