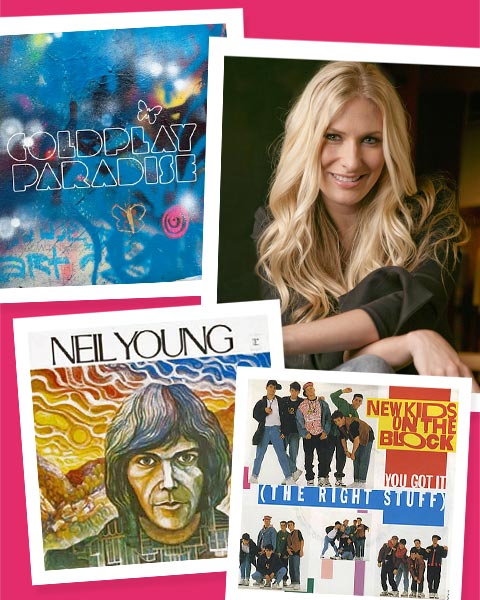 Holly Williams has country music in her blood, really — her father and grandfather are industry legends Hank Williams, Jr. and Sr. She's equally renowned on her own, too, with three albums to her name and a tour this summer through the South (Duluth, Georgia, is up on Thursday) and Canada (August 9th and 10th). But her CV goes beyond her set of incredible pipes to include two Nashville shops: fashion boutique H. Audrey and White's Mercantile, which she dubs a modern-day general store. And have we mentioned her addictive lifestyle blog The Afternoon Off? (Five words: key lime coconut bar recipe.) Here, for The Tory Blog's Music Issue, Holly takes some time out of her packed schedule to dish music memories, NKOTB crushes and on-stage style.
My very first music memory…
That's really hard… probably my mom playing classical piano for us at tuck-in time every single night of her life.
And first concert…
Besides my dad's shows, it was the Eighties so my mom took us to Michael Bolton. My sister bloodied up her knee from running down the aisles trying to grab him while he was shirtless with that long hair. Ha!
And first album…
New Kids on the Block, baby! So not cool, Joey McIntyre was the mad love of my teenage life…
Song that changed my life…
Oh Lord, so many! Hallelujah by Jeff Buckley (originally written by Leonard Cohen) is possibly the greatest recording and song on the planet…
Favorite album cover of all time…
Nashville Skyline by Bob Dylan
The soundtrack to my life…
For right now it is Lost in the Dream by The War On Drugs. The music and lyrics are literally perfect for any situation, great music in the background or blasting through your stereo!
Favorite place for live music in Nashville…
Ryman Auditorium. I've seen everything from Neil Young to Coldplay to Gillian Welch to Bob Dylan to Daddy to Sigur Ros and Keith Richards. It's the greatest sounding room on the planet in my opinion.
My style on stage…
On-stage is the same every night! It got that way from traveling so much and wanting to do less laundry. Goldsign skinny jeans, black Alexander Wang tank underneath my black Rick Owens leather jacket, my diamond cross necklace, Stella McCartney handcuff necklace, and sometimes my straw hat. My Hermès or Frye knee riding boots are always out!
And off…
Still classic with an edge. I like simple stuff with a great fit that has a little bit of something different in the design. Helmut Lang, IRO and Rag & Bone are great for this!
My pre-performance ritual…
Vocal warm-ups backstage, throat drops,and a little prayer that I touch everyone who paid their hard-earned money to come see me!
Favorite song from my father, Hank Williams, Jr….
Blues Man, which he wrote for my mama three days after my sister Hilary was born.
And grandfather, Hank Williams, Sr….
I Saw The Light — Grandpa had so many struggles and this song gives him hope and redemption…