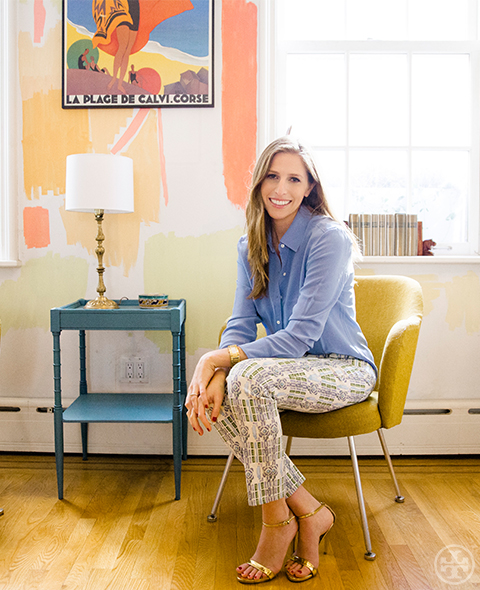 It's National Small Business Week and, to celebrate, we spotlight Washington D.C. entrepreneur Rochelle Behrens, here wearing Tory's Alexa pants. She's a former lobbyist who confronted a fashion dilemma — button-down shirts that gapped at the chest — and solved it by designing her own patented take on the wardrobe classic. Since launching in 2008, her company The Shirt has been featured in Forbes and Inc. Magazine and on The Oprah Winfrey Show. Here, Rochelle shares her business secrets and a few tips on workplace style.

Most exciting part about owning your own business…
If I want to make something happen, my team and I work relentlessly toward it and the potential is limitless. I also love seeing our designs on customers or in magazines. It's the best when we hear that The Shirt has literally changed someone's wardrobe.
And most challenging part…
All the varied and unconnected parts that need to come together seamlessly when running your own business. It's hard to be an expert at everything — from production to finance to social media to design — in the beginning, but in order to get started, you have to be skilled in it all.
One thing I wish I knew when starting out…
That success takes a long time to earn. I love instant gratification, but I often remind myself of a line a fellow entrepreneur told me: "Every overnight success took 10 years to get there."
Never be afraid to…
Ask for what you want. If there is something I've learned, it's that no one hands anything to you in business.
Best career advice received…
My parents always encouraged me to "dream big." It must have subliminally given me the courage to think about doing something unconventional with my career. The best advice I give myself is to never listen to the word "no."
A white shirt is the ultimate wardrobe staple because…
It's so versatile. It can be sexy, gamine, classic, drapey, feminine or masculine. There's nothing that makes you feel more powerful. It's like the foundation piece to a costume that allows you to be whoever you want to be that day.
My tip when dressing for an interview…
Keep your look streamlined so it doesn't become a distraction to you or your interviewer. Wear something that makes you feel polished, because when you look it, you'll act it. My favorite look is a perfectly fitted white button-down, high-waisted black trousers and black patent stilettos.
And to think outside of the cubicle when at work…
We design our shirts — even our bright prints — with the office in mind, because we really believe that if you feel like yourself, you'll be empowered to do your best. Color and cool prints can go a long way in breaking up the monotony of work dressing, if done appropriately.
And to bring the shirt from office to night…
Accessories and makeup are key, but if you're wearing a white shirt, it looks surprisingly fresh to casually push up the sleeves and unbutton one (or two) more buttons. Edging up something classic is so chic.