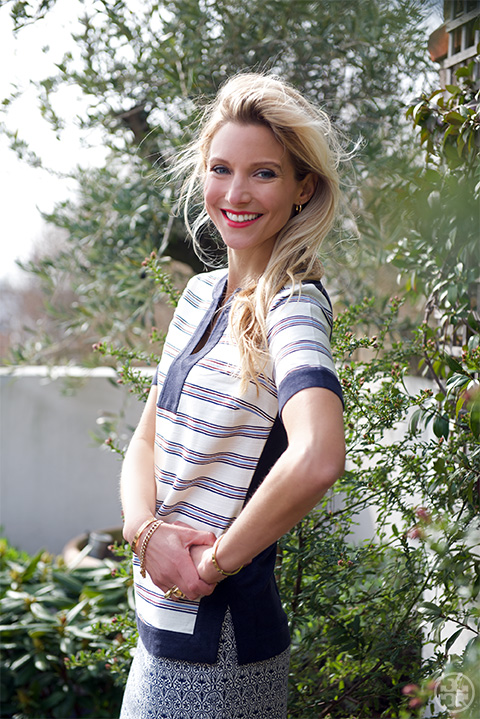 The Vogue Festival is…
The one weekend per year when we fling open the doors of the Vogue world and invite the public to come and experience what it's really like behind the scenes of the best fashion magazine in the world.
And what you can expect…
It's a really fun two days to spend with friends (or your mom — since it's Mother's Day on Sunday here in London) where you can try new beauty trends, pose for your very own exclusive "Vogue cover," strut your stuff on the HarrodsLive runway, watch live styling or ask Vogue staff for advice about your future career goals. Of course there are also more fashion and industry A-listers speaking under one roof than you could ever hope for, so to say there's a lot going on is an understatement. 
 
The can't-miss highlights…
I think the opportunity to see Vogue's most experienced fashion editors style models live onstage is a real treat and the chance to go home with your own real Vogue cover is something you don't want to miss.
 
The talk I'm most excited to see…
Gosh, there's not just one! I'm excited to hear the discussion among Grayson Perry, Lily Allen and Jasper Conran about "taste" and what that really means. I'm intrigued to hear what our four wonderful models have to say about "what modeling is really like" and, of course, it's incredible that Phoebe Philo, Valentino and Naomi Campbell are all taking the stage. Last but not least, I'm moderating a talk about fashion and the digital age, which I'm sure will be a great chat with some very knowledgeable people, so I'm excited about that. 
 
London wardrobe essentials…
I don't dress for your typical London weather! Maybe I'm subconsciously hoping to inspire the sun with all my bright colors and prints. So although most people would say their London essentials are a mac and a good pair of boots, I'm all about a bold printed dress, bright separates and always fabulous shoes. For practicality's sake, I always have a great scarf in my bag to keep warm. I wear fun sunglasses all year long, my favorite way to wear denim is head-to-toe and accessories can never be too much — layer them up. 
My look for the weekend…
I will be wearing the three tops we have created for the Vogue Festival Shop so I've had to work my outfits around those: an oversized grey sweatshirt with a bright pink or navy blue VOGUE across the front, a red and white striped Boden Breton with VOGUE written on the back and a sexy Dolce & Gabbana t-shirt with an Herb Ritts image on the front. I should really wear flats since I will be running around all day like crazy, but of course I won't! 
 
Insider tips to eating, feeling and living well…
I have created two very healthy juices (The Clean Green and Feel the Beet) to be sold at The Vogue Festival this year, so whenever I feel my energy levels dropping I will head to the juice bar and grab a green juice. Also, I never go anywhere — especially when I know I'm going to be working hard — without a bunch of nutrient-packed snacks in my bag to keep me going. So I'll pack up fruit, chopped veggies, nuts, gluten-free crackers and coconut with me every morning so I know I have good options to snack on.
And most importantly…
Breathe — deep, conscious breathing to stay calm, keep things in perspective and stay focused.
More to explore in
Spring