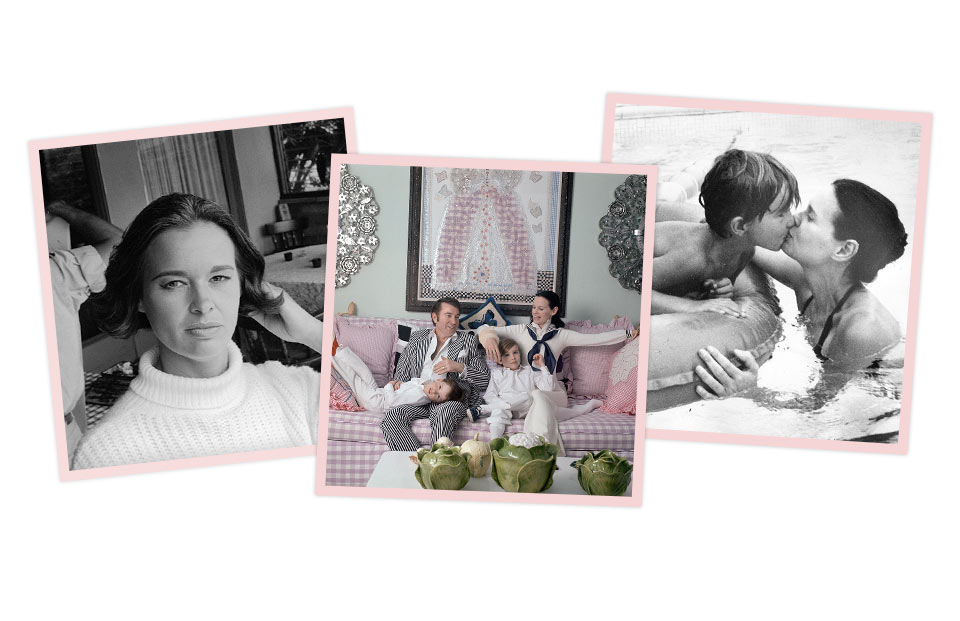 "She's got this public face, but the reality of her life is so different."
That's Anderson Cooper, journalist and CNN news anchor, talking about his mother, Gloria Vanderbilt, in the HBO documentary Nothing Left Unsaid, which looks back at her long, storied life. And, indeed, Vanderbilt's been very much in the public eye, making headlines since she was 15 months old when her father died, putting her in the midst of a harsh custody battle between her young, largely absent mom and aunt. She was dubbed "The Poor Little Rich Girl" in 1934; the headlines continued throughout her life. Her years as a model. Her many colorful romances — Errol Flynn, Frank Sinatra, Sidney Lumet. Her jeans empire. Its fall. And her personal tragedies, like the death of her husband Wyatt Cooper (Anderson's father) and her son, Carter, who committed suicide, jumping from her penthouse terrace right in front of her.
That's all public, though. What Cooper does in this documentary, directed by Liz Garbus and which he produced, is dig deep, exploring, for him and us, her side, impulses and emotions. "I have inside me the image of a rock-hard diamond that nothing can get at, and nothing can crack," she says. "I've always known that about myself."
But Nothing Left Unsaid isn't the only love letter from Cooper to his mother. This spring, the two also published a memoir, The Rainbow Comes and Goes: A Mother and Son on Life, Love and Loss (Harper), which features a series of email exchanges between the two. The impetus: Just before her 91st birthday Vanderbilt fell ill, Cooper had to go out of town for an assignment, only discovering she had been in the hospital after he returned. "As her ninety-first birthday neared, I began to think about our relationship," he writes, "the way it was when I was a child and how it was now. I started to wonder if we were as close as we could be." Here, an excerpt in Vanderbilt's voice.
"To quote Elizabeth Barrett Browning: 'I love you in ways that are infinite and as in eternity have no beginning or end.'
"But are we alike?
"Sometimes I think hardly at all. You are the living image of your father, not only in appearance, but in valuing the same standards he held in high regard, standards that are sometimes hard to live by.
"Other times, yes, we are indeed completely alike. We share sensitivity, tempered by poise and the reserve to reveal only what we wish to communicate.
"We have the gift of editing, presenting ourselves in different ways to different people. We are not gossips. We are worth to be trusted with secrets of family and friends. We have fun going to the movies together, sharing a bag or popcorn. We do not burden each other with trivial troubles, or pull each other down with unsupportive comments. We advise each other on pressing matters from time to time, and you always give me a short sensible, well-thought-out solution to any problem. I try to respond in the same manner.
"We both spend a lot of time organizing our lives, secretly working out various options and scenarios in our heads. Luckily, yours are far more practical, and more likely to become reality than mine, which continue to be influenced by the enchanted fairy tales I read as a child. In spite of this, I treasure those fairy tales still, for they are, in large part, what spur my creativity.
"We share a restless spirit; in fact, we are never at rest, and rarely, if ever, will satisfy Andy and his mom. Soon something beckons. It's there, around the corner, just out of sight. All we need to do is follow.
"All my life I have craved and longed for love, and I have not been deprived; my cup runneth over, but it was never enough. It never got anywhere near where the trouble really was: no mother and father, as my secret sister Susan Sontag knew about so well.
"Here, Andy, thankfully, we are not alike. Even though you lost your father when you were ten, you knew that there wasn't a moment from birth when you didn't have and know his support. How fully, completely, he loved you and Carter. Although only those years were given, they were enough for him to pass on to you the values that have made you the person you are: my son, treasured each moment of my life."
— Gloria Vanderbilt
Read more features from our Mother's Day Issues, past and present.
More to explore in
Culture