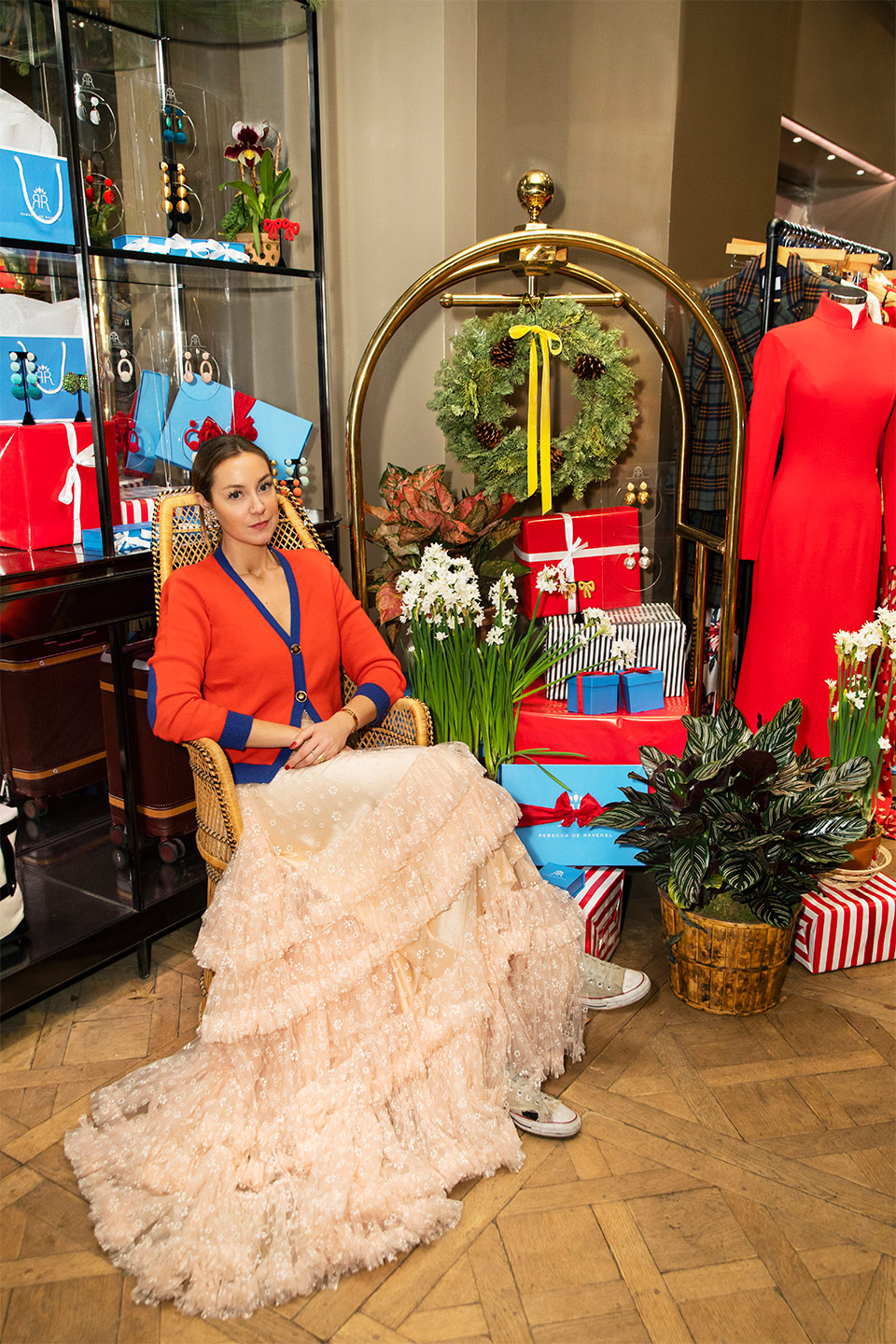 As the saying goes, it takes a village. Sometimes that village materializes in the form of a single companion, a partner who can inspire and empower like nobody else. Though fashion designer
Rebecca de Ravenel
is the name and face of the line that started out with her cult "bonbon" earrings and has expanded into handbags and red-carpet dresses, the company's momentum would be nowhere near where it is without Alexandra Sickles, de Ravenel's business partner, Chief Marketing Officer, and best friend. The pair met many years ago at a mutual friend's lunch in the Bahamas, where de Ravenel grew up, and reconnected in 2014 when they both moved to Los Angeles—on the same day, as it happens. Now that de Ravenel lives in London and Sickles is in New York, the pair manages to harmoniously run their brand from across an ocean.
Sickles puts down their synchronicity to their complementary and very different personalities. Put simply, de Ravenel handles all matters creative and Sickles tackles the business end, overseeing sales, publicity, marketing, merchandising, and strategy. Sickles is currently busy overseeing the label's corner of Holiday on Madison, a nine-brand pop-up shop in Manhattan's Upper East Side. She took a moment to talk to us about life hacks for the holiday season and beyond.
This holiday season, you'll find me…
At 831 Madison Avenue! We are open from 10am – 7pm everyday until December 23rd.
My favorite gift to give…
Our earrings (of course). I also like to give a book that I have read and love and am passing along, this is a more intimate gesture when stock is running low :)
My holiday-party style is…
I am almost always in a trouser. I love a suit for a holiday party, but always with a Converse or a cowboy boot. I find a high heel with an evening or cocktail look to be a bit precious for my taste. That being said, when I do wear a dress, I tend to gravitate towards over-the-top pieces, like this tulle embroidered gown from Tory that I wear it all the time!
The best career advice I've ever received…
Believe in what you're selling or doing, don't just do something for short-term capital gain.
And my advice to would-be entrepreneurs…
Choose mentors, reach out, ask for advice, listen and read—but trust your instincts on the big things. When something feels wrong, it generally is.
My tips for making a long-distance business relationship work…
Respect and communication. Thoughtful communication is key to any successful (business) relationship, long-distance or not. Rebecca and I also happen to be best friends, so I would also say that dedicating a portion of this communication to catching up with each other personally is something that is really important to us. I think that a mutual respect and admiration is also super important to any relationship, if you respect someone you speak with kindness and prioritize optimal solutions.
A person who inspires me to embrace ambition…
My friend Poppy Jamie. Poppy is the founder of the mental health app Happy Not Perfect. She travels all over the world teaching people about mental health awareness and introducing simple practices to achieve a less stressful, happier state of mind. Poppy has that certain type of sparkle that you only get from living and leading a self-fulfilling life, but make no mistake the journey has been long! Poppy has taught me that a mentor doesn't have to be someone who has years of life experience on you, a mentor can be a friend.
Embrace ambition means…
To me, embrace ambition means having the confidence to put yourself first, always! Anyone who knows me has heard me speak about boundaries. It has taken me a very long time to know myself well enough to set, respect and understand the importance of the boundaries I set forth. I know what works for me and what doesn't; I don't overcommit myself anymore. If I am tired I sleep, and if I'm not, I am working hard, laughing hard and loving hard.
We at Tory Daily are inspired by smart, passionate women who #EmbraceAmbition and find ways to make their communities stronger. For information on the Tory Burch Foundation, which empowers women entrepreneurs to #EmbraceAmbition, click here.