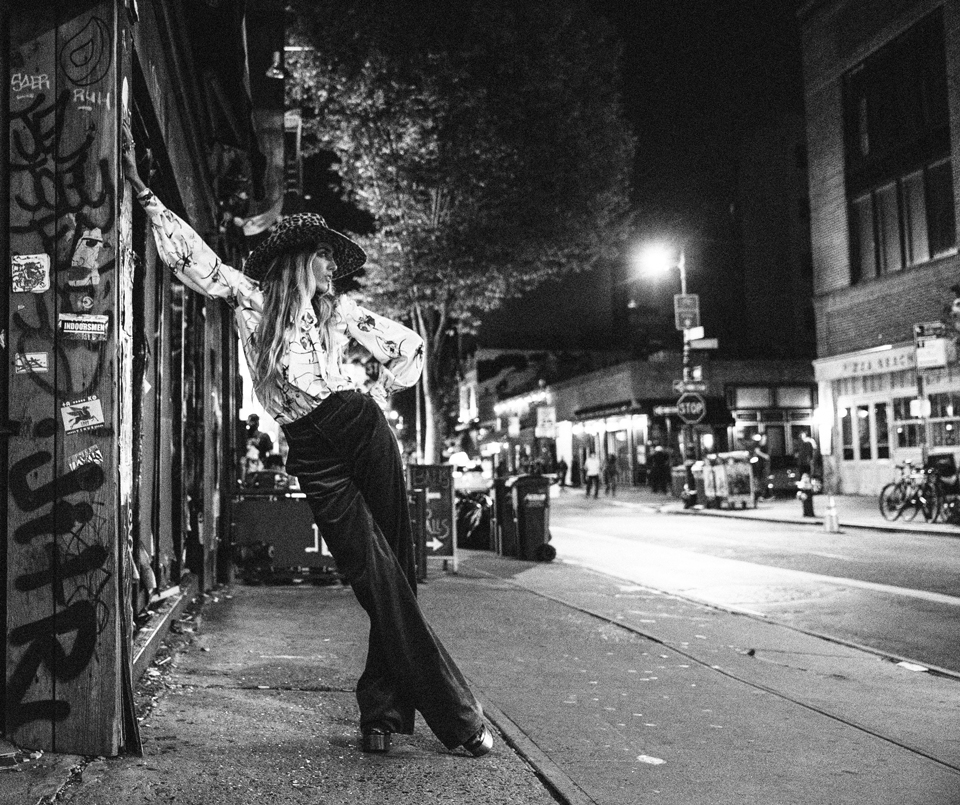 Last month New York band Miss Velvet and the Blue Wolf released their new album Bad Get Some and — what can we say? — take a cue from the title and… get some. Here, we talk to lead singer Miss Velvet about her rock-and-roll-meets-funk style, bandmates, musical influences and a childhood memory of a certain cone bra in concert (it's Madonna, of course).
Earliest music memories..
When my sister and I were about five and six, my mother, who was producing classical theater then, would take us backstage after school where we sat on the side of the stage doing our homework and listening to opera singers and orchestras. Then, beginning at eight years old, I went to an international music camp called Interlochen Music Academy for three summers. There, I studied dance, theater, sang in the world choir and began learning classical opera that we then performed in workshops and public presentations. My cherished times at Interlochen were totally immersive experiences in music and with kids from all over the world — I loved it.
And I knew I wanted to be a singer, professionally, when…
Seven years ago, I did my first show at the Living Room in NYC. I remember sitting in the Green Room before the show — I had my eyes closed and was visualizing my performance beforehand and I felt this beautiful feeling that I was exactly where I was meant to be. During the show I felt the energy of the audience and how magical it felt to share what was in my heart and what I had worked so hard to find. I knew then I wanted to be a singer the rest of my life — that was my first taste. Just this summer on tour in the Baltic States, in a place far from NYC, I had the same revelation again when people came up to me after the shows, holding their hearts and thanking me. I was so moved, humbled and privileged to be able to share the universal language of music.
The story behind our band name, Miss Velvet and The Blue Wolf…
To get to where I am today, I traveled a road that wound its way through many personal challenges and discoveries. At one point, I lost my voice because I lost who the hell I was, and where I was. When I realized the route I was on was an illusion, I was able to take a turn towards finding my truth. Now, my life journey is directly connected to the development of my truest voice, meaning its metamorphosis into an instrument which conveys my deepest self. I've had unconditional love and support from my family and from my incredible music mentor Constance Hauman (who helped me discover what strength my honest voice had). I found self confidence, inner power and authenticity. All of this led me to discover the concept of Miss Velvet, where I am not a man or a woman — where I am free to express myself with no boundaries. I liked the idea of The Blue Wolf for my band name because we roam in a pack (wink), but principally I think of the wolf as strong and protective, spiritual and yet wild — in a musical/artistic context, it means going beyond the safe, a bit dangerous, pushing boundaries. Even though a band is made up of completely different personalities, when we play together, we become one entity, one force. The Blue Wolf is my fuel. I run with them.
How we all met…
The full band Miss Velvet and The Blue Wolf got together about three years ago. The keyboardist Constance Hauman, whom I have known for 11 years, is also my vocal mentor/producer and founder of my record label, Isotopia Records. I have known Nick Carbone, drummer and producer on this record, for six years so there is some good history there for sure. The guitarist Henry Ott is French and when Constance was living in Paris performing she met Henry and played with him and became very close. When Henry moved to NYC, he was the perfect fit for The Blue Wolf. The bass player, James Jones, a native New Yorker, was also handpicked by Constance for his totally unique bass playing. My horn section came together through a recording session at Avatar Studios in NYC while making a demo: Dan Levine on trombone, Trevor Neumann on trumpet, Jehiah Bray on sax and Clynt Yerkes on trumpet. I'm incredibly lucky to have these musicians as these guys are the real deal! They also play with The Eagles, Bruce Springsteen, Earth, Wind & Fire and Rag 'n' Bone Man. During the past three years since the band came together, we have been jamming a lot and playing shows, creating our sound. Our style of music began to bubble to the surface, gathering force like a can of soda that someone had just shaken — it was ready to erupt.
I'd best describe our sound as…
We are an eight-piece rock-and-roll/funk band with a juicy brass section. A reviewer once described our sound as "If the Seventies band Chicago and Led Zeppelin had a baby with Janis Joplin, you would get Miss Velvet and The Blue Wolf." That was a pretty radical comparison!
Our musical influences include…
So many great artists have massively influenced us: Hendrix, Joplin, Zeppelin, Chicago, James Brown, Ike and Tina Turner, Gladys Knight, Sly and the Family Stone, Chaka Khan, Rolling Stones, Queen. All of the Parliament-Funkadelic albums recorded in Detroit, especially the second studio album by Red Hot Chili Peppers, Freaky Styley produced by George Clinton, Prince, U2!
My pre-performance ritual…
On days of my show it's all about calm for me and being present. No matter if I'm abroad playing a tour or in NYC doing our summer residency at Rockwood Music Hall, I usually start the day with a morning meditation and then, later, an afternoon meditation. Around 4 PM or 5 PM I will take a long shower and begin to do a little bit of vocalizing to get everything warm and loosened up. Around 6 PM, I will usually have a huge meal — I love a good chicken Milanese. Then around 7:45 PM, I will vocalize with Constance Hauman, my vocal mentor and vocal coach. We do a good vocal session for about an hour, then we head to the venue for set up and if we're lucky, a sound check!
My style on-stage…
My style right now is what I like to call the "Detroit super-fly, funk matching kit": custom laced-up, studded-leather tight pants, vests, dusters and classic rocker boots, like a hybrid of a man's three piece suit. I like to pair those hard-core pieces with silk chiffon on the top. The flowy chiffon on the top satisfies the songstress in me — and from the hips down, classic rocker. I leave my hair long and free because I like the movement around me on stage. I'm just super-fly, rock-me-baby, nitro-glycerin soul!
And off…
I guess I carry my theme off-stage too but very toned down. I love well-tailored suits and beautiful blouses. Tory has some great pieces in her collection along this line. For kicking around, I love my Reebok classic high tops, acid washed jeans and vintage tees. And always, lots of interesting, hand-crafted jewelry I find in my travels.
First concert I ever attended…
When I was five or six, my Dad took me to see Madonna at Madison Square Garden. She had the pointy cone bra on — that's what I remember, ha ha…
Song so good I wish I could have written it…
"Black Dog" by Led Zeppelin (so damn goooooood).