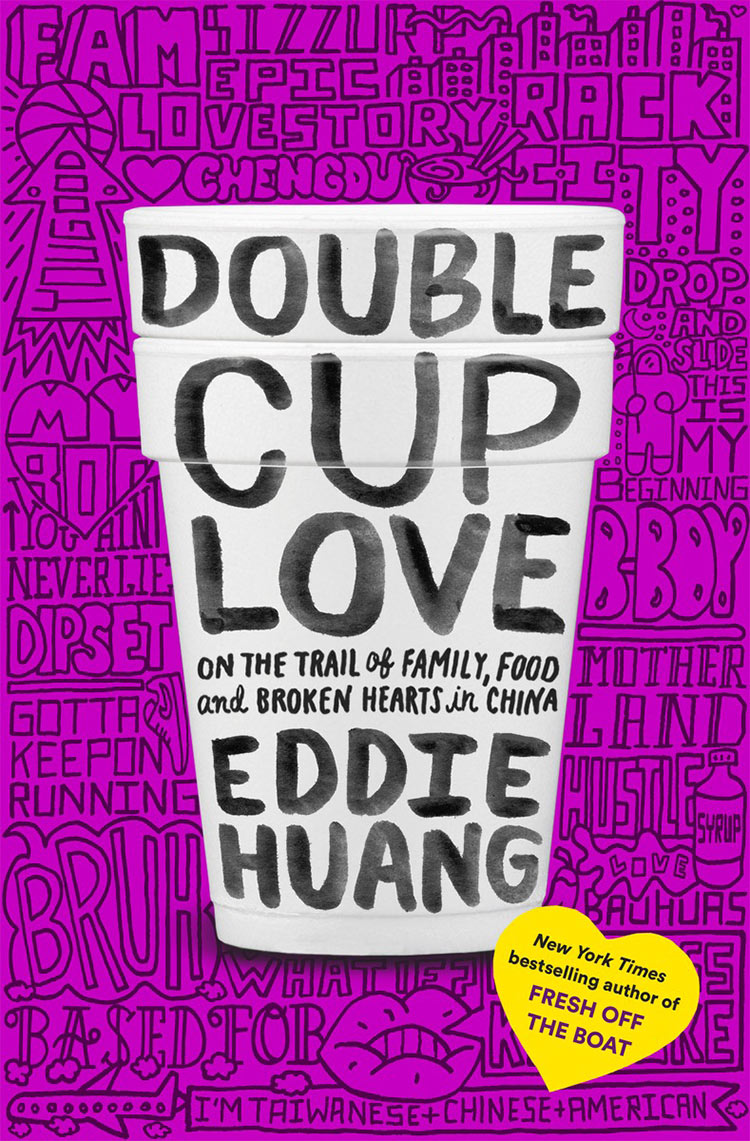 Eddie Huang. You might know him as the chef and founder of Baohaus in New York's East Village, the culinary brains behind the delicious East-West mash-up of fried chicken and Taiwanese bao. Or you might know him as the author of Fresh Off the Boat, which details his childhood growing up Asian-American in Orlando, Florida, navigating his heritage and immigrant parents with the roar of Nineties hip-hop culture. Or maybe you're a fan of the similarly named ABC sitcom based on that book. Or you just know him as that no-holds-barred guy in Huang's World on Viceland, who treks around the globe jumping from one culinary adventure to another (kofta in Istanbul, octopus-and-marijuana taco in Mexico). Or perhaps you don't recognize that name at all, but if the above description is any indication — you should. Because Huang leads one colorful, coolly action-packed life.
In his new book, Double Cup Love (Spiegel & Grau), Huang reveals even more. This one is a memoir, too, and pulses with the same bright energy, but instead of the cultural push-and-pull of a youth in suburban America, Double Cup Love mainly takes place overseas: Huang cooking Chinese food in China, reconnecting with his roots and…awaiting the arrival of his Irish-Italian girlfriend. Here, an excerpt of the original pitch idea as recounted in Double Cup Love. (The narrative ultimately changes with the Dena factor, but you'll have to read the book to see how it all shakes out.)
"I gotta level with you for a second. I wasn't sure why I was going to China. It all started at the press lunch for my first book, when this old head asked me: 'Fresh Off the Boat is a coming-of-age memoir, a foregone conclusion. What I want to know is what's next?'
"This was a common question back then — people want to be on that next sh*t before they can even shake the sand out their crotch from the first wave. But I scrambled for an answer.
"'Well, I think the logical bookend would be to flip it upside down, reverse the family's migration back to China and ask the same questions.'
"'And what are those questions?'
"'I mean… it's like the Marvel Comics 'What If?' joints. What if I was born in China? Could I have created my own place in China like I did in America? Can I ever be Chinese again? Are kids like cognac blunt wraps? Could I just honey-dip them in the Chinese wilderness and make us X.O. again?
"'Ha ha, I never thought I'd hear about reverse migration and cognac blunt wraps in the same sentence. Well, good luck.'
"I made a note to myself, went home that night, and a week later emailed the idea to my editor and Obi-Wan Kenobi, Chris Jackson:
"Undercover Brothers (lol prob not the title, but funny)
"I want to go undercover as a bao vendor with my brothers in China. We will go back, make baos, sell them on the street, live with locals, and report. There are multiple layers but I feel like my personal quest is to see how my food and I will be received in China as an American-born Chinese-Taiwanese. There will be struggles to get the business started, learn how to finesse the system. Are there commercial kitchen laws? What are the food and business standards in China and how do they compare to the U.S.? Not on a global Target Beijing to Target Atlantic Avenue scale but on a Baohaus to Beijing food cart vendor level. I want people to know what the day-to-day life of a Chinese street cart vendor is. There are all these chefs talking about backpacking in countries, coming back with recipes, then trying to re-create some trattoria or izakaya they found abroad. I'm doing the reverse. I'm not trying to feed White Brooklyn. I'm trying to feed brownish-yellowish chronic bronchitis Beijing and other cities like it. Classic Eddie Downward Assimilation story.
"My dad always said, 'When China blows the whistle, its children will come home.' I want to know if that's true. Can I claim China? Am I a poser? Can I actually come home and be Chinese? What does that even mean?" — Eddie Huang
More to explore in
Culture