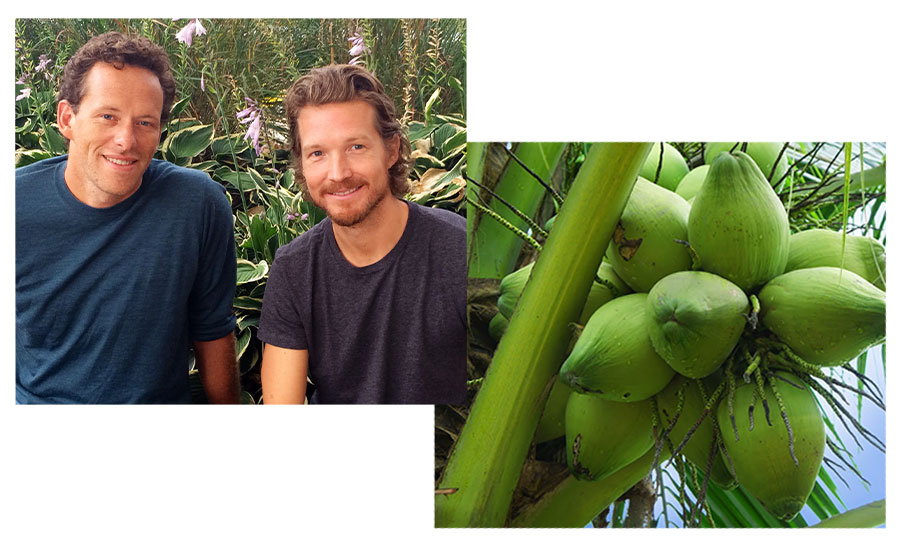 Coconut water — sounds like a simple enough product, right? Except a lot goes into building a company based on it, if you're doing it the way Harmless Harvest founders Douglas Riboud, left, and Justin Guilbert are. That is, thinking raw and organic, through sustainable means and with fair-wage practices and the farmers in mind. Here, we talk to the duo about their business model, how they got started and how they're expanding.
Harmless Harvest is…
Guided by the ideals of constructive capitalism, Harmless Harvest creates positive feedback loops between people and plants. By staying true to the ingredients at the source, we make better products that benefit everyone involved in their production. The idea is that consumers purchase a product that is healthy and delicious, tasting like what the ingredients should taste like and getting that connection to the plants at the source. That purchase then promotes stable, fair wages for farming communities, organic farming practices, and decent working conditions throughout the supply chain.
We were inspired to start this company…
We started talking about progressive business models and realized that we shared this belief in the idea of an ecosystem based business model. One day we just decided to stop talking and start doing and founded Harmless Harvest.
How we met…
We first met in New York City in our early twenties, but really got to know each other during business school. We've been friends ever since.
Why coconut water…
Coconut water actually came about from trying to source ingredients for a different beverage idea that blended a few wild and organic ingredients. Initially, we thought coconut water would be easy to source because of how popular it was, but it proved to be the most difficult because the products available did not meet our standards in terms of flavor and sustainable growing practices. We saw an opportunity in coconut water to not only elevate the standards by maintaining a raw product, and therefore a product that actually tasted like it came from a freshly cracked coconut, but also an organic product that was produced fairly.
Most exciting part about owning your own business…
At the end of the day, action is what counts when owning your own business. We see the direct impact of our decisions, and ultimately are the only ones responsible for the results. We have to learn from our mistakes quickly.
And the most challenging…
We didn't anticipate the challenge of detaching from the emotional ties we have for our product. After putting so much into getting this bottle on the shelf, there can be a huge sense of protectiveness over it, which can make criticism tough to hear. Criticism can be beneficial though, so it's necessary to put some objective distance between yourself and the product.
When starting a company, you must…
Forging long-term relationships is imperative to success. Whether it be partnerships with farmers and communities at the source or retailers, the support of like-minded people is priceless. No company succeeds with the work of just one or two people, so surrounding the organization with a community of individuals who will strengthen it during difficult times, offer guidance when needed, and work hard to see it prosper is non-negotiable.
And never be afraid of…
Don't be afraid to make mistakes and even fail. We took big chances and did things the way we wanted to, even when many people advised against it. The biggest push for us in starting our own company was to show people that the way things are done is not necessarily the way things have to be, or even should be, done. Innovation can be scary, and it's definitely not a smooth ride.
Best business advice we've received (and from whom)…
Coming from families of entrepreneurs, we learned more from their example than explicit advice. One piece of advice we were given, and learned to appreciate by not following it when we first started was to take it slow. It's easy to want to see big results quickly, but that pace isn't sustainable.
What's next…
We just launched a 100% Raw & Organic Coconut Water with fair trade coffee, which is just incredible. It's a great balance of our hydrating Nam Hom coconut water and organic coffee sourced in Peru, plus it's 100% organic and Fair for Life fair trade certified. We've got even more exciting launches happening this summer, which we cannot wait to talk about in a few months.
More to explore in
Entertaining