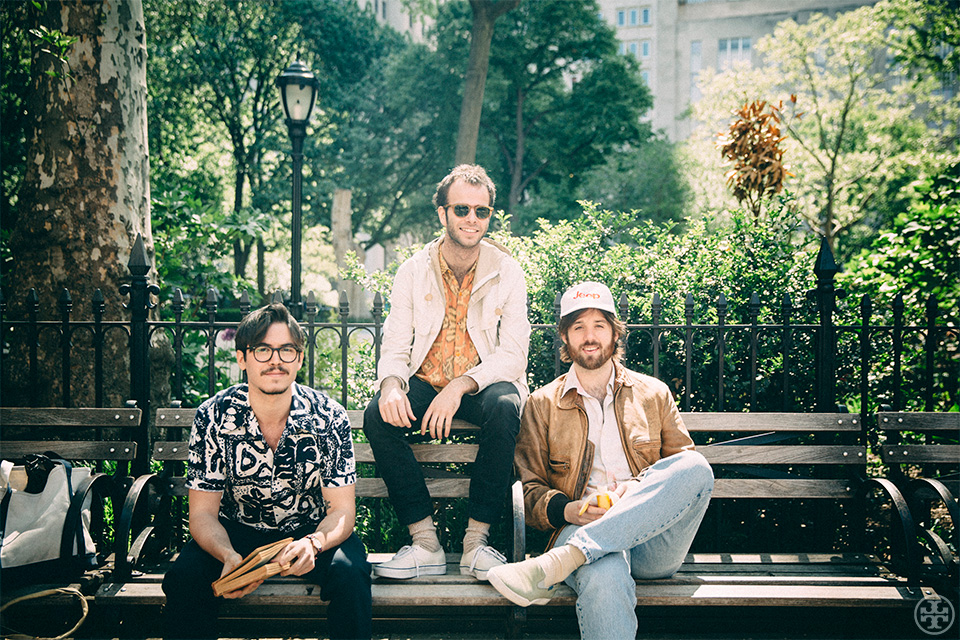 Ocean breeze, palm trees… If you, like us, have been bitten by the summer vacation bug, we've got the perfect soundtrack for you — and your trip-planning daydreams. Meet tropical rock band Swaai Boys, whose songs center around adventure and exploration. If you're in New York, you can catch them tomorrow at The Explorers Club and, on June 15th, at Rough Trade as part of Brooklyn's Northside Festival. Here, we chat with the trio behind the sound.
Our backstory…
AM:
I originally met José in an astronomy class. One summer, we traveled to a small surf town on the southern coast of Spain called Tarifa. We planned on making it to Tangier, but stormy weather prevented us from crossing the Strait of Gibraltar. It was brutal — you could see the foggy high coast of Africa in the distance, but there was no way to get there. So, we were stuck in this town, and I made a five-track tape that became the first Swaai Boys songs.
JG:
After we returned to New York, Andrew met Caleb at
The Maritime Hotel
, where, after a heated argument, he managed to convince him not to rejoin an Arctic expedition gathering data off Greenland. He agreed, and joined this new musical project instead.
And the story behind the name…
JG: One of those first tracks from the five-track tape was a song called East Chilean Hot Sauce Swaai. It was written for our friend Birny who had traveled solo to Chile. The tune ended up becoming the inaugural track.
CT: Birny ended up becoming the Swaai Boys' house cartoonist. He's got a phenomenal touch with ink. The word "swaai" is actually South African for "dance." It was a dance song.
Our sound is…
AM: The first glimpse of an azure oasis after three weeks lost in a burning sandstorm, having eloped with a nomadic princess with whom you fell madly, madly in love.
Our musical influences…
JG:
Les Baxter
,
The Hollies
, Tintin, Ernest Shackleton…
AM:
The
Akeley Hall of African Mammals
at the
American Museum of Natural History
…
CT:
Irv Teibel's Environments series, Christie Brinkley and a young Sean Connery.
Themes we're drawn to…
JG: Exploration, adventure, thieves, palm trees, big waves and betrayal.
The album or song that changed our life…
JG: Os Mutantes by Os Mutantes
Our ideal summer adventure…
CT: We've been obsessed with Morocco while working on some new material — its geography, aesthetic, food. We were reading an article in The New York Times Magazine about expats living in Tangier, and their houses were beautiful — plants everywhere, stunning colors, radiant fabrics.
JG: We thought, I bet what one of these people needs, I bet what they're really looking for, is reliable transportation… say, an early Eighties Land Rover Defender.
AM: Those first ones are gorgeous. And we were looking on the Spanish Craigslist for Barcelona, and we saw one for sale for a very reasonable price. So the plan is to facilitate the sale of that particular Land Rover to one of the expats in Tangier, and offer to drive it from the one place to the other. For a small fee, of course.
Favorite line from one of our songs…
JG:
"If only I could get the day off, I'd sleep with my wife," from a song off of our next record. It was written about an ancient Egyptian worker, but has really resonated with us the longer and more filled-up and exhausting all of our lives get.
CT:
We all work jobs all week, it's insane. Imagine all the things you can do with a day off: all the places you can go, the fruits you can eat, the near-death experiences you can have — but maybe, really, by the time you make it to Saturday all you want to do is crawl into bed with your wife and watch an episode of
Archer
. That's sort of what the song is about.
Favorite places for live music in New York…
JG: Barbès, The Surf Lodge, Otto's Shrunken Head and The Lizard Lounge.
CT: Madison Square Garden
Our pre-concert ritual…
JG: Falling asleep while watching surf movies. Eating bananas. Having a Swaai cocktail.
AM: Which is just a cold glass of fresh seawater.
CT: Handling precious stones, particularly rubies and emeralds.
What's next…
CT: We're hard at work right now on our next collection of recordings, Hot Sand, the product of an immersive obsession with deserts and the coast. We really tried to capture the environments: the hiss and wind of the desert, dry heat at its most oppressive, contrasted with the ocean shore in all its luxurious, breezy, nostalgic glory.