http://www.toryburch.com/tory-burch-for-fitbit-silicone-printed-bracelet/22145803.html
Tory Burch
TORY BURCH FOR FITBIT SILICONE PRINTED BRACELET
USD
http://schema.org/InStock
DON'T HAVE A FITBIT FLEX TRACKER?
The Fitbit Flex tracks steps, distance and calories burned and shows you how you're stacking up against your daily goals.
QUICKSHOP
In-Store Availability
In-Store Availability
Share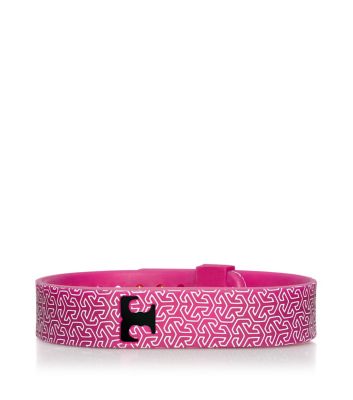 DESCRIPTION
An exclusive collaboration between Tory Burch and Fitbit. Transform your tracker into a super-chic accessory for work or weekend, day or evening, with the Silicone Printed Bracelet — featuring a graphic T pattern. Updated with a special keeper band for added security, the style now also comes in two sizes: small and large. It has an adjustable closure and a secure, easy-access holder for the device on the back. Our signature colors, prints and designs meet the technology of Fitbit Flex.
The Fitbit Flex® with tracker is sold separately.
INSTRUCTIONS
Purchase a Fitbit Flex.
Set up your tracker at fitbit.com/setup and download the Fitbit mobile app.
Insert your tracker into your accessory to track your steps, distance, calories burned and more.
Double tap the accessory to show your progress against your goals.
Sync your stats to Fitbit's online and mobile tools — simply hold the accessory near your phone or computer.
SECURING THE WRISTBAND
Put on the wristband so the window of lights is closest to the outside of your wrist and facing you.
Align both ends of the wristband so they are directly overlapping each other with the clasp over the two holes that best fit your wrist.
Squeeze both the clasp and the wristband between your thumb and forefinger until you hear a click.
You'll know that your Flex wristband is fastened correctly if both ends of the wristband are fully inserted.
Slide the smaller band over the clasp to secure the fit.
Rated

2.4

out of

5

 by

401

reviewers.
Rated

1

out of

5
 by
Amy82
Kept falling off!
My husband bought this for me for my birthday (I waited months because it was on back order) and I was excited to have a bracelet that was a bit more stylish compared to the standard Fitbit bands. I loved it at first, but noticed it kept falling off...even with the "keeper band"! Well, it was only a matter of time until I lost it for good. So I had to end up buying a whole new Fitbit...very frustrating AND expensive!! Also, in the few months I had it, as I saw others report, the design began peeling off. I was so disappointed because it was really cute!!
August 29, 2015
Rated

3

out of

5
 by
Chelsea76
This product is very good quality.
I got this band as a gift for my birthday. It is soft and comfortable and also very cute. The only thing to worry about it that if you don't use the extra band to secure the bracelet it can easily fall off. That is why I only gave it 3 stars.
August 28, 2015
Rated

1

out of

5
 by
Sarah409
Design is peeling off
I bought this pattern in early June, and it started peeling only a month later. There are large chunks of the print missing, and more starts coming up each day. To top it off, the clasp isn't very firm so it falls off regularly. Thankfully I've been able to find it each time! For the price, these need to be better quality.
August 27, 2015
Rated

2

out of

5
 by
alliphant
Design is peeling off
I have only had this for about a month. It started out beautiful and i have gotten tons of compliments. The slide closure was hard to get over at first but then did stretch out enough and it is easier to slide over the band and secure it now. My main issue is that the design is now peeling all over the band and is coming off. It looks horrible now. Very disappointed that the design has come off
August 25, 2015
Rated

2

out of

5
 by
JenBrown82
Fell off after just hours of wearing!
I loved this bracelet when I got it! I had wanted it for so long, and I was so excited to finally get it. It was pretty comfortable, and not too bulky. However, I could not get the "special keeper band" to go over the closure. It would go over it when the bracelet was off my wrist, but not while it was on. The more I pushed it to force it over the closure, the more the silicone stretched, but still wouldn't budge. I wore it (literally) for two hours when I noticed that the bracelet had fallen off my wrist. I still haven't found it :( I don't know if mine was just defective, but I am very disappointed. So, both my Fitbit and my Tory Burch Fitbit bracelet are gone forever.
August 21, 2015
Rated

1

out of

5
 by
neeclynn
Save your money
The coating on the band began peeling in two different spots, starting three days after I received it. It also falls off all the time, even with the securing band.
August 18, 2015
Rated

2

out of

5
 by
xtyralove
Great Concept. Flawed Design
I received this as a gift for Mother's Day 2015, it's so stylish but the band design is peeling off. Is anyone else experiencing this problem?!!.. I always take it off before I shower or get into water, so that I wouldn't ruin it. It if wasn't for the closure band I would have Lost my Fitbit because the clasp isn't strong enough to hold together the Fitbit. I noticed a few times that the clasp came apart and only the closure band was holding it together. If Tory Burch would design a better Fitbit band it would be greatly appreciated .
August 16, 2015
Rated

5

out of

5
 by
LauraG
Fitbit fun!
Super adorable accessory for your Fitbit! The rubber is very soft to the touch, which is a strange thing to comment on but the first thing I noticed. I've even had people comment on the feel of the rubber, it's that nice.
August 16, 2015