http://www.toryburch.com/tory-burch-for-fitbit-silicone-printed-bracelet/22145803.html
Tory Burch
Tory Burch for Fitbit Silicone Printed Bracelet
USD
http://schema.org/InStock
DESCRIPTION
An exclusive collaboration between Tory Burch and Fitbit. Transform your tracker into a super-chic accessory for work or weekend, day or evening, with the Silicone Printed Bracelet — featuring a graphic T pattern. Updated with a special keeper band for added security, the style now also comes in two sizes: small and large. It has an adjustable closure and a secure, easy-access holder for the device on the back. Our signature colors, prints and designs meet the technology of Fitbit Flex.

The Fitbit Flex® with tracker is sold separately.
INSTRUCTIONS
Purchase a Fitbit Flex.
Set up your tracker at fitbit.com/setup and download the Fitbit mobile app.
Insert your tracker into your accessory to track your steps, distance, calories burned and more.
Double-tap the accessory to show your progress against your goals.
Sync your stats to Fitbit's online and mobile tools — simply hold the accessory near your phone or computer.
SECURING THE WRISTBAND
Put on the wristband so the window of lights is closest to the outside of your wrist and facing you.
Align both ends of the wristband so they are directly overlapping each other with the clasp over the two holes that best fit your wrist.
Squeeze both the clasp and the wristband between your thumb and forefinger until you hear a click.
You'll know that your Flex wristband is fastened correctly if both ends of the wristband are fully inserted.
Slide the smaller band over the clasp to secure the fit.
DETAILS & FIT
Printed silicone.
Prong closure.
Width: .50" (1.3cm)
Small: fits wrists 5.5-6.9"
Large: fits wrists 6.3-8.2"
In-Store Availability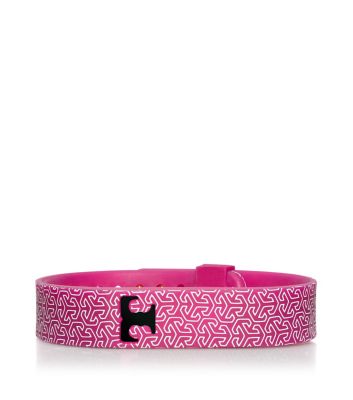 You Might Also Like
Rated

2.4

out of

5

 by

355

reviewers.
Rated

3

out of

5
 by
PsBest
Good looking product but some design flaws
I love the look of the Fitbit bracelet but the clasp does not stay closed. I will be sending it back for replacement.
May 22, 2015
Rated

1

out of

5
 by
Melhyg
Poor quality
My bracelet does not stay closed. If it was not for the secure plasitc slide I would have lost it. Since bracelet does not stay closed, the fitbit does not track properly. There is a clear plastic coating that bubbled and decorative layer that is peeled off.
May 20, 2015
Rated

2

out of

5
 by
chammer
Doesn't hold up!
I have had this bracelet for 2 months and the design has already peeled off the band. I have never gotten it wet and I expect a higher quality from Tory Burch! It looks very cheap and I will most likely throw it away.
May 19, 2015
Rated

5

out of

5
 by
GenaMichelle
Very pretty
I am happy with my fitbit cover because it is so lovely it actually makes me want to wear my Fitbit! I love it.
May 18, 2015
Rated

5

out of

5
 by
Annie3
Very cute!
I was hesitant to purchase this bracelet for the Fitbit because of the other reviews but I loved the look of it so much, I decided to take a chance. And I'm so glad I did! It is so cute with the gold accent and the famous "T"ory logo to display your fitness progress. I do agree with the others that it is so much easier to remove than the original Fitbit band. The work around is to purchase a size larger so when it's secure, you can tuck the other end through the "watch band" loop. And push that loop all the way to the gold accent. Hasn't come off at all! (Example: if you normally wear the small but use one of the last 4 holes, get the large size instead. When it's secure, the goal is to have at least 4-6 of the holes leftover.)
May 17, 2015
Rated

1

out of

5
 by
Denise15
Simply put...don't buy this if you value your FitBit
My bracelet kept falling off. I tried multiple ways to keep it secure. It finally fell off for the last time and I couldn't find it. I am so upset that I lost my $100 FitBit and wasted $38 on this poorly designed bracelet. Since this appears to be a know issue, Tory Burch should replace the device.
May 17, 2015
Rated

1

out of

5
 by
Jennedy
Silicone Fitbit band
I ordered the band because it was so cute and I loved wearing my Fitbit and this allowed me more color options to match with different outfits. Unfortunately, the new design with the safety catch is just as flawed as the old design. I only had it for a month before it fell off the first time. I caught it and adjusted how I was wearing it, hoping the incident wound not happen again as this was the new design with a better clasp and a safety catch... No such luck. The band fell off a second time and I lost my tracker. I think Tory Burch for FITBIT should replace trackers for consumers that trusted her product and lost their expensive trackers. Its a cute band but very unreliable and not worth the risk. I even bought one for my sister for her birthday and she has reported that it fell off her wrist too. I warned her that she may lose her tracker by wearing this band. Very disappointed
May 14, 2015
Rated

1

out of

5
 by
AKTTBfan07
Closure is terrible
I usually love everything Tory Burch makes, so I was so excited when she teamed up with Fit Bit. Unfortunately they completely screwed up. The tabs that close the bracelet are too small and barely fit together. It has popped off my wrist MANY times, and I actually lost it recently because of this and now have to go out and buy a completely new tracker. I was incredibly disappointed by this failure in design, especially since I pre-ordered and it took them months to get it to me because they claimed they were "fixing some issues". I definitely would not recommend you purchase this product. You will be very dissapointed if you do.
May 13, 2015