http://www.toryburch.com/tory-burch-for-fitbit-silicone-printed-bracelet/22145803.html
Tory Burch
Tory Burch for Fitbit Silicone Printed Bracelet
USD
http://schema.org/OutOfStock
DESCRIPTION
An exclusive collaboration between Tory Burch and Fitbit. Transform your tracker into a super-chic accessory for work or weekend, day or evening, with the Silicone Printed Bracelet — featuring a graphic T pattern. Updated with a special keeper band for added security, the style now also comes in two sizes: small and large. It has an adjustable closure and a secure, easy-access holder for the device on the back. Our signature colors, prints and designs meet the technology of Fitbit Flex.

The Fitbit Flex® with tracker is sold separately.
INSTRUCTIONS
Purchase a Fitbit Flex.
Set up your tracker at fitbit.com/setup and download the Fitbit mobile app.
Insert your tracker into your accessory to track your steps, distance, calories burned and more.
Double-tap the accessory to show your progress against your goals.
Sync your stats to Fitbit's online and mobile tools — simply hold the accessory near your phone or computer.
SECURING THE WRISTBAND
Put on the wristband so the window of lights is closest to the outside of your wrist and facing you.
Align both ends of the wristband so they are directly overlapping each other with the clasp over the two holes that best fit your wrist.
Squeeze both the clasp and the wristband between your thumb and forefinger until you hear a click.
You'll know that your Flex wristband is fastened correctly if both ends of the wristband are fully inserted.
Slide the smaller band over the clasp to secure the fit.
DETAILS & FIT
Printed silicone.
Prong closure.
Width: .50" (1.3cm)
Small: fits wrists 5.5-6.9"
Large: fits wrists 6.3-8.2"
In-Store Availability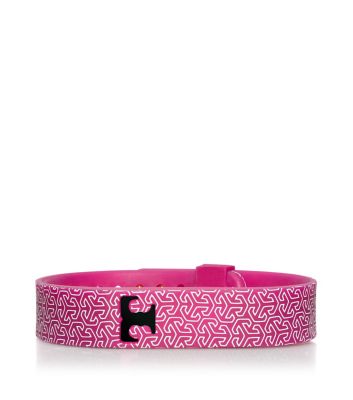 Rated

2.3

out of

5

 by

279

reviewers.
Rated

1

out of

5
 by
Jennyg
Cute but that's about it
Picked up this little beauty 10 days ago and absolutely love the pattern! Too bad it fell off more than once. Now, it and my fitbit are gone for good.....don't buy this unless you want to lose your fitbit
March 2, 2015
Rated

2

out of

5
 by
LC12
New fitbit top layer coming off
I had the original bracelet and had contacted customer service last year about the clasp/bracelet falling off issue. I received a replacement a month ago. The bracelet stays on but the clear top layer is peeling off.
March 2, 2015
Rated

4

out of

5
 by
seattlesunshine12
FITBIT NEW & IMPROVED CLAPS
I received my NEW & IMPROVED fitbit, which was ordered mind you since last year. This was ordered for me as a gift and we have been patiently waiting for this bracelet since JULY 2014. During this time, I read of all the horrible stories of people losing their fitbit due to the poor quality of the older version. It is now March 1st, 2015 and so far, the bracelet has NOT fallen off. The extra holder that secures the fitbit and the claps in place keeps my fitbit on my wrist. Now it wasn't easy to slide the extra holder over the claps, but it eventually held it together (2 tries), but it did stay in place. I have 2 kids, I do errands constantly and the fitbit has not fallen off. So, to be fair, yes, it has been a long time waiting, but to wait for something that finally works, I am very pleased. I say, if you had the older version, that one was a piece of junk, but for the NEW and IMPROVED one, I'm glad that I gave it a try.
March 1, 2015
Rated

1

out of

5
 by
Ajo717
Silicone Fitbit bracelet
I am so disappointed in the quality of this bracelet. I sent out an email to Tory Burch and have lost my fitbit. The clasp does not stay closed. Great looking accessory just not made right. I hope they send me a refund for the bracelet and the fitbit.
February 22, 2015
Rated

1

out of

5
 by
NicoleC
Pink Silicone FitBit Bracelet
I ordered the pink silicone FitBit bracelet the first week (or maybe even the first day!) it was released. I had been waiting for the Tory Burch FitBit line to come out for months. I loved the way it looked, but I was so disappointed with the functionality. It fell off ALL the time!!! I almost lost my FitBit a million times because of this bracelet. Honestly, because this bracelet kept falling off I stopped wearing my FitBit all together. I thought the FitBit line would be better thought through by Tory Burch. Still a loyal customer to the lovely designs but very disappointed with this particular product. :(
February 5, 2015
Rated

1

out of

5
 by
Deette
Love it, but must leave it.....
If I could give this bracelet zero stars, I would, but I guess the one star is for the look of the bracelet. The clasp is not secure at all! I'm so disappointed because I love the color and look. I'm lucky enough to have noticed each time it has fallen off, so I haven't lost mine like the others. Hopefully Tory is reimbursing people for the loss of their Fitbit. Looks like they should've done more R&D testing on this product.
November 13, 2014
Rated

1

out of

5
 by
Dissaponted
Very poor quality - Lost both bracelet and fitbit
I'm very dissapointed for this product. I got my bracelet on the store at Madison Ave. and lost both bracelet and fitbit. The clasp never worked. Also the color faded. The bracelet keep falling and finally lost it today. I'm very very dissapointed. Now I have to buy another fitbit but for sure WILL NOT get a new Tory bracelet.
October 17, 2014
Rated

1

out of

5
 by
Kiwi
Gone In The 1st Day! Fitbit + Bracelet
I am amazed at the poor quality if the silicone fit bit bracelet. I have had my Fitbit for a year and never had an issue. I pre-ordered this item and waited with patiently for months. Not only was a it a poor quality cheaper version of the basic Fitbit bracelet at the 4x the cost it has also started peeling in one spot before I even wore it. Since I had waited so long I decided to suck it up and wear it. The clasp does NOT work properly. It fell off a few times before I even left the house on the first day and I lost it and the Fitbit for good on my 10 minute walk into work. Please save your $$$ I am now out the cost of the bracelet plus the replacement cost for my Fitbit. I am very disappointed since this is a very well known luxury brand. This item is not up to the Tory Burch standard and is sub par.
October 13, 2014