http://www.toryburch.com/tory-burch-for-fitbit-silicone-printed-bracelet/22145803.html
Tory Burch
Tory Burch for Fitbit Silicone Printed Bracelet
USD
http://schema.org/InStock
DESCRIPTION
An exclusive collaboration between Tory Burch and Fitbit. Transform your tracker into a super-chic accessory for work or weekend, day or evening, with the Silicone Printed Bracelet — featuring a graphic T pattern. Updated with a special keeper band for added security, the style now also comes in two sizes: small and large. It has an adjustable closure and a secure, easy-access holder for the device on the back. Our signature colors, prints and designs meet the technology of Fitbit Flex.

The Fitbit Flex® with tracker is sold separately.
INSTRUCTIONS
Purchase a Fitbit Flex.
Set up your tracker at fitbit.com/setup and download the Fitbit mobile app.
Insert your tracker into your accessory to track your steps, distance, calories burned and more.
Double-tap the accessory to show your progress against your goals.
Sync your stats to Fitbit's online and mobile tools — simply hold the accessory near your phone or computer.
SECURING THE WRISTBAND
Put on the wristband so the window of lights is closest to the outside of your wrist and facing you.
Align both ends of the wristband so they are directly overlapping each other with the clasp over the two holes that best fit your wrist.
Squeeze both the clasp and the wristband between your thumb and forefinger until you hear a click.
You'll know that your Flex wristband is fastened correctly if both ends of the wristband are fully inserted.
Slide the smaller band over the clasp to secure the fit.
DETAILS & FIT
Printed silicone.
Prong closure.
Width: .50" (1.3cm)
Small: fits wrists 5.5-6.9"
Large: fits wrists 6.3-8.2"
In-Store Availability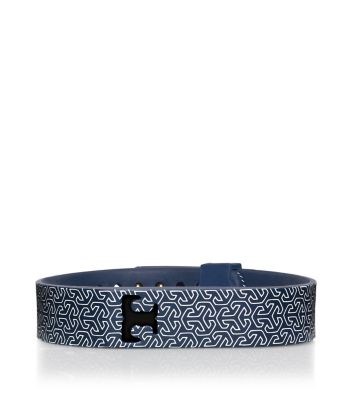 You Might Also Like
Rated

2.3

out of

5

 by

304

reviewers.
Rated

2

out of

5
 by
knote
Poor Quality & Doesn't Hold Up.
Sad to recommend you stick with the Fit bit bracelets that come with your device. I wanted to LOVE this bracelet but the quality is so poor I can't. :( I ordered in summer 2014 to receive in early 2015 after the kinks had supposedly been worked out. Sadly - they haven't. The clip doesn't keep the bracelet closed and thankfully there is a support strap to hold it on or I would have lost mine the first day I wore it. I check often through out the day to make sure it's attached and probably 3-6 times a day I have to reconnect it. After wearing for approx 4-6 weeks (not constant as I've switched to other colors) the top layer of coating is wearing/peeling off. Sadly - it's one TB item that's affordable, but it's also of such poor quality you shouldn't even spend your money on it. I gave it two stars just because it's cute and the pink is a pretty shade, but that's about all it has going for it.
March 25, 2015
Rated

3

out of

5
 by
Vivian28
not comfortable
the band is very cute but difficult to put without assistance. It snaps off and has fallen off several times; luckily I have seen it each time otherwise i would loose the band PLUS the fitbit. The gold buckle leaves a mark on the wrist if worn too tight.
March 25, 2015
Rated

1

out of

5
 by
Niki88
Poor Quality for Price
If I could give it no stars, or a half a star, I would. Just like many of the reviews on here, I waited months for my band to arrive. When it did, it didn't last long. The clasp comes undone so easy that I tend to lose it a couple times a week. The little band that is supposed to help keep it on, is too tight to actually use. After only having it a couple of weeks, the silicone is peeling off. If I could return it for my money back, I would. It might be a neat little design but the regular bands are put together better than this. Save your money.
March 25, 2015
Rated

5

out of

5
 by
Kates663
Just like from Fitbit but much cuter
This band is just like the band that the FitBit comes with, but with the cute pattern and pretty color. I also like the added security of the band holding the snap button shut. I love this band and plan to keep buying more as Tory comes out with more colors and patterns
March 24, 2015
Rated

1

out of

5
 by
Karen1963
Wanted to make it work
I have to say I was so impressed with Tory Burch when I first got this. I waited and waited for months to receive this. I had pre-ordered it and after months, I received an email that they were sending this bracelet for free due to my early support and patience as the improved the design on the clasp. I was really surprised and quite pleased. I have enjoyed the bracelet for several months; enventhough, the clasp occasionally becomes undone. I am able to use the little wrap around holder to prevent it from falling off. Unfortunately, the plastic is starting to peel off and bubble. I am so disappointed because it is such a stylish touch for the fitbit. I don't want to quit wearing it but it is starting to look very cheap.
March 23, 2015
Rated

1

out of

5
 by
Robin5884
Disappointed
I loved the color I got the navy one as I am a nurse and have to wear Navy Scrubs but the Silicone started peeling off after the first day, the clasp kept coming open and the closure is to small to go over the edges of the band. So when the clasp popped open instead of the adjustable closure at least keeping it secure on my wrist it would fall off in a patients bed. So for the price I was disappointed and felt this was poor quality. I am not a big name person but it was a special treat to myself for losing 60 pounds.
March 23, 2015
Rated

2

out of

5
 by
Monte
Originally liked
When first getting this bracelet and wearing it I really liked it. It is comfortable and feels good on. The design is nice. But after wearing it for only 1 month the clear coating is peeling off. This is not acceptable for this price range. The overall improvements on the bracelet are great except for that. Looks really bad now.
March 22, 2015
Rated

1

out of

5
 by
okakiHC
Really cute but disappointing…...
I usually do not take my time to write a review but this time I decided to. After waiting so long for the silicone band, it finally arrived and I was so excited. The color and design was just so perfect! After two weeks of wearing it, (Remember the fitbit is inside doing the work 24 house too) a clasp fell off. Without the clasp the band comes off too easily. Also the silicone started to rub off. After a little over a month, I ended up losing the band and the fitbit together. I wore it to work and when I arrived at work it was gone so I assume it dropped off my wrist in a cab or out on streets. If you are thinking on buying this product, you should really reconsider this.
March 22, 2015