http://www.toryburch.com/tory-burch-for-fitbit-silicone-printed-bracelet/22145803.html
Tory Burch
Tory Burch for Fitbit Silicone Printed Bracelet
USD
http://schema.org/InStock
DESCRIPTION
An exclusive collaboration between Tory Burch and Fitbit. Transform your tracker into a super-chic accessory for work or weekend, day or evening, with the Silicone Printed Bracelet — featuring a graphic T pattern. Updated with a special keeper band for added security, the style now also comes in two sizes: small and large. It has an adjustable closure and a secure, easy-access holder for the device on the back. Our signature colors, prints and designs meet the technology of Fitbit Flex.

The Fitbit Flex® with tracker is sold separately.
INSTRUCTIONS
Purchase a Fitbit Flex.
Set up your tracker at fitbit.com/setup and download the Fitbit mobile app.
Insert your tracker into your accessory to track your steps, distance, calories burned and more.
Double-tap the accessory to show your progress against your goals.
Sync your stats to Fitbit's online and mobile tools — simply hold the accessory near your phone or computer.
SECURING THE WRISTBAND
Put on the wristband so the window of lights is closest to the outside of your wrist and facing you.
Align both ends of the wristband so they are directly overlapping each other with the clasp over the two holes that best fit your wrist.
Squeeze both the clasp and the wristband between your thumb and forefinger until you hear a click.
You'll know that your Flex wristband is fastened correctly if both ends of the wristband are fully inserted.
Slide the smaller band over the clasp to secure the fit.
DETAILS & FIT
Printed silicone.
Prong closure.
Width: .50" (1.3cm)
Small: fits wrists 5.5-6.9"
Large: fits wrists 6.3-8.2"
In-Store Availability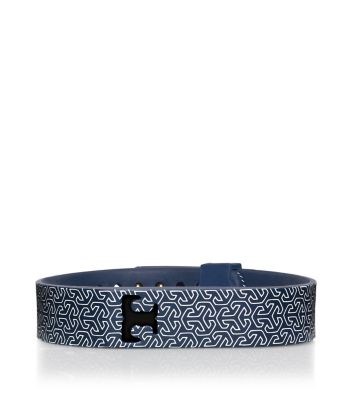 You May Also Like
Rated

2.4

out of

5

 by

380

reviewers.
Rated

2

out of

5
 by
Jtorres916
Pretty... But that's pretty much it!
I bought this because it was a prettier, more feminine looking band than the one that comes with the tracker. Unfortunately, that's the only thing good about this band. I've had this band only a couple of months (a Mother's Day gift from my husband) yet it started peeling already after a few weeks! It also doesn't stay on as securely as the regular band. This is especially upsetting since it was $38!! I get it, I'm paying for the Tory Burch "brand", but it should still last much longer than 2 months!! I was originally planning on purchasing this item in other colors but I will not be doing so
July 24, 2015
Rated

1

out of

5
 by
MBrown
SO SAD / DISAPPOINTED!!!
This is a super cute band to spice up your fitbit, but it falls off ALL THE TIME! The clasps are very inadequate. I lost my fitbit today on a hike because the band fell off and I didn't feel it. I am devastated! The fashion is not worth it if you want to keep your fitbit. :(
July 23, 2015
Rated

2

out of

5
 by
FLJess
Cute, but be careful...
The band is cute and looks great, but I have only had it a week and it is already starting to peel just a bit. Also, I'm glad it has the special keeper band to help keep the bracelet on, but it still manages to fall off at times. The special keeper slides off during normal daily activity. This bracelet has fallen off twice in 1 week, but thank goodness I was able to find it both times. I wish TB would have made a better product. I never had this issue with the regular Fitbit bracelet. I still love the way this product looks, but I hate that I'm disappointed with how it works.
July 19, 2015
Rated

4

out of

5
 by
Taz08
love me fitbit bracelet by TB
I like bracelet a lot the only problem is it unsnaps at times. other then that i love it adds some style to the fitbit. i would recommend.
July 19, 2015
Rated

2

out of

5
 by
TCH123
Not great
The "special keeper band" is not helpful. First, it is nearly impossible to secure the bracelet on my hand by myself due to the tightness of the special keeper band. Second, even when I am able to successfully clip the bracelet in, the closure somehow pops out and the bracelet gets loose, and falls off my wrist.
July 14, 2015
Rated

1

out of

5
 by
RD23
Falls off all the time
I love the style and look of this but am beyond diasspointed that it falls off so easily, even with extra band securing it. I lost it once and was lucky to find it again but was not so lucky the next time it fell off..I am so upset, not only am I out of the $38 for the TB band I am also out $99 for the actual Fitbit itself..so maddening
July 13, 2015
Rated

4

out of

5
 by
Jenn41
Fashion Function
One of the things that led me to buy a fitbit flex above all the other brands was the fashion function and these stylish bracelets. That being said please know that when you buy this your expectation should be the fashion function. I do not wear this while working out. I simply use it when I go out or go to work and it looks better with my jewelry. In that capacity its great! I believe that if I used this as a 24/7 option I would not be pleased as other reviewers as its beauty would not last long. If you are looking for something you can wear 24/7 and while working out I would stick to the fitbit color bands . If you want something to wear while going out or to work as an option I would highly recommend this.
July 9, 2015
Rated

1

out of

5
 by
michica
keep losing fitbit
when i first received this i loved the way it felt. softer and more flexible than the fitbit bands - not the mention the design is ten times better than the standard band. then i quickly lost the silicone keeper band (which never really worked for me in the first place) and after that it was downhill. if you value your fitbit reconsider buying this band. you WILL lose it. in the past week i've had it, it's fallen off at least a dozen times.
July 7, 2015