http://www.toryburch.com/tory-burch-for-fitbit-silicone-printed-bracelet/22145803.html
Tory Burch
Tory Burch for Fitbit Silicone Printed Bracelet
USD
http://schema.org/OutOfStock
DESCRIPTION
Introducing an exclusive collaboration between 
Tory Burch and Fitbit. Transform your tracker into a 
super-chic accessory for work or weekend, day or evening, with the Silicone Printed Bracelet. It has an adjustable closure and a secure, easy-access holder for the device on the back. Our signature colors, prints and designs meet the technology of Fitbit Flex.

Size equivalent of Fitbit Small Band.
The Fitbit Flex® with tracker is sold separately.
INSTRUCTIONS
Purchase a Fitbit Flex.
Set up your tracker at fitbit.com/setup and download the Fitbit mobile app.
Insert your tracker into your accessory to track your steps, distance, calories burned and more.
Double-tap the accessory to show your progress against your goals.
Sync your stats to Fitbit's online and mobile tools — simply hold the accessory near your phone or computer.
SECURING THE WRISTBAND
Put on the wristband so the window of lights is closest to the outside of your wrist and facing you.
Align both ends of the wristband so they are directly overlapping each other with the clasp over the two holes that best fit your wrist.
Squeeze both the clasp and the wristband between your thumb and forefinger until you hear a click.
You'll know that your Flex wristband is fastened correctly if both ends of the wristband are fully inserted.
Slide the smaller band over the clasp to secure the fit.
DETAILS & FIT
Printed silicone.
Prong closure.
Width: .50" (1.3cm)
Small: fits wrists 5.5-6.9"
Large: fits wrists 6.3-8.2"
In-Store Availability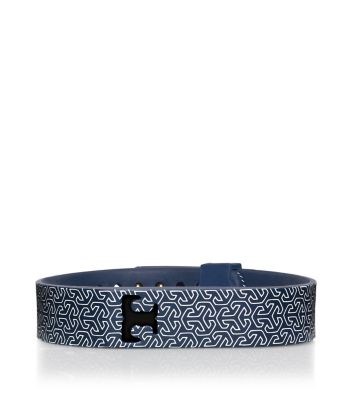 Rated

2.3

out of

5

 by

274

reviewers.
Rated

1

out of

5
 by
Deette
Love it, but must leave it.....
If I could give this bracelet zero stars, I would, but I guess the one star is for the look of the bracelet. The clasp is not secure at all! I'm so disappointed because I love the color and look. I'm lucky enough to have noticed each time it has fallen off, so I haven't lost mine like the others. Hopefully Tory is reimbursing people for the loss of their Fitbit. Looks like they should've done more R&D testing on this product.
November 13, 2014
Rated

1

out of

5
 by
Dissaponted
Very poor quality - Lost both bracelet and fitbit
I'm very dissapointed for this product. I got my bracelet on the store at Madison Ave. and lost both bracelet and fitbit. The clasp never worked. Also the color faded. The bracelet keep falling and finally lost it today. I'm very very dissapointed. Now I have to buy another fitbit but for sure WILL NOT get a new Tory bracelet.
October 17, 2014
Rated

1

out of

5
 by
Kiwi
Gone In The 1st Day! Fitbit + Bracelet
I am amazed at the poor quality if the silicone fit bit bracelet. I have had my Fitbit for a year and never had an issue. I pre-ordered this item and waited with patiently for months. Not only was a it a poor quality cheaper version of the basic Fitbit bracelet at the 4x the cost it has also started peeling in one spot before I even wore it. Since I had waited so long I decided to suck it up and wear it. The clasp does NOT work properly. It fell off a few times before I even left the house on the first day and I lost it and the Fitbit for good on my 10 minute walk into work. Please save your $$$ I am now out the cost of the bracelet plus the replacement cost for my Fitbit. I am very disappointed since this is a very well known luxury brand. This item is not up to the Tory Burch standard and is sub par.
October 13, 2014
Rated

1

out of

5
 by
Maura
To small
It looks beautiful but one size does not fit all. Please make the large as well
October 13, 2014
Rated

1

out of

5
 by
KatinDC
Lost my FITBIT and TORY BURCH Bracelet.
Do not buy this product. I recently lost my fitbit and the bracelet, due to the poor clasp. I am going to contact customer service, as I am now out the cost of both items. I know mine was not the only one, as a friend told me hers was falling off too.
October 12, 2014
Rated

1

out of

5
 by
Lfitz
Tooooo small!!!!!
Please Tory read the 267 & counting reviews giving this product 2.5 stars and give your loyal customers what they are asking for?! We want a larger band??? I use the larger fit bit silicone cover that comes with the fit bit. It measures almost 8" pleeeese make your covers in a larger size .. I love yours and wish I could wear it but sadly this one will be going back :(
October 11, 2014
Rated

1

out of

5
 by
Missy2000
Clasp
I was so glad when I got the bracelet. Wore it once and now it keeps falling off. This was not worthy the price and I think TB should refund my money or provide some better clasps. I am now waiting on the blue one but will return it because of the clasps.
October 11, 2014
Rated

1

out of

5
 by
BT14
My puppy ate my FitBit.
I ordered both the Navy and Fuchsia Tory FitBit bracelets the day they came out. I received them and loved them. Super cute. Unfortunately, the clasp was not secure at all and my FitBit kept falling off. Long story short, I ended up finding only the clasp on my kitchen floor. My bracelet fell off and my 6 month old puppy had eaten it. So I'm out a Tory bracelet AND the FitBit. The bracelet is adorable... just needs a stronger clasp. And I need a dog that doesn't eat everything... :)
October 6, 2014