CLASSIC REVA BALLET FLAT
The iconic Reva Ballet Flat, known for its timeless design and perfect fit, is made of classic black leather and topped with a metallic logo medallion at the toe. Our signature shoe, named after Tory's mother, Reva, is the epitome of effortless chic.
FREE STANDARD U.S. SHIPPING.
Style Number: 50008606
Leather upper.
Logo hardware detail.
Elasticized back.
Rubber sole.
We recommend spraying leather shoes with a treatment like Meltonian before wearing.
Remove salt stains during the winter by dabbing a solution of equal parts white vinegar. Wipe clean with a water-soaked rag and air dry away from any heat source.
Remove scuff marks by dipping a clean cloth into water and then baking soda. Gently rub the spot. Dab clean with a water-soaked rag and buff dry.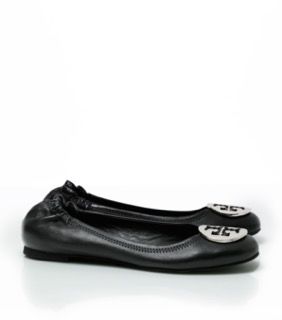 CLASSIC REVA BALLET FLAT 9 9
Love them!! I love this shoes, they go perfect with every outfit and they are so comfortable!! May 10, 2013
SO Bummed Out So so so so so (!!!) bummed out about these shoes. I've wanted them for years but finally bit the bullet in March and purchased my first pair. They are BEAUTIFULLY constructed and when I'm just standing still they feel amazing. The problems occur when I start walking. I have a narrow foot and wear a size 6.5 in the Reva (suggestion was made to go up half a size because of the elastic back. Good suggestion!) Within minutes of walking the outside of my little toes started to chafe, and the underside of my big toe began to burn. I think this had to do with my own problem and not the shoe - I think the leather rubbing on my toe was due to a lack of callouses. I tried wearing them for a few weeks, but yesterday I wore them for the last time. I was stuck in them for 4 hours and came home to HUGE fluid filled blisters on both little toes. I was SO lucky that the GM at my local Tory Burch store took them back. I had the box and receipt (and bag!) and they were only a month old. She allowed me to either pick out a new style of shoe or get a full refund. I opted for the full refund, but I will definitely be trying Tory's open sandals. They are too beautiful and so well made. I just wish I was one of the lucky ones =( May 5, 2013
Love my revas I wear a 9 but sometimes a 9 1/2 fits better which I ordered and they fit perfectly. They are so comfortable and stylish.... I already own the flip flop and now the Revas. Absolutely worth it. April 25, 2013
Great Flats I love those flats. They are gorgeous, and I get compliments on them all the time. I ordered a second pair recently, and it fits very snugly. I'm usually a 5.5, and the 6 was a tad tight. It's not uncomfortable, and I will not be sending them back, but when I order my next pair, I'm ordering a full size up. March 19, 2013
Mixed emotions about this shoe! This shoe is very cute, and you can dress it up to be casual or fancy! I am in 9th grade and I attend a highschool where they allow you to wear these shoes(Thankfully!). I am always getting complimented by the other students with these shoes. They are very cute, and I love the gold. They run about a half size up, and if you wear socks made for flats with them they are comfy (the socks also keep the inside of the shoe clean). I highly suggest these shoes! These are my third pair of tory burch flats, and my other two pairs run very true to size. February 2, 2013
Small shoes... I wear a size 2 in children's shoes, so I ordered the smallest size, 4, in the Reva's. I was super excited when they arrived and hoped they would fit well enough to keep them on my tiny feet. Well... these shoes are super tiny and super tight! They are the most uncomfortable shoes I've ever owned. I kept them, of course, because they're very cute and they're TB. Oh, the pain to pay for fashion! January 3, 2013
Fantastic & Classic I love my revas! I own a few and I must say they're hands down my favorite flats. I have them all in the gold logo. I am a true size 7, so I buy a 7.5 and they fit just fine. They will need a few wears to break in, but other than that they wear great! October 29, 2012
OK shoes, not for the price I am a little diappointed with the quality of the product. This was my first pair of Tory Burch Revas and I was so excited when they came in the mail. After my second day wearing them the sole starting seperating from the outside shoe on the toe. I sent them back for a replacement and now the inside of the replacement shoe is peeling off! I thought that for $200 shoes I would not have any issues and that the quality would be outstanding. I was told that I can send them back for a THIRD pair or a refund. Aside from the quality I found the shoe to be very comfortable and they didn't need to broken in at all. I am a 6.5 usually in flats and they were a little snug but the 7 was way too big. They are petty true to size. I am wondering if I just got 2 defective pairs? October 25, 2012