TUMBLED LEATHER REVA BALLET FLAT
The iconic Reva Ballet Flat, known for its timeless design and perfect fit, in neutral tumbled leather, perfect for anytime of the year. Our signature shoe, named after Tory's mother, Reva, is the epitome of effortless chic.
Meet Reva, Tory's stylish mother and the inspiration behind the shoe.
TORYBURCH.COM EXCLUSIVE!
Free standard shipping within the U.S. on the Reva Ballet flat collection.
Style Number: 50008668
Leather upper with logo detail.
Rubber sole
We recommend spraying leather shoes with a treatment like Meltonian before wearing.
Remove salt stains during the winter by dabbing a solution of equal parts white vinegar. Wipe clean with a water-soaked rag and air dry away from any heat source.
Remove scuff marks by dipping a clean cloth into water and then baking soda. Gently rub the spot. Dab clean with a water-soaked rag and buff dry.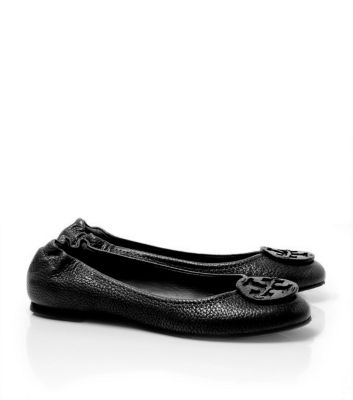 TUMBLED LEATHER REVA BALLET FLAT 3 3
my super cute "go to" flat I purchased this shoe earlier this spring because I needed a classic looking, neutral flat that I could dress up or dress down. This shoe fits that description perfectly. The elastic on the back of the shoe did really hurt my Achilles tendon the first few times that I wore them. Now that I've worn them several times, they have stretched out and are very comfortable. However, I still find if I wear them for very long periods of time, I still get some pain on the back of my feet. I am hoping with contnued wear that will cease. I wear an eight and a half in all of my Tory Burch shoes and so I ranked these true to size. I do wear an eight in other brands. April 29, 2013
Great shoe! This shoe is very cute for the fall and spring! I feel that this shoe is very true to size, and it is very comfy if you wear them with a pair of flat socks(the socks also keep the insides of the shoe clean). I am a freshman in highschool, and my school allows me to wear these flats which I am so happy about! I am always getting complimented on these shoes, and they are a must have in every girls shoe collection! February 2, 2013
So cute! Flats are gorgeous & match with any outfit! Unfortunately, they are horribly uncomfortable the first time or two that you wear them, but they stretch out a little and now fit perfect! October 15, 2012