ANNABELLE SPARKLE FRINGE TWEED SKIRT
A rich mix of sparkle and tweed, the Anabelle Skirt features contrast silk twill tape at the waist, hem and center seam — a design detail that calls out this silhouette's clean lines and office-worthy polish. Done in of-the-moment navy blue so it's perfect for grounding the season's standout prints.



Style Number: 31121349
Sparkle fringe tweed.
Silk twill at waistband.
Wool braid at center front and hem.
Back zipper with gold logo bar pull and hook and eye closure.
Front and back darts.
Logo stretch lining.
Straight fit.
19" in length.
Shell: 32% wool, 30% acrylic, 23% polyester, 6% nylon, 4% cotton, 4% rayon, 1% metallic.
Trim: 100% silk.
Lining: 100% polyester.
Dry clean only.
View Details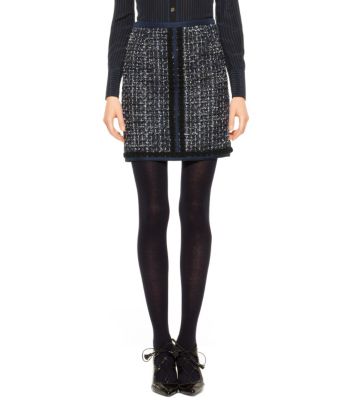 RAYNA SWEATER
Our Rayna Sweater marries the ever-flattering scoopneck silhouette with the effortless wearability of ribbed merino wool. Styled with chic bracelet sleeves punctuated by gold buttons for some understated polish.



Style Number: 30123103
Merino wool.
Scoopneck.
Ribbed.
Three-quarter length sleeves.
Gold button detail at cuffs.
Fitted.
24" in length.
100% merino wool.
Dry clean only.
View Details