Stacked Logo Tote
Made from crisp, durable nylon in classic black or bright tones and finished with a raised signature emblem, our Stacked Logo Tote is an ideal everyday bag. Great for casual weekends, running errands or simply hitting the gym, it's a sporty-yet-stylish way to tote your key belongings.
Please note Normandy Blue remains full price.
Style Number: 41129625
Solid nylon.
Button snap closure.
1 Interior zipper pocket.
2 Additional interior open pockets.
Printed canvas lining.
2 3/4" Leather cut out logo.
33mm InteriorTory logo plaque.
Tubular leather handles with 7" drop.
12 1/4"H X 14 1/2"L X 5 1/2"D.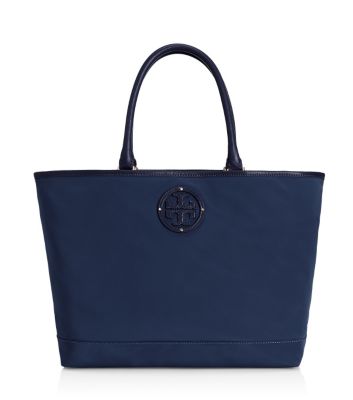 Stacked Logo Tote 1 1
Fabulous Bag! I received the bag for Christmas, and it is a versatile, everyday bag when you need more than a purse. I use it for travel as my extra-bag besides my roller-board. There is a cellphone pocket, and zipper pocket for valuables. I also use it daily when out doing errands or for my gym bag. It is the perfect size, you can never go wrong with black, and the shoulder strap is comfortable. I have used it a lot in the past 3 months, and it still looks brand new. I highly recommend it! March 14, 2013