Robinson Middy Satchel
A new addition to the heritage Robinson collection, named for Tory's parents, Buddy and Reva Robinson, the Middy Satchel is a chic, structured bag that's great for everyday. The ladylike shape, similar to a classic doctor's bag, adds polish to both work and weekend wear — and with its removable crossbody strap, is ultra versatile.
Please note Black remains full price.
Read Tory's take on the Robinson Collection.
Style Number: 32129658
Saffiano leather.
Top zipper closure.
2 exterior slit pockets at gussets.
1 Interior zipper pocket.
2 Additional interior open pockets.
Cotton canvas lining.
Gold tone hardware.
3 Piece metal logo.
Interior Tory logo plaque.
Tubular handles with 5" drop.
Protective metal feet at base.
Removable, adjustable crossbody strap extends to 24".
7 3/4"H x 11 1/4"L x 6"D.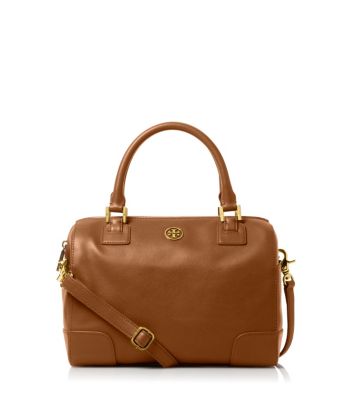 Robinson Middy Satchel 4 4
great everyday bag I got the Robinson Middy (smaller version of the Robinson satchel, $550) and so far I love it. I was very worried about the size because I wanted a larger bag this time, but Middy was not bad at all. It is roomy, light enough, and classy. I think it's big enough to fit a cosmetic case, wallet, daily planner, and books/magazines, plus a thin and light cardigan or jacket if you need to (I often do that). The size of TIME magazine perfectly fits. I tried to fit in my ipad and it kind of worked but not perfectly. I think it's still a great size and design. My only concern is the strap - like others have mentioned somewhere; since it's not the belt-type strap, every time I adjust the length, the buckle leaves a significantly visible mark... Other than that, it's a great buy! January 21, 2013
Perfect size - classic shape - LOVE IT! I just received this bag and it is everything I hoped and expected it to be. The size is perfect as a daily bag, but is not so big that you feel you're lugging around a huge duffle. It's also lightweight (when empty - ha!), so that is a big help too. The cross-body strap is a great option, yet I was hoping it would be adjusted with an actual buckle, like a belt, as opposed to the sliding mechanism. It's very stiff and when I adjust it, the lumps and bumps are very obvious. I'm hoping the leather softens a little with wear. All in all, I'm extremely pleased with this purchase! Also, kudos to Tory for even packing the shipments with style - it felt like such a treat opening up my goodies!! November 8, 2012
Very Chic I purchased this satchel in black but in the full size which was $550.00. The workmanship on this bag puts high end speedy bag designers to shame. This is real leather, with organized pockets inside, a strap option and nice wider opening zipper at about half the price of a canvas coated UNO what bag that everyone has copies of! I am sooooo glad I purchased this bag, it's a classic and a bag I will be wearing for years to come. October 24, 2012
Best purchase I have ever made. I bought this bag before it became known as the Middy- when it was just the Robinson Satchel- in February 2012. I have not stopped using it since. It is a great all season color (the luggage brown color) and has enough room to be considered a tote as well as a satchel. I have used it as my day to day bag and as an airplane carry-on using the shoulder strap (yep- it fits nicely under the seat in front of you!). It can carry about 10 lbs of stuff and still keep its shape. It has been through heavy rain storms and has neither lost color nor gained any water marks- even after having a water bottle spilled inside. If you are a mom looking for a stylish incognito diaper bag- this is perfect. If you are a business woman or a student- you can fit a notebook computer or tablet along with a charger in your Robinson Middy along with a book and a couple magazines. Everyone needs this bag. Pick any color you want- but you need this bag. And Yes- it is worth it. October 20, 2012