ROBINSON ZIP CONTINENTAL WALLET
Named for Tory's parents, Reva and Buddy Robinson, the Robinson Zip Continental Wallet, made from the highest quality scratch-resistant Italian leather, is as cool and classic as it comes. The chic shape features plenty of pockets for organizing essentials.
Read more about Tory and the Robinsons here.
Style Number: 50009063
Saffiano leather.
Gold logo hardware detail.
Zip closure.
Eight compartments for cards, two for currency, and zip pocket at center.
4 3/4" H x 8" W x 1" D.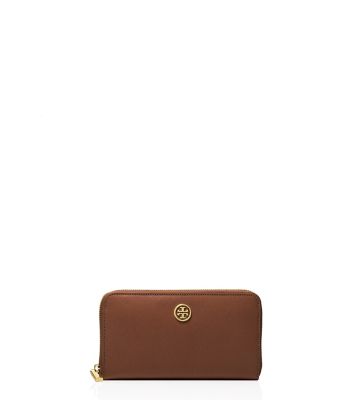 ROBINSON ZIP CONTINENTAL WALLET 2 2
Feel of leather is cheap I was really disappointed in the texture of this wallet. It feels like a cheap plastic though it is leather. I kept it as nothing else was available in the chocolate color I needed to match my Bombe Tote but I have even had several friends comment on how cheap it looks so would not recommend this product. April 25, 2013
Nice Product This is a simple wallet that can be used with any of your Tory handbags. I gave a 9 instead of 10 because the zipper sometimes does not close in one zipping motion. Sometimes it will catch on one of the zipper teeth and I have to unzip a little than zip again. January 17, 2013