ROBINSON SLIM CARD CASE
Named for Tory's parents, Reva and Buddy Robinson, the Robinson Slim Card Case made from the highest quality scratch-resistant Italian leather, is the ultimate card case. The easy shape provides a charming way to store business cards.
Read more about Tory and the Robinsons here.
Style Number: 50005061
Saffiano leather.
Gold tone logo embellishment at center.
Two card slots on each side.
3" H x 4" W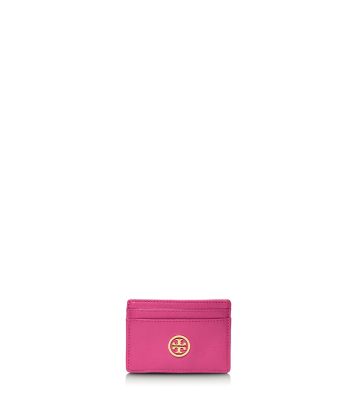 ROBINSON SLIM CARD CASE 2 2
Perfection! I bought robinson because I needed a small little card case to use whenever i don't want to carry my wallet and this one is just perfect! I got it in black since i thought it will match anything! I love the quality of the leather and the small tb logo in the front! Def worth the price! February 23, 2013
Simple and Classy! I received this as a free gift from Tory Burch when I spent 300 dollars at a local store. I have to say, I would have definitely spent the full $85 if I knew how convenient this would make life. The bold TB logo is a nice touch. It fits my debit card, license, student ID, and a little bit of cash making it nice for when I'm going out and don't want to carry much. It also fits perfectly in even the smallest crossbody. A MUST HAVE for ANY tory burch lover! :) December 17, 2012