Quinn Quilted Leather Ballet Flat
If you love our popular Reva, meet the Quinn Ballet Flat. Made from soft, quilted leather with the signature logo medallion — and available in a range of neutral tones — it's a comfortable yet stylish choice for effortless style.
TORYBURCH.COM EXCLUSIVE
Free standard shipping within the U.S. on the Reva Ballet flat collection.
Style Number: 31128212
Quilted patent leather upper.
Leather lining.
Round toe.
Tory metal logo hardware.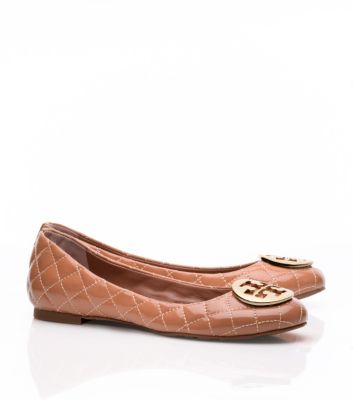 Quinn Quilted Leather Ballet Flat 10 10
Start the day with a Beautiful pair of shoes! This is my 1st pair of Tory's. I am loving them more and more each day, I am a big fans of flat shoes. I wear them for work and hang out. I must say they are not only beautiful but also very comfortable. I have the perfect size too - half size up. I said to a friend if ever wanna buy me a present, get me this pair of shoes! I am always looking forward to wear them and they make you look special :) May 12, 2013
Should I ever wear them again =(? My first pair of Tory shoes, I always wanted one of those beautiful shoes and I was so excited to get them! They truly look beautiful and adorable..However, I wore them out about 10 mins and the back of my feet started to get blisters =( At first it didnt hurt as much, but as soon as I changed into sneakers and walked for a while, the blisters broke and my feet started bleeding. I dont know what to do with my shoes now, I can't keep hurting myself even if the shoes look gorgeous... SIGH!!!!!!!!!!!! May 9, 2013
Perfect Shoe for the office or social gatherings Although I feel this price is a little high for a pair of flats, I absolutely love them! I have worn them now 4-5 times and find them very comfortable to walk in. These are perfect for an office setting or a night out when you don't want to use heels. The gold emblem adds the pop needed for these. These flats are classy, simple, and elegant and will go with so many different outfit choices. I have received numerous compliments on these and can't wait to order my next pair of flats! January 31, 2013
Gorgeous Shoe but Way Too Stiff I understand that part of owning/loving Tory Burch shoes is that they initially feel like your feet are being tortured for the first few days (-cough-weeks-cough-). I don't understand/like it, but it's what it is. I got these for Christmas because I loved the quilted leather--very Chanel-esque and gorgeous. However, these are worse than the Revas in terms of pain. For me, it wasn't so much the toe box as the back of the shoe. The leather is incredibly stiff and unforgiving, and it consistently rubs against and digs against the back of my foot to the point where I found myself literally walking on my tip toes towards the end of the day. My Revas were initially painful, but now they are the most comfy shoes I own. (The leather gets so soft and conforms beautifully to your feet.) Maybe it's because the Quinn is a patent leather as opposed to the matte type on the Reva, but these babies are stiff and unforgiving. I think I'm going to return them and get the Revas instead. A beautiful shoe, although I'll note that the cognac color is a little more orange-y than I expected. (I think I was hoping for a lighter, more neutral tan.) January 17, 2013
Uncomfortable :( I own many Reva flats and find them EXTREMELY comfortable. Unfortunately, these were uncomfortable after hardly wearing them.... I think it is because the heel is stiff, unlike my other scrunched-back Revas. I tried to break them in over several days, but there was just no 'give' to them. They are so adorable and I love the color of the bronze medallion...they just aren't meant for my feet! I know some people find the traditional Revas uncomfortable because of the scrunched back... it's just trial and error to find what works best for you. I ended up buying the regular patent Revas instead, and I have no complaints about those. December 21, 2012
Classy, always beautiful!!!! These are my second pair. Love them, they feel very comfortable they look shiny and classy. I ordered 7.5 and they fit perfectly. November 30, 2012
Love them! These are the most comfortable flats ever. After two excruciating years with my Reva flats, these are seriously what Tory-lovers need to get to save yourself from blisters and frustration. I got these in size 6 and contemplated getting them half a size smaller. The 5.5 were too tight and became uncomfortable just from walking around in the store. I am so happy to have stuck with the 6, which are loose enough to be comfortable but still enough to have hold of your heels. The patent leather rubbed around the toe box for a few days, but I now wear them everywhere without fear of my feet hurting. The black quilted patent leather and the bronze medallion pulls together wonderfully for a chic look. Love love loveeee these! November 5, 2012
At last........ Finally got the perfect black/chic flat ballerina shoes ! October 16, 2012