PEARL TUNIC
Our Pearl Tunic embodies the getaway-inspired dressing that's showing up from seaside to city streets this season. Made of pure linen in the classic maritime color combo of navy and white, it features intricately embroidered trim at the neckline and sleeves, with side slits at the hem for greater ease of movement. The ultimate bohemian-chic style, it's the perfect way to wear a bit of wanderlust wherever you go.
Matches with: Logo Halter, Logo Bottom & Logo One-Shoulder Maillot
For a limited time, Tory Burch is offering free standard shipping and free returns (within the US) on all swimwear purchases. No promotion code necessary.
Style Number: 11132953
Linen tunic with stand up collar.
Embroidered neckline, collar and cuffs.
Decorative contrast braid trim.
Three-quarter sleeves.
Relaxed fit.
8" (20.3cm) side slit opening.
30" (76.2cm) in length.
100% linen.
Dry clean only.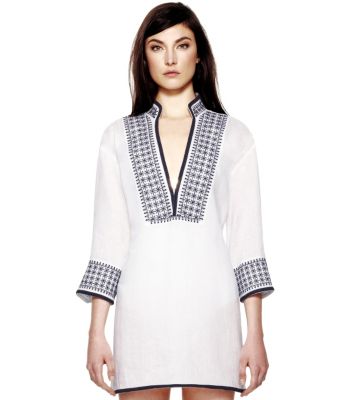 PEARL TUNIC 1 1
Blue is still my favorite Love this one. I still remember the first time I've seen Tory Burch's pearl tunic on a warm summer day as I was walking along a street in Manhattan. Tory's tunics have always been my favorite and the dark blue ones are just right. Good job Tory. It is a small world. February 18, 2013