Oversized Mod Sunglasses
Shade your eyes in style with our Oversized Mod Sunglasses. These chic frames feature a retro-inspired hexagon shape and a signature double 'T' logo at the temple. Wear them year round — they add instant sophistication to any look.
For a limited time, TORYBURCH.COM is offering free shipping and free returns on all eyewear purchases.
These frames can also be used for prescription lenses. Lenses are not available at toryburch.com or Tory Burch Boutiques.
Style Number: TY7051
Retro Square frame.
Tonal color block acetate.
Double "T" logo at temple.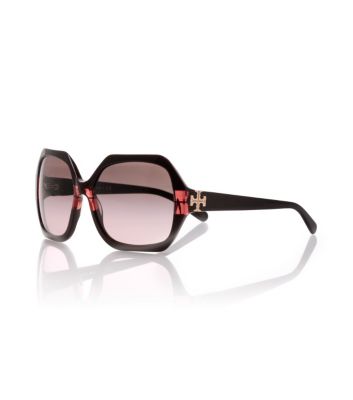 Oversized Mod Sunglasses 2 2
Cute glasses Love these glasses. I was afraid they'd be too big but they look great. Now..if it would only get sunny! April 17, 2013
Thought I wanted aviators until I found these... I wasn't sure about these when I ordered them (I've never ordered sunglasses online...I always try them on first) because I couldn't picture what they would look like on me. Now that they're here, I'm so glad I went ahead and took the risk...I love these glasses!! They look even better than in the picture (I just love the "T" emblem on each side). I have a round face and certain sunglasses look really strange on me. With these, their shape is "sort of square...sort of round," and really flattering to my face shape. They feel great as well...they don't slide down (not yet anyway) and I'm not conscious of them when I'm wearing them. I was shopping for aviator sunglasses when I came across these, and now I'm glad I saw these first! February 9, 2013