MATTEO LOGO CUFF
DESCRIPTION
Cast in Italian resin made to resemble abalone shell, our Matteo Logo Cuff offers an entirely unique take on our classic signature piece. A truly unique and versatile style for any closet, it looks striking as a stand-alone accent or paired with slim gold bangles for some contrast.
DETAILS & FIT
Italian resin resembling abalone shell.
Embossed logo detail.
Silver tone end caps.
2 1/2" in height.
2 2/3" in diameter.
Made in Italy.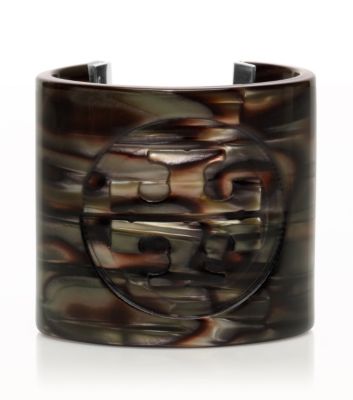 Not for a small person
I thought that was beautiful in the picture, and it is in person but appears narrower in photo. I am small boned and have a 6 1/2 inch wrist and this is large on me. I can still wear it and did return it mainly because it is inconvenient, but it will rotate on my wrist constantly when worn. I think it will be better on a 7, 7 1/2 inch wrist and someone taller. I think that the other reviewer must have gotten a defective one if she cannot even put it on. I am 5'5", 120 lbs. and a size 2 for reference.
April 28, 2013
Sad
My brother bought me this as a surprise gift. How excited I was! But I couldn't even get it halfway on my wrist. Other stores I can fit...Coach I can wear their smallest bracelet or cuff. Just keep this in mind if you are unable to make it to a store. I'm still sad about this one!
March 7, 2013