Leather Covered Aviator Sunglasses
A touch of colored leather gives these classic aviator frames a stylish boost. The classic aviator has returned with a luxe update – leather wrapped trim. This timeless style is universally flattering.
For a limited time, TORYBURCH.COM is offering free shipping and free returns within the U.S. on all eyewear purchases.
Style Number: TY6013Q
Classic Aviator Shape.
Leather and metal frame.
Highly ductile and corrosion resistant frame.
As seen in the May issue of Allure, the April issue of Seventeen and the March issue of InStyle.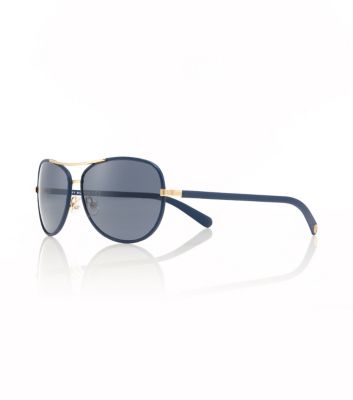 Leather Covered Aviator Sunglasses 2 2
Love these! I got these last year in the olive color, and I'm still rockin' them! What a fun twist on a classic style! They are light, the leather is beautifully wrapped around the frames, and they are a high quality. I have a round, wide face and these narrowed my face. They're very flattering and I get compliments all the time! October 7, 2012
Classic Aviators with a twist of Orange Leather! I am in love with the leather covered frames of my TORY BURCH classic aviator style shades. They are light and make me feel great. Also, the texture of the leather and the quality of construction make these a fun and sexy instant favorite. They garner compliments whenever I wear them. August 26, 2012