LUCITE CUFF
DESCRIPTION
The Lucite logo cuff is an essential piece in the Tory Burch wardrobe. Throw it on with a t-shirt or an evening outfit.
DETAILS & FIT
Resin cuff.
Logo detail.
2 1/2" in height.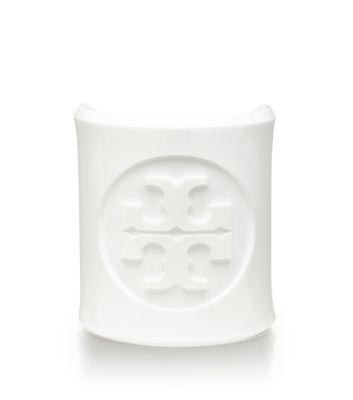 Lucite Cuff runs small!
Adorable Cuff - but too small!!! Purchased the resin cuff (tortoise color) and that fits perfect.
April 21, 2013
Did I get a defective cuff?
Everyone writes how it's so small, so I was excited to get it because of my small wrists, and it fits HUGE on me! Not only that but it looks really, really cheap. Completely plastic and not classy looking at all. I'm dissapointed... (for reference I'm 5'2 and 115lbs)
March 20, 2013
*-_Simply marvelous_-*
I purchased this in white and I cannot wait to rock it this summer with white pumps! Gorgeous Tory cuff for a great deal. I can see it being on the small side for larger wrists- for reference, I am 5'2 - 117lbs. and it fits me perfectly!
February 22, 2013
SMALL cuff
i would REALLY love this cuff if it was slightly bigger... I am a petite woman, 5'2 and 115 lbs and the cuff BARELY fits on my SMALL wrists. if you have slightly large wrists i would suggest that you do not get this cuff as it probably won't fit you. however i love it otherwise and I will be keeping it because it does fit me even though its a little tight. love how it looks on!
January 24, 2013
The Oh So Perfect Cuff
Tory never seems to disappoint! This bracelet is fun with a bit of edginess, and is perfect to wear on the weekend or a night out. It will definitely be noticed by everyone. This bracelet is fairly small, which is perfect for me since I am 5ft, 115lbs.
December 17, 2012