LEATHER AMANDA FOLDOVER MESSENGER
Classic pebbled leather adds a luxurious edge to a traditionally sporty shape. The Amanda Messenger looks slender across the body, yet is roomy enough for all of your essentials.
Please note Black, Bleach, and Driftwood remain full price.
Style Number: 12129698
Pebbled leather.
Canvas lining.
Gold-tone logo with tonal leather.
Foldover magnetic snap closure.
Interior zip pocket and two additional open pockets.
Removable, adjustable cross-body strap with 17" drop.
7" H x 11 1/2" L x 1" D.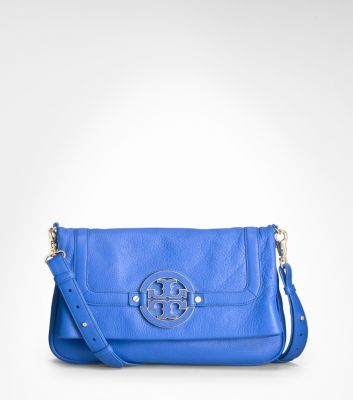 LEATHER AMANDA FOLDOVER MESSENGER 1 1
Multi-purpose bag This purse is so cute! It has super soft leather, the softest I've ever touched. Very flexible. Can wear 3 different ways; clutch without straps, cross over purse or shoulder purse(folded down#, or cross over for bigger purse to fit more longer items#unfolded and extended#. Has zip opening on the back side for random papers. 2 pockets on the inside and 1 zip compartment on the inside. The emblem is kind of heavy #main casue of weight to the purse#. Best thing I like about this purse is that it'll be extremely difficult for someone to pick-pocket your purse because they would have to unfold the flap which is secured via magnet and then stick their hands ALL THE WAY DOWN through another magnetic security to get anything. With all that work...yeah you'll feel that someone is trying to get into your purse. It fits my Tory Burch sunglass case, Little wallet, set of key chains, a little bottle of aleve, Droid Razr Maxx cell phone#which is HUGE), and some random papers/receipts. It fits more than you would think it would. However....a full size wallet will not do. You won't have any other space for other things. I would stick with a smaller wallet or a tiny clutch or pouch for your money. That's the only reason why I gave it 4 stars instead of 5. I like to use full size wallets. But it's sooooo cute and functional I don't mind using a smaller wallet. July 25, 2012