Jelly Bow Ballet Flat
The Jelly Bow Ballet jumps puddles in style. Made of water-resistant rubber and finished with a feminine bow, this comfortable flat is a chic alternative to rain boots and fits neatly in your bag or tote.
Please note Tory Navy remains full price.
Style Number: 51128270
Rubber upper.
Rubber bow with metal TB square detail.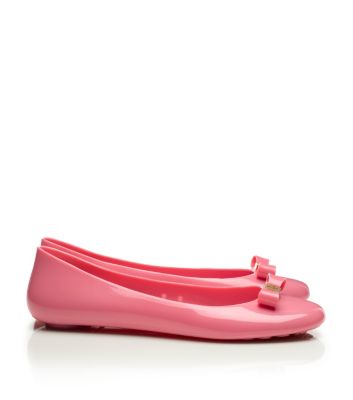 Jelly Bow Ballet Flat 5 5
So cute! I love my new flats!! I purchased the pink and they are adorable! A little stiff but I am sure with time that will change! So excited to wear them out! Perfect for spring and summer! May 16, 2013
Cute - but short life I got these as a gift from my boyfriend for Christmas. They seemed PERFECT for New York springs. The problem is, the heel wears down pretty quickly. Within a month of wearing them, the underside of the heel had worn down so much that I was worried I'd create a hole if I kept wearing them. So unfortunately, now I only wear them occassionally - at times I will only walk short distances. They aren't the most comfortable of shoes, but they are super cute. It's really a shame they wear down so easily. Not the best use of your money. May 15, 2013
Uncomfortable Very unconfortable. The big stamped logo placed at the heel of the shoe will imprint the logo into your heels which causes pain when walking. May 12, 2013
Perfect for Summer My husband purchased the Jelly Bow in orange. It's very comfortable and the color is perfect for this coming summer season. I'm a size 8.5 in REVA and size 8 with Jelly flats (my original size). I love them so much !!! Thank you Tory Burch for the Gift Card :) Forever my favorite brand! January 31, 2013
Cute and comfortable! Just purchased the Jelly Bow Ballet Flat in black - love them! The fit is great and they are so cute. I'm ready to buy them in every color. They would be great not only for rainy days but for the beach, lake, or any place your shoes might get soiled or sandy. Simply wipe them off and they look fab! January 24, 2013